By David Ellis from vintnews.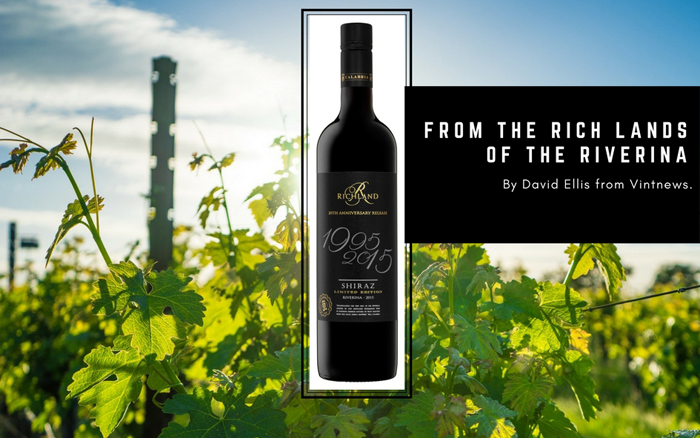 It was twenty-one years ago, that Bill Calabria, winemaker and owner of what is now Calabria Family Wines, released his first bottle of wine under a new label he called Richland.
It was a drop with which he aimed to show that "the rich lands" of the NSW's Riverina region, with its Mediterranean-like weather, could produce wines of a quality to be enjoyed and sought after by consumers world-wide.
That 1995 Richland Shiraz proved an instant success, and today Bill's Richland series includes traditional Chardonnay, Sauvignon Blanc, Cabernet Sauvignon and Merlot, as well as newer varieties to Australia like Pinot Grigio and Moscato.
Bill's now released a Limited-edition 20th Anniversary Richland Shiraz from the 2015 vintage, made from premium fruit from his own and colleagues' Riverina family vineyards, and which is spicy, silky and smooth. With alluring plum and cherry aromas balanced with subtle spicy French oak, it's got a well-rounded palate carried by tannins with a depth of flavour to be enjoyed now, or over the next five years.
Enticingly priced at just $19, enjoy with braised lamb shanks served with potato and parsnip rosti, or with Parmesan, Romano, Vintage Gouda and other hard cheeses.
One to note: with still plenty of time to sit outside on sunny evenings and enjoy conversations around good glasses of bubbly and accompanying finger foods, T'Gallant has released three sparklings to do just that – a T'Gallant Chardonnay Pinot Noir, a Prosecco and a T'Gallant Pink Moscato.
We particularly liked the bright and zesty Prosecco with its fresh aromas of citrus, apple and pear and follow-on fruit flavours, made from fruit off T'Gallant's own vineyards and those of other premium suppliers on Victoria's Mornington Peninsula. At $20 this one will prove a quick hit for those afternoon/evening gatherings with accompanying antipasto, cured meats, subtle cheeses and seafood.