While Winter conjures visions of slow cooked wonders, roast dinners and hearty soups, salads can also play their part in comforting fare for the chillier months. You are only limited by your imagination in concocting delicious, nutritious and vibrant salads to accompany midweek family meals, or romantic weekend dinners, beside the open fire, a glass of red in hand. Think char-grilled steak atop greens, roasted pumpkin or sweet potato combined with a zingy dressing, colourful herbs, spices and topped with crunchy seeds. The tastebuds will start to drool and you will never consider salads as a simple Summer obsession ever again.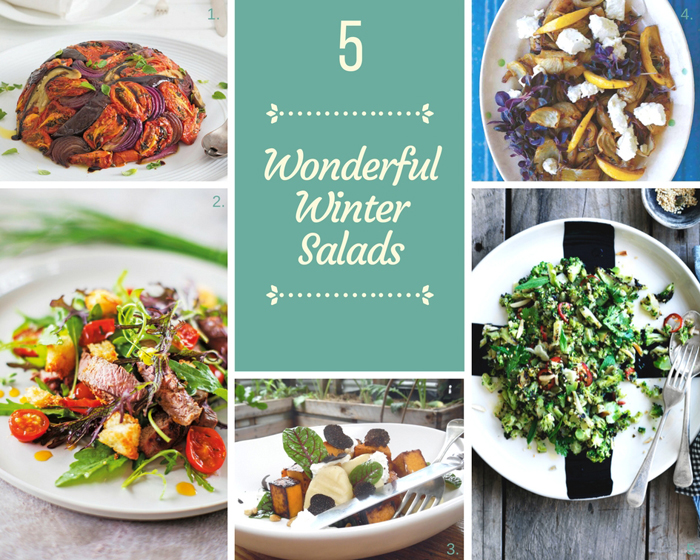 1. Oven-dried Tomato and Eggplant Dome by Anna Gare
This salad can be made well in advance, even the day before, just bring it up to room temperature before serving. Any leftovers can be used as a filling for veggie lasagne, or reheated as a side to tender lamb. The vibrant colours and different layers of vegetables make it appealing to the eye as well as the tastebuds, while the balsamic vinegar adds a sharp tang to the cooked eggplant.
2. Barbequed Steak Salad with Cherry Tomato Vinaigrette, Crunchy Bread and Greens – Chef Recipe by Belinda Jeffrey
A great example of how simple ingredients can be combined in different ways, this dish is basically just the makings of any meal – a piece of steak, tomatoes, salad greens and bread. The trick is in how each ingredient is prepared that takes it to another level. Marinating the steak first is ideal, but if there is no time just brush it with oil before putting it on the grill.
3. Gnocchi with Caramelised Pumpkin, Pine Nuts, Goats Cheese and Shaved Truffles – Chef Recipe by Shawn Sheather
The sweet flavour of caramelised pumpkin adds texture and taste to the goats cheese and shaved truffles in this substantial salad, cooked with homemade gnocchi and toasted pine nuts. Serve the gnocchi on a large plate, topped with the pumpkin, torn goats cheese and butter sauce, garnished with beetroot leaves and truffles.
4. Maggie Beer's Fennel with Goats Curd Salad
Simmering the fennel in white wine or verjuice enhances the aniseed flavour and finishing it uncovered on a high heat adds colour and a syrupy finish to this warm, Winter side. Topped with spoonfuls of goats curd and baby purple basil, it is a welcome accompaniment to any hearty meat or chicken dish and will become a firm, family favourite from one of Australia's most loved Chefs.
5. Charred Broccoli, Almonds, Lemon and Chilli – Chef Recipe by Mark LaBrooy and Darren Robertson
Treating vegetables as the hero of the dish and experimenting with different cooking techniques is the secret behind this exceptional salad, combining the crunch of broccoli with the bite of lemon and chilli. Instead of boiling the greens in salted water, this recipe calls for the vegetables to be drizzled with oil, seasoned with salt and grilled for two or three minutes turning occasionally. The addition of slivered almonds, sesame and pumpkin seeds adds extra zing.