By Leigh O'Connor.
Inderpreet Singh Minhas wants diners at his Indian restaurants to leave with something more than gastronomic satisfaction – he'd like them to take home a bit of knowledge about India's history and its culture.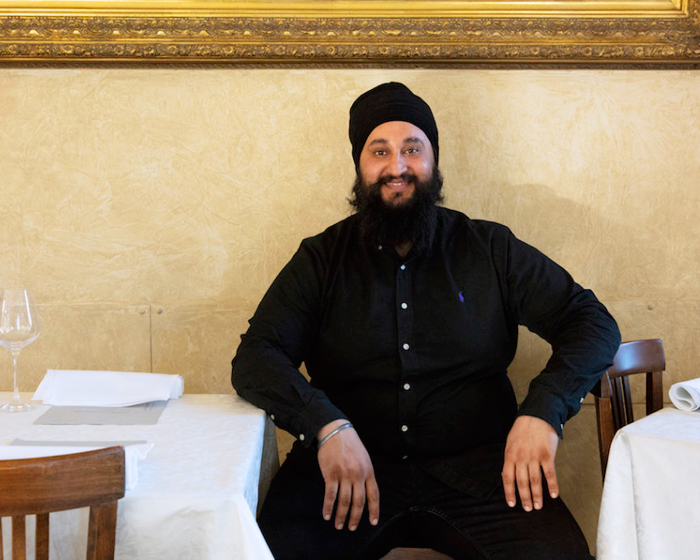 This busy Chef is the brains behind Lavendra in North Sydney and WaazWaan in Crows Nest, coming from working with his father at Grace of India in Milsons Point (where he has now taken over the reins), three uniquely different Indian restaurants putting the history of the sub-continent on guests' plates.
"Although all my restaurants are about experiencing India – it's really about looking at India through my lens," Inderpreet explains. "I want the diner to see India from the angle with which I create an immersive experience and live that experience while they're at the restaurant."
Growing up in a family of restaurateurs, he spent more than 20 years in the kitchen at Grace of India with his father, while his mother ran the service floor. There was already a lot of learning happening on a subconscious level, which made it easier to open his own restaurants when the time was right.
"Inevitably, the realisation that I could live out all my hobbies through restaurants sealed the deal for me – they have given me the chance to express myself through cuisine, music, art forms and interaction that I love to share with guests every day."
Inderpreet's biggest influence has been history – whether Indian, Mongolian, Persian or other cultures – he loves reading about these cultures in terms of society, larger than life personalities and their daily life.
"This fascination combined with my family background meant I was always comparing the way our ancestors cooked to how we treat cuisine today. This doesn't mean older is better, sometimes I've found the cooking processes we use today are better.
"However, there is always a tale of craftsmanship when it comes to Indian dishes, which has been misplaced by modern Indian society that for me, needed to be told."
He is determined to salvage the efforts of Chefs who cooked with technical expertise and precision in mind and were highly respected for their profession in Indian society of a bygone era.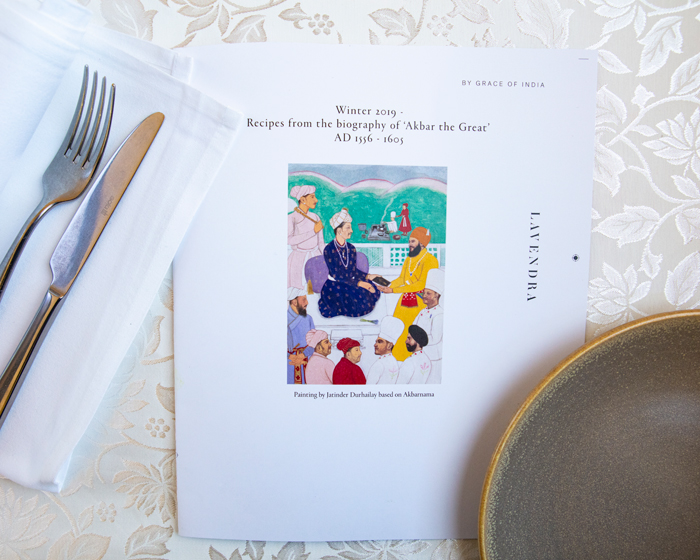 Lavendra was his first chance to break free and express India through his own eyes, where he offers menus with a new theme every season, so diners are treated to a new experience four times a year. This Winter, the menu focuses on Mughal King Akbar, who lived 500 years ago and is often credited with the inception of Mughlai cuisine eaten today.
"I want diners to experience the lifestyle of Akbar from every angle while at Lavendra. All my recipes, perfumes, paintings and music have been created based on his biography."
In contrast, Grace of India pays homage to North Indian cuisine as society knows it today and WaazWaan is all about the unique Kashmiri tradition of a coursed menu – a feast for a special occasion, at times up to 36 courses.
"I want people to grasp the fact that India has 36 types of cuisine and hundreds of dynasties in history with unique culinary habits. So far, we have only delved into North and South Indian cuisines, which are just lazy amalgamator words [when compared to] the depth of cuisine India has to offer.
"It's high time diners expect Indian restaurants to focus on regional/provincial cuisine from Indian Chefs and for those Chefs to be able to present and explain the unique features of these areas."
A massive cricket fan, there is nothing Inderpreet likes more than comparing good teams and players to a good restaurant.
"Something my father loves to refer to at the end of every cricket game – his standard Panjabi dialogue is 'that was a good match today for sure, how was your match in the restaurant today?'
"I took this comment very lightly to begin with, but with time I started to reflect on the effort and commitment athletes make for stand-alone and team performances both on and off the field. I quite often look at the restaurants and cooking in the same way. The more effort I put into my quest, the more I'll be able to bring home a stunning experience for my diner."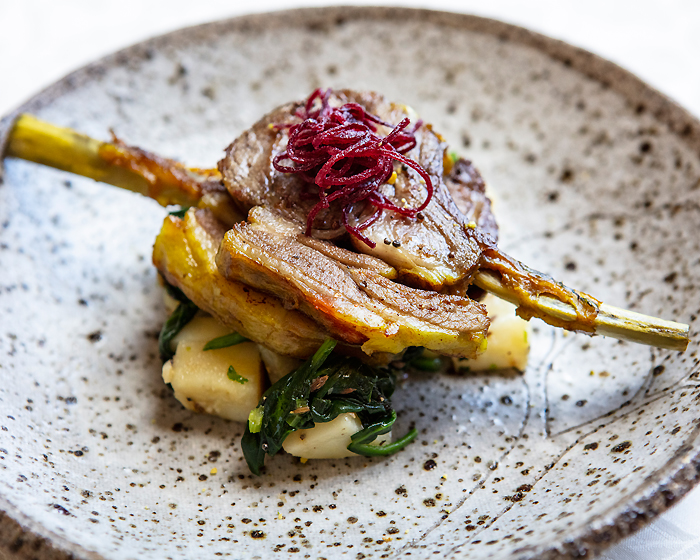 So what can guests expect on the plate at Lavendra? Think dishes like this recipe for tabakh maaz – crunchy lamb ribs, sitting on top of Zeera potatoes with a hit of chilli, while a lamb stock is poured over the top in a theatrical manner at the table.
A third-generation Chef, he hopes the next generation in the family will use their Indian ethnicity and Australian upbringing to their full potential, not only in restaurants but whatever field they choose.
"Music, art, cuisine – there is so much unexplored India," he says.
While his days are full of spice, when given the chance Inderpreet loves the simpler things in life as well and couldn't be happier than with a bowl of pasta.
"Penne for me is an example of how simple things done well can beat complicated and conflated every day."
We asked this Indian Chef where he saw himself in five years' time and what he hoped to achieve…
'Sometimes, walking along, my shadow leaves the ground, stands facing me, takes my hand and says this time I'll walk ahead and you follow behind.' – Gulzaar.
Let's see what transpires!