Walk the streets of any Australian city or town on a weekend morning to see brunchers in their masses… whether stopping for coffee after an early bike ride with the MAMIL brigade, mums escaping the house with toddlers in tow, or loved up couples relaxing over smashed avo and a cappuccino.
Breakfast is considered to be the most important meal of the day – replenishing the body to keep energy levels high for what lies ahead. Australian breakfasts can be an eclectic mix of dishes from the many different cultures that make up this wide country, think Turkish baked eggs to hemp inspired smoothie bowls.
More commonly referred to as brekky, it is the reason many of us get out of bed on a Saturday to indulge ourselves with a laid-back meal and catch up with family and friends.
Here are 10 reasons why getting out of bed on a Saturday is 100% worth it!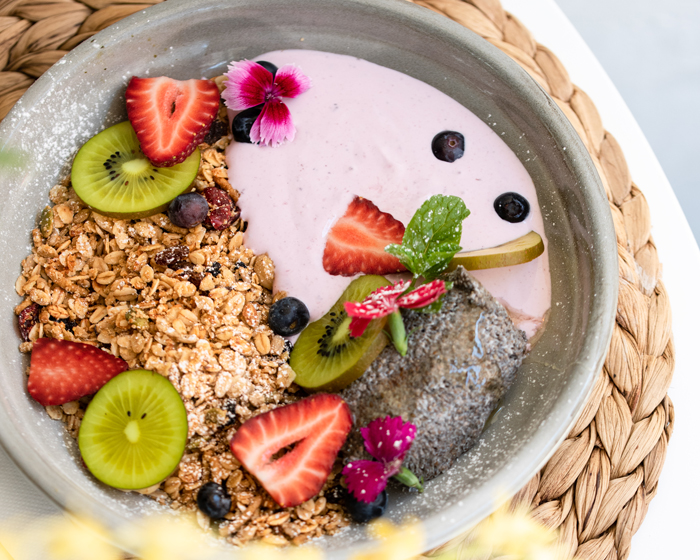 The Bank Café and Espresso's Good Start granola bowl.
1. Because the Modern Café is the New Church
Located in an historic 1930s bank building brimming with character in the heart of Lismore, The Bank Café and Espresso on Molesworth Street is where your dishes are literally washed inside the old strong room. Open every day for breakfast and lunch, stop in for a Good Start granola bowl with toasted macadamia muesli, seasonal fruit, berry yoghurt, coconut chia pudding and milk.
Why go here for breakfast on a Saturday?
"Because the modern café is the new church! Any given day, we have bikes leaning against the wall in the laneway, kids playing hopscotch with adults joining in and furry friends catching treats under the tables. It is the place where friends and family meet, share stories of their week and lives. We love that our café brings our town together in such a joyful way." ~ The Bank.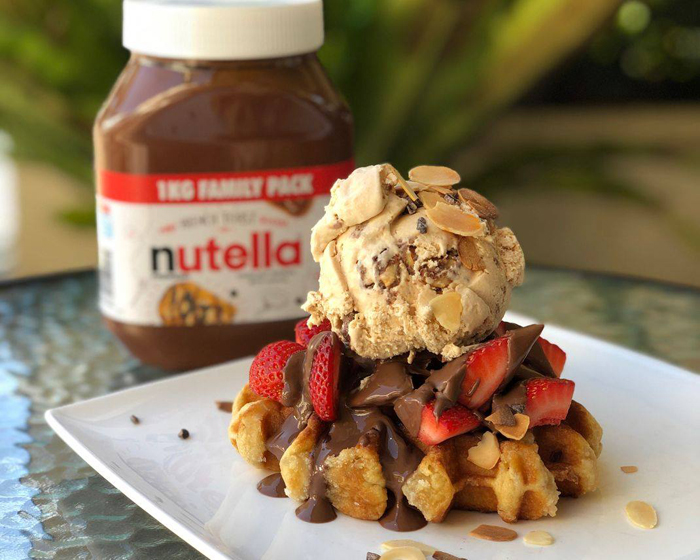 Bracegirdle's Glenelg's Nutella waffles.
2. You Have as Many Hours in a Day as Lady Gaga... and Chocolate is ALWAYS a Good Enough Reason
If it's good enough for Lady Gaga and the performers of Cirque du Soleil, then it's good enough for Glenelg locals to get their breakfast fix at Bracegirdle's on Jetty Road. Filled with warm chocolate tones and heritage charm, Bracegirdle's House of Fine Chocolate is a chocoholic's dream with decadent temptations hand made on site, using the finest Belgian ingredients.
Think waffles, piled high with ice cream, nuts, strawberries, Nutella and of course hot Belgian chocolate; and if that's not enough reason to get out of bed, delve into smoked salmon, fresh vegetables and white chocolate horseradish atop housemade toasted sourdough.
"It's important for us to source local products from like-minded family businesses, we love to share the love." ~ Bracegirdle's.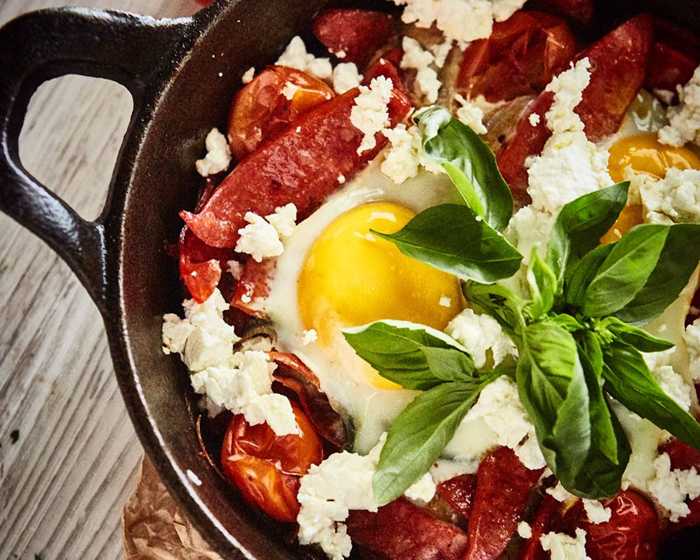 First Drop Café's Aegean Skillet.
3. Because First Drop Café's Aegean Skillet is out of this World
Community becomes family at First Drop Café on leafy Baptist Street in Redfern. Priding itself on the simple things in life, this café is all about good coffee, great food and service, so sit back and relax in this renovated corner shop with original unique style, which has become a meeting place for family and friends, as well as a second kitchen for many locals to not only share a meal but also memories.
Perhaps order the Aegean skillet - oven-baked eggs with chorizo, olive oil, herb-roasted truss tomatoes, feta, basil and sourdough; or wrap your hands around a breakfast burrito, with soft folded egg, housemade beans, chorizo, guacamole, sour cream, onion, diced tomato and coriander.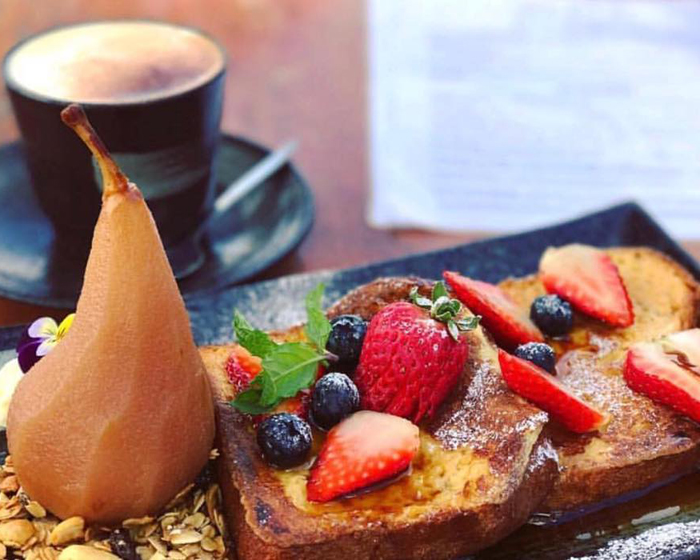 Slate Café's French Toast.

4. Your Dog Will Love You More and You'll Love Slate Café's French Toast
A dream of building a better life in Australia by starting with a clean slate is the ethos behind kid, paw and family-friendly Slate Café on Dulwich Street in Bennett Springs, WA. Everyone is welcome at this café built by a Vietnamese family who migrated to Perth in 1992, with a vision of creating a space everyone can enjoy as their second home, with every recipe made lovingly from scratch.
Drop by for brunch with the kids and fur babies and sip on an aromatic brew while delving into French toast, topped with butter-baked banana and mango, crispy bacon, fresh seasonal berries and drizzled with maple syrup; or zesty avocado, Thai basil, crumbled feta, cherry tomatoes, sun-dried tomato and roast pepper pesto served on pumpkin seeded bread.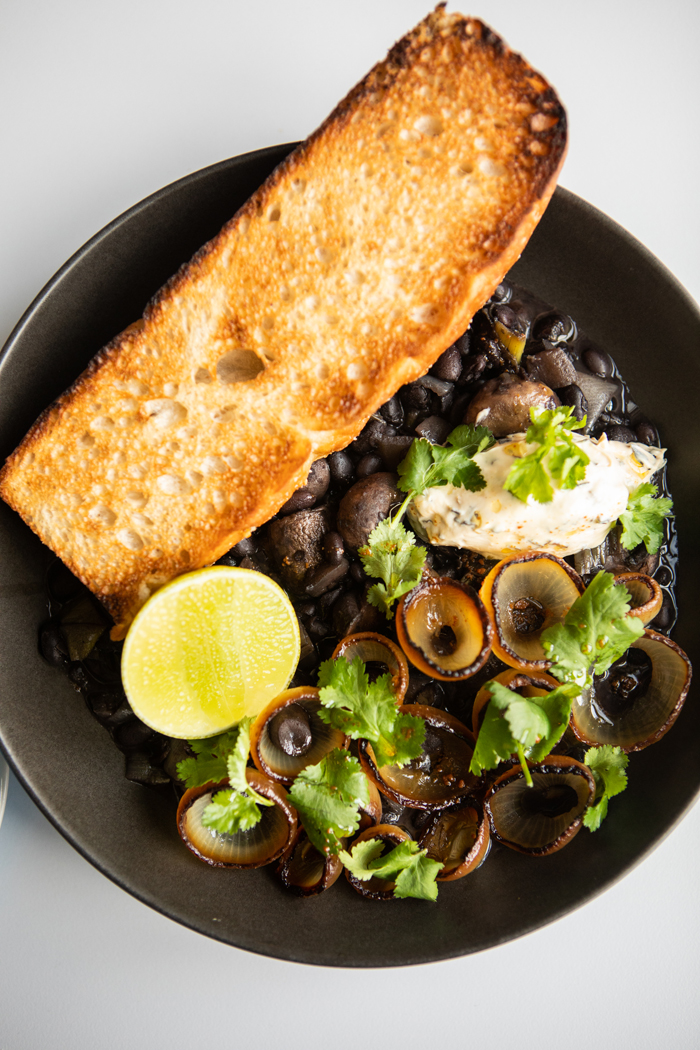 Teddy Picker's housemade chipotle black beans.
5. Get Up, Get Some Vitamin D + Protein
The brainchild of four best mates, friendly local haunt Teddy Picker's on Constitution Avenue in Campbell, ACT, dishes up dude food, fancy stuff, exotic tea, specialty coffee and alcohol in a chilled-out vibe of exposed concrete and high ceilings. An upstairs loft dining area opens onto a seated terrace, ideal for soaking up rays while brunching on sunny days.
Expect punchy, bold breakfast flavours in dishes like housemade chipotle black beans, mushrooms, poached eggs, chorizo, confit onion, burnt shallot labneh, coriander and lime, on toasted sourdough focaccia; or Teddy's pressed French toast, lemon curd, meringue, passionfruit gelato, vanilla ice cream and milk crumb.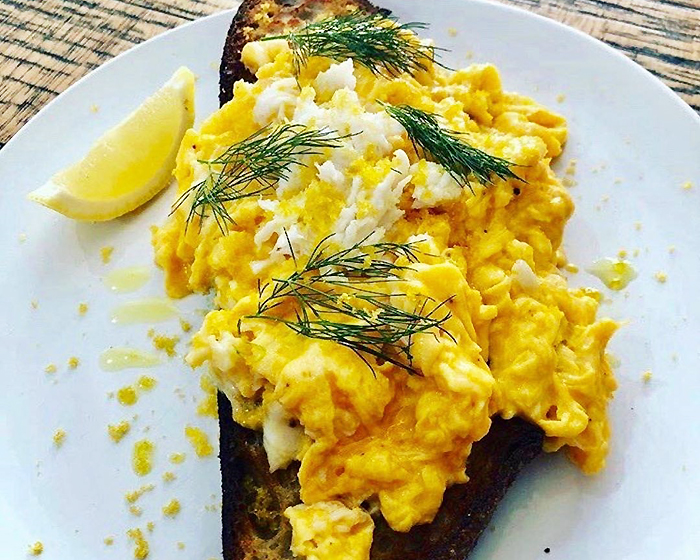 A Little More Café's Spanner Crab scrambled eggs.
6. Spanner Crab Scrambled Eggs... Because You Can't Make this at Home
There's nothing better than starting your weekend with family, friends, coffee and a delicious breakfast at A Little More Café on Belmore Road in Randwick, NSW. Whether it's a lazy latte or a glass of brunch bubbles, expect relaxed dining indoors, where sandstone brick walls and pendulum globes meld with blond wood furniture to create an ideal vibe for leisurely meals, or sit kerbside and people watch.

Who doesn't love pancakes for breakfast, with fresh seasonal berries, caramelised banana and maple syrup; or Fraser Island spanner crab scrambled eggs on toast and sweet potato and corn fritters, mojo sauce, poached egg, chorizo and Manchego cheese. For those stopping by later for an early lunch, wrap your hands around a Reuben, with pastrami, Swiss cheese and pickle on rye.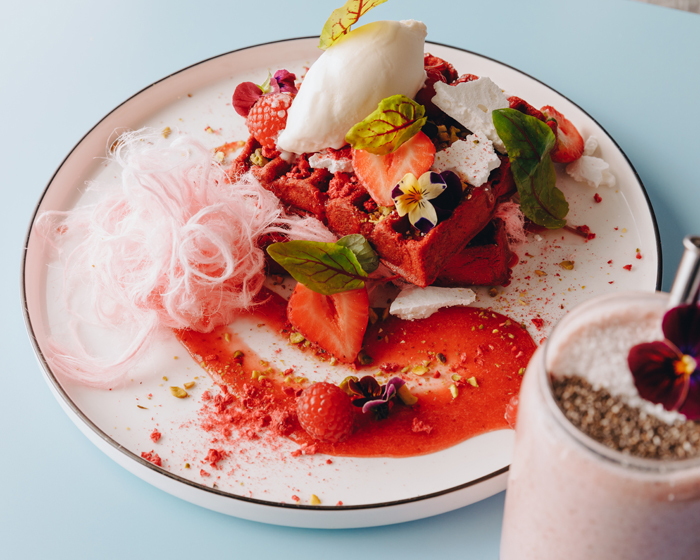 Good Times Milk Bar's red velvet waffles.
7. It's Your Time, Don't Waste it in Bed, Make it Good
We are all so busy during the week so it is so nice to get to Saturday and to be able to take time to enjoy breakfast and have some 'you' time at Good Times Milk Bar on Tucker Road in Bentleigh, VIC. This family-friendly café has created a dining space and outdoor courtyard exactly for this reason, so you and man's best friend can enjoy time together over a delicious meal.

Perhaps grab some dippy eggs, with Rustica sourdough, pecorino soldiers, avo cream, relish and hemp seed dukkah; or red velvet waffles, strawberry coulis, cotton candy, meringue crumb, vanilla ice cream, freeze-dried raspberry and pistachio. The little ones aren't forgotten with hotcakes and choccy sauce, or a mini burger with cheese, ketchup and chips.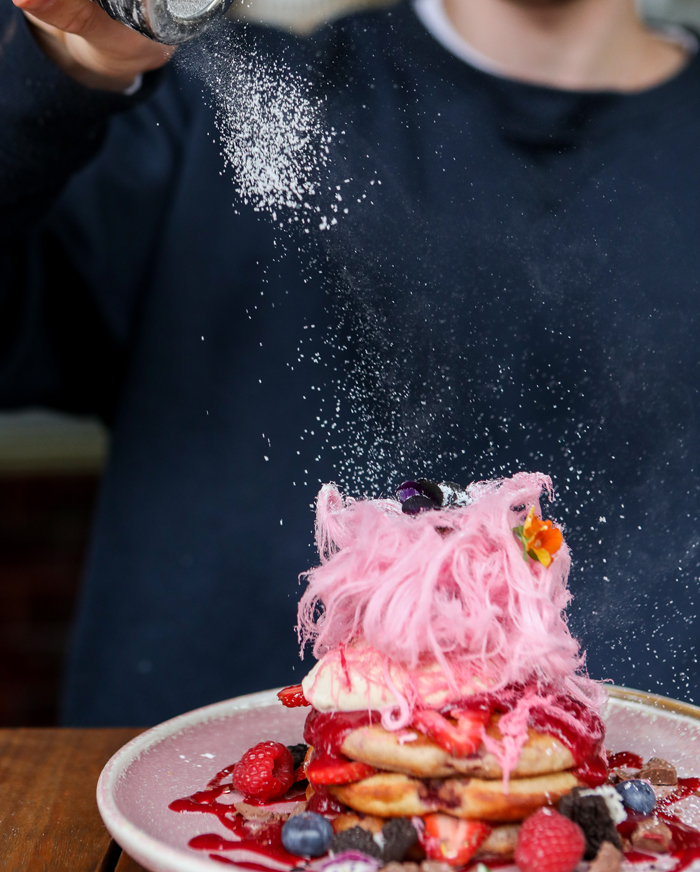 Fledgling Espresso's raspberry pancakes with Persian fairy floss.
8. Saturdays are for Meal Cheatin' with these Raspberry Pancakes
Saturday is the ultimate time for a cheat meal as we let our hair down in celebration of the weekend at Fledgling Espresso on Rathdowne Street in Carlton North, VIC. This destination-worthy diner has locals chirping with delight as they nest out back in a cute courtyard under the shade of leafy trees; while a fun and funky vibe indoors is ideal for catching up with friends over brunch and a brew of choice.
Sweet tooths are tempted with raspberry pancakes, popping chocolate, Oreo, raspberry coulis, mascarpone, strawberries and Persian fairy floss; while those with a more savoury bent head for mashed pumpkin, sweet potato, halloumi, beetroot yoghurt, herbs, dukkah, pomegranate and poached egg on multigrain.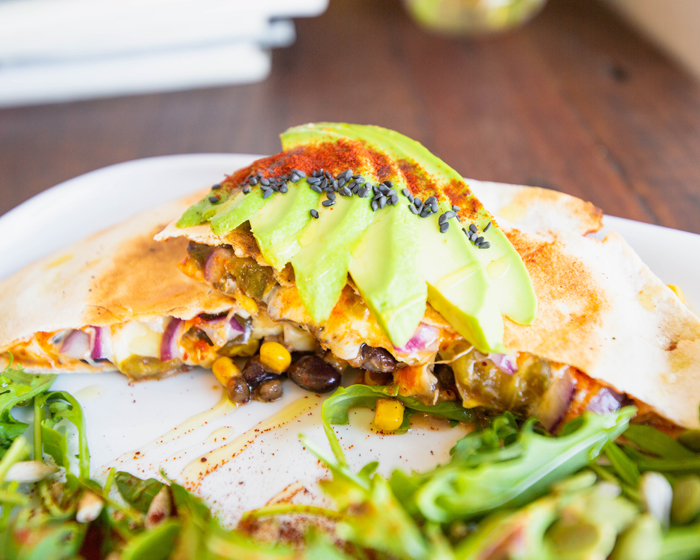 Frothers Espresso's quesadilla.
9. Coffee... Coffee... Coffee... and a Quesadilla
Take time back for yourself and loved ones at Frothers Espresso on Glebe Road in Merewether, NSW. Reborn with a new name, vibe and dedication to coffee, Frothers is the Saturday place to go for an artisan brew and gourmet toastie; a cool interior of whitewashed walls, trailing greenery, urban chic polished concrete floors and mismatched table settings set the mood for lazy weekend brunching.
It's the coffee that takes centre stage from espresso to cold brew and everything in between, expertly made by wizard-like baristas, who take their art form very seriously. Grab a cup of your favourite Joe and a quesadilla stuffed with corn, beans, chipotle relish, cheese, onion and jalapenos; or house avocado with feta, garlic oil and black sesame.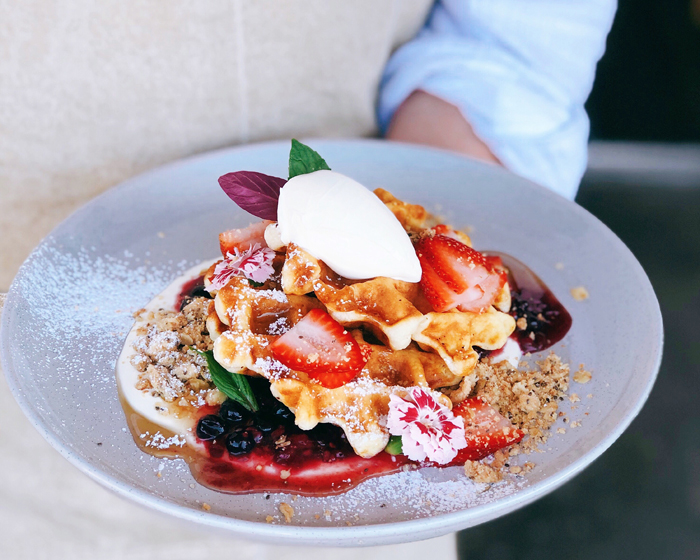 Café Mocha's buttermilk waffles.
10. Make Your Soul Happy... with Waffles
Feed your soul for an ideal start to the weekend with blueberry cheesecake waffles at Café Mocha in Bateau Bay, NSW. A chic oasis of distressed timber, whitewashed walls and palm frond murals create a zen-like vibe for locals to chill out with a coffee and bite to appease hunger pangs, at this Bateau Bay Road eatery - either alfresco at sunny tables, or indoors on bench seating with comfy cushions.
At Mocha, waffle dreams become reality as a team of passionate Chefs create new and exciting flavours weekly, as well as much-loved classics like buttermilk with banana, butterscotch mascarpone, pecans and maple syrup; or delve into truffle scrambled eggs, on caramelised sweet potato, sautéed mushrooms, spinach, halloumi and truffle oil.
Need a breakfast suggestion? We got you, click here.