By Leigh O'Connor.
To many of us bacon is just another word for meat candy…bacon makes everything better!
Did you know Americans spend more than $4 billion annually on bacon? As we celebrate World Bacon Day on Saturday, September 4, we're dishing up five cafés to chow down on everybody's favourite breakfast temptation.
Bacon Day is held on the first Saturday in September each year, after it was conceived in 2004 by a group of Boulder, Colorado graduate students and typically includes consuming bacon for breakfast, lunch and dinner.
There's plenty of bacon on the plate at
Kerb Café & Gelato
on Highfields Road in Highfields. Take a break from retail therapy at Highfields Village Shopping Centre on Saturday and refuel with tasty bacon and avocado salad, with baby spinach, cherry tomatoes, cucumber and feta cheese; or wrap your hands around a flaky croissant filled with scrambled egg and the best local bacon.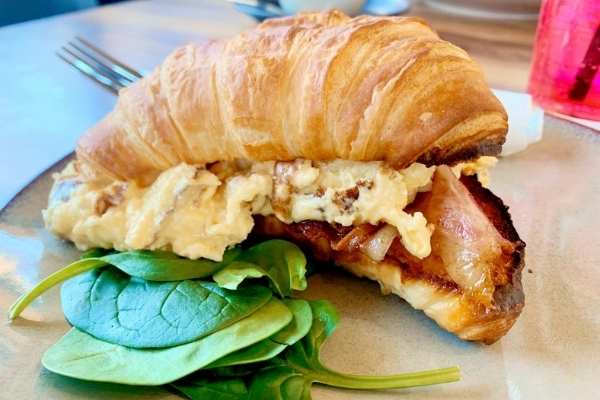 Refuel at Kerb Café & Gelato with a flaky croissant filled with scrambled egg and bacon.
Hip and happening Launceston foodies head to
Blue Café Inc
on Invermay Road for coffee and a bite to eat after an early morning walk. Located in the middle of Inveresk Railyards and housed in a former power station, drop by for sweetcorn and zucchini fritters, with poached eggs, slab bacon and chilli jam; or classic eggs Benedict with Hollandaise and sourdough toast.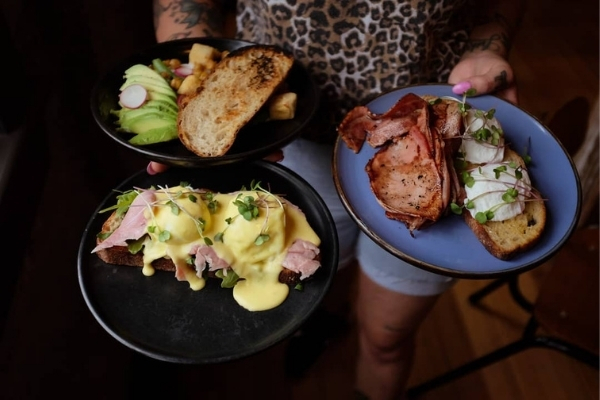 There's plenty of bacon on the menu at Blue Café Inc.
Whether you're on the go and need a quick drink and snack, or want somewhere idyllic to sit and enjoy a good book,
Caffe Mia
on Chatfield Terrace in Wallaroo is the place to see and be seen. This seaside café next to Wallaroo Pier is the ideal stopping spot for a hearty breakfast of eggs your way, bacon, chipotle sausages, tomato, mushrooms, hash brown and toast, after an early morning fish.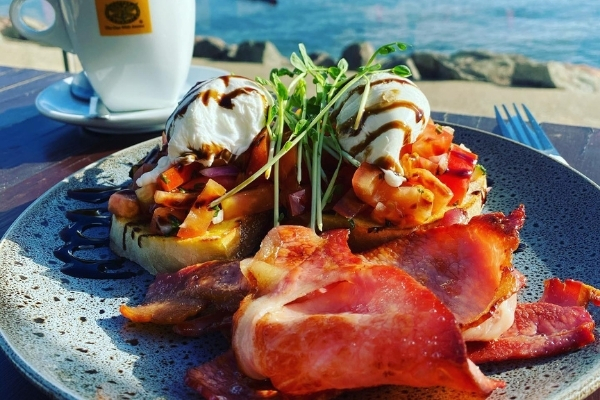 What more can you ask for? Bacon for breakfast and a sea view at Caffe Mia.
A Noosa Heads hot spot for those days when you're in a rush or have forgotten your lunch and need a quick bite that won't bust the budget,
Larder & Baked
on Sunshine Beach Road ticks all the healthy and delicious boxes. From an all-day menu, grab a bacon and egg baguette, with cheddar, aioli and chives to enjoy at the beach; best washed down with a coffee or juice of choice.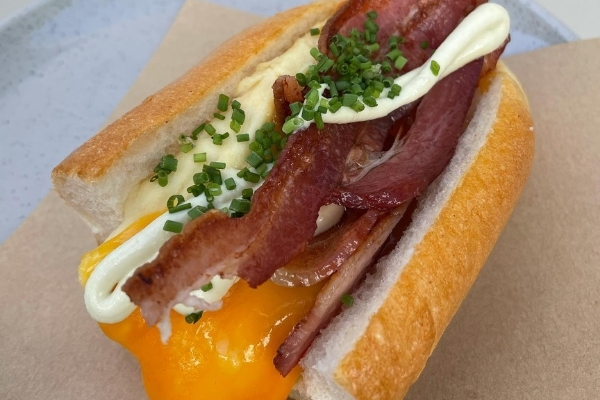 Wrap your hands around a bacon and egg baguette from Larder & Baked.
Nourish your body with plant-rich, flavourful and wholesome food at
Earthy Eats
on Kingsway in Launceston. This café, grocer and caterer brings a taste of Tasmania to the heart of the CBD – celebrate World Bacon Day with a Farmer's Breakfast of local ethically-raised bacon, home-style baked beans, golden polenta cake, sautéed greens and poached eggs.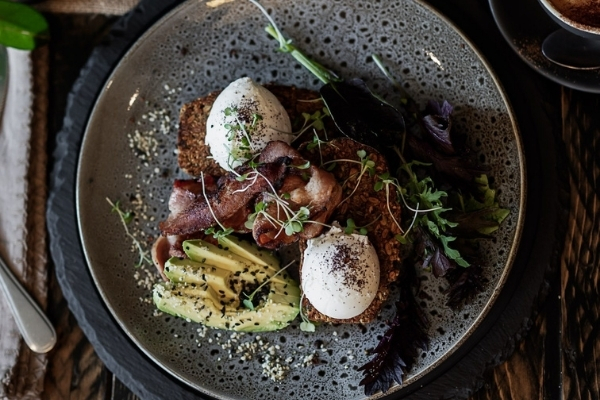 Nourish your body with wholesome food at Earthy Eats.
Whatever you do on Saturday, remember bacon doesn't ask silly questions…bacon understands. For more cafés near you, click
here.