Based on stats from recent years, on the average day, perhaps just your garden variety overcast Wednesday, Guinness sells about 7.6 million glasses of its beverage the world round. Though on one special day in March, that figure explodes in a dark geyser to nearly double. As the Chicago River runs green in celebration, over 13 million glasses of the black gold goes down the hatch on St Patrick's Day, nearly two full sized Olympic swimming pools of the stuff. This guide is designed with those looking to do their part in emptying said pools in mind, who need to find a St Patrick's Day celebratory hot spot, to eat, drink and laugh away the day.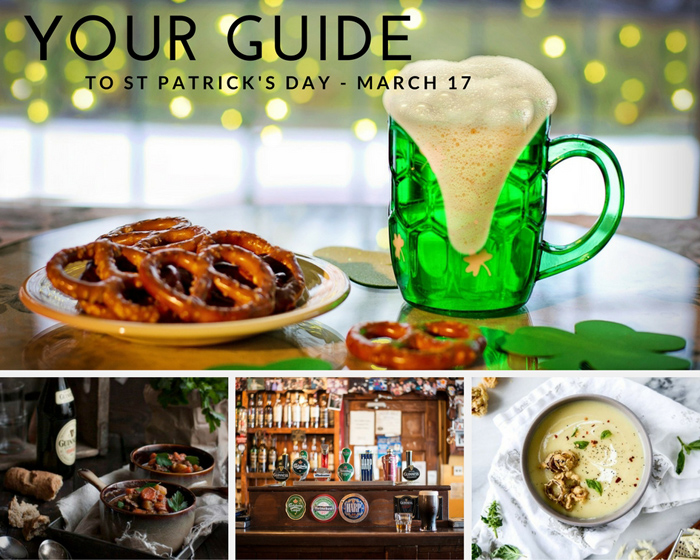 NewBliss | Brisbane QLD
Get the day off to a flying start with a traditional brekky feast. Those who enjoy a hearty breakfast can devour the Irish breakfast roll with pork sausages, bacon and eggs with black and white Clonakilty pudding served in a fresh baguette. The day after, a full Irish breakfast will also work toward curing the effects of a late night St Patrick's day celebration.
Chaise Lounge | Melbourne VIC
One of Melbourne's premier nightclubs for over 20 years, Chaise Lounge is still keeping it real with an RnB and hip-hop vibe underground on Queen Street. Chaise Lounge is pressing pause on all that for one day in March and going all out for St Patrick's Day. Hang out surrounded by plush, elegant lounges till late, taking advantage of the St Patrick's Day drinks specials.
Brunswick Hotel | New Farm QLD
The Sarah Calderwood Duo will be laying down some traditional Irish folk tunes at the Brunswick, while the crowd wave around creamy Kilkenny pints and sample hearty Irish fare. In an effort to raise the level of shenanigans, a four-leaf clover has been hidden somewhere inside the venue, the finder of which will win a prize. Unwind in the vibrant hotel's plush dining room or soak up the pulsating Brunswick Street vibe outside in the airy timber-lined garden bar.
Windows on Wygonda | Roleystone WA
An authentic, traditional Irish buffet is lined up at Windows on Wygonda, bringing in the hungry locals and St Patrick's Day celebrators to dine with songs of the Irish hillside in their ears. Patrons can look forward to sprawling picturesque views of tree-filled hills and nearby valleys through floor to ceiling glass windows.
The Last Jar | Melbourne VIC
When looking for an authentic Irish pub in Melbourne's CBD for St Patrick's Day celebrations, jig on in to The Last Jar on Elizabeth Street. Irish breakfast will be hitting tables from 8am, live Irish music will fill the air all day long and of course Guinness, Kilkenny and Magners will be flowing like a wild river.
Friar Tuck's Irish House | Mandurah WA
For the ultimate Irish indulgence, it's hard to go past a hearty grill feast with juicy steak, Irish pork sausages, rashers and black pudding. What better day to loosen the belt slightly and partake in a proper Irish meal? A pint of Kilkenny might be called for afterwards too.
Clancy's Irish Bar & Restaurant | Mt Tamborine QLD
Dishing up hearty meals at the top of the Gold Coast hinterland is Clancy's Irish Bar & Restaurant, sitting mighty and proud on Main Street in North Tamborine. Likely to be filled with cheerful St Patrick's Day revellers, the usual lively vibe will be turning up a notch. Enjoy an Irish coffee in the charming timber setting and toast to old Saint Patrick.
If you're in search of more St Patrick's Day events, see our further guide here.