Make use of fresh veggies that grow best in autumn weather with these five recipes.
It's finally starting to cool down and while you dry your tears over the loss of beautiful summer fruits, get busy testing out these autumn style recipes with seasonal fruits, veggies and inspiring colours. It's not quite cold enough for soups and roasts, but these recipes will ensure you don't miss salads and have your kitchen skills up to par for when it's time to create real winter-y delights.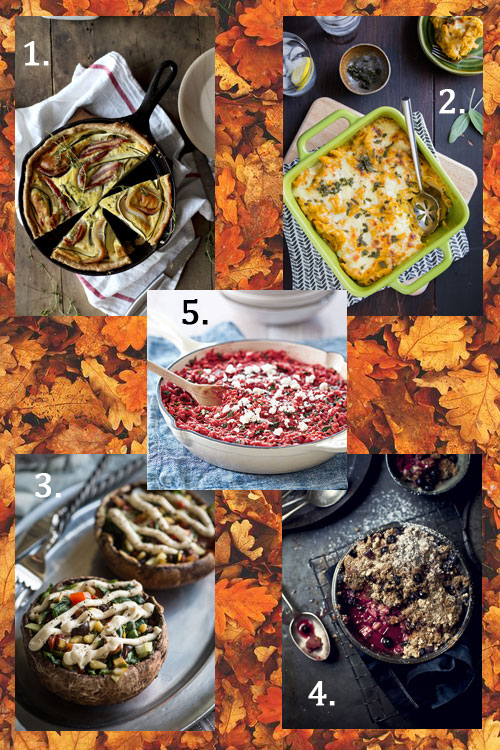 1 - Perfect for school lunches, wrap up a slice of Bacon and Zucchini Quiche in some baking paper and pop it in the kids' lunch boxes with a handful of walnuts and some autumn fruits like crisp and crunchy Granny Smith apples or a few slices of sweet rockmelon.
2 - For quick and easy weeknight dinners try this Pasta Bake with pumpkin and sage. Make it a special evening with a glass (or two) of Rivendell Winery's Howling Wolves Wine 2012 'Claw' Range Premium Shiraz.
3 - Comfort foods are starting to look a little more tempting than usual but steer clear with healthy Stuffed Mushrooms with Raw Garlic Sauce instead. Pair this with a refreshing Two Metre Tall Farmhouse Poire Pear Cider made from freshly crushed Tasmanian pears – more fabulous fruits of the season!
4 - If your tummy rumbles for something that crumbles, dig into Rhubarb Crumble for dessert - cheers, Maggie Beer! Wash it down with a freshly brewed beer from the glass growler you filled up at Brisbane Brewing Co.
5 – Serve a Beetroot and Kale Risotto for dinner with The Liquor Baroness' spicy Virtuous Organic Chilli Vodka mixed with Ledger's Tonic Water and a squeeze of lemon. Pop the leftover risotto into a container for lunch at work tomorrow, but be warned - your work mates will be asking for a taste test, so make sure you pack enough.
Here are some other delicious autumn veggies to make use of throughout the season:
Basil, beans, broccoli, cabbage, cauliflower, celery, cucumber, parsnip, peas, radish, squash.
Head to our recipe section for more autumn inspirations.
By Annabel Rainsford.