One of Sydney's most iconic buildings in the heart of the financial district, No.1 Martin Place, is now home to a social enterprise café,Portal, that allows patrons to give back.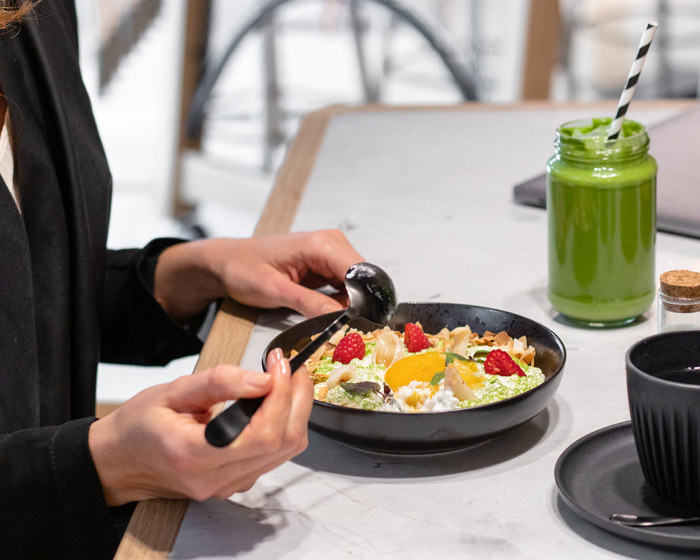 With the help of award-winning architects Adriano Pupilli, Portal has transformed the once empty mezzanine level into a social hub filled with modern art, natural timbers and Scandinavian accents of brass and black.
Chef Michal Siudeja (Mecca, The Farmed Table) is behind the daytime menu created from ultra seasonal ingredients sourced from local suppliers - think raw honey from beehives on a Surry Hills rooftop, herbs from Berry in NSW and hand-made Masala chai tea delivered by bicycle.
"The whole concept is about for love not money," says co-founder Nicolas Degryse.
"We've tried to find the best ethical, local ingredients we can and offer a menu that people will want to eat, while giving them the opportunity to help others and the environment at the same time."
The project is another social enterprise from The Pure Collective, which launched Sydney's first "profit for good" restaurant Folonomo in Surry Hills.
At Portal, 100 percent of profits are donated to not-for-profits, with diners able to choose from three charities: Eat Up, an organisation that provides school lunches to Australian children who would otherwise go without, Blue Dragon which rescues children from slavery and human trafficking in Vietnam, and Rural Aid which supports rural Australian communities.
It's a philosophy shared with Symbol, the group's third eatery in North Sydney which also houses artist collective Project 504, and its catering arm Ame, which operates on an "eat one, treat one" model, donating a meal to someone in need for each meal ordered.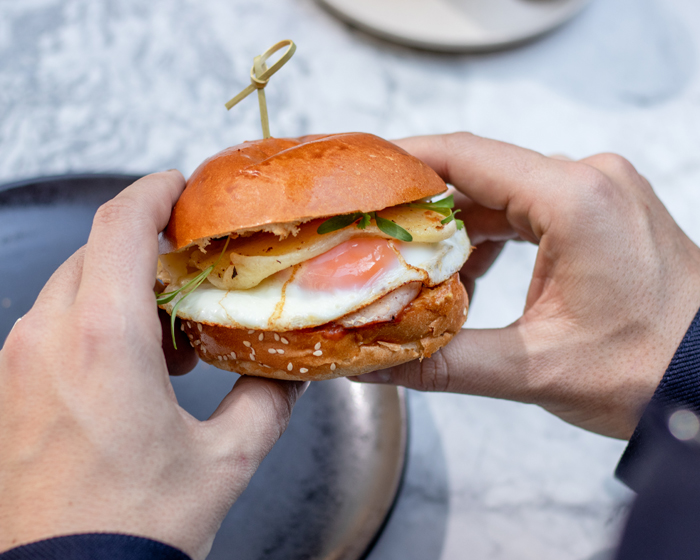 On Portal's breakfast menu you'll find Siudeja's take on a breakfast roll - with homemade milk bun, maple bacon, fried egg, manchego and smoked tomato chutney for $11 - overnight chia and almond bircher with blood orange for $11 and chilled coconut sago pudding with caramelised pineapple and kaffir lime at $9.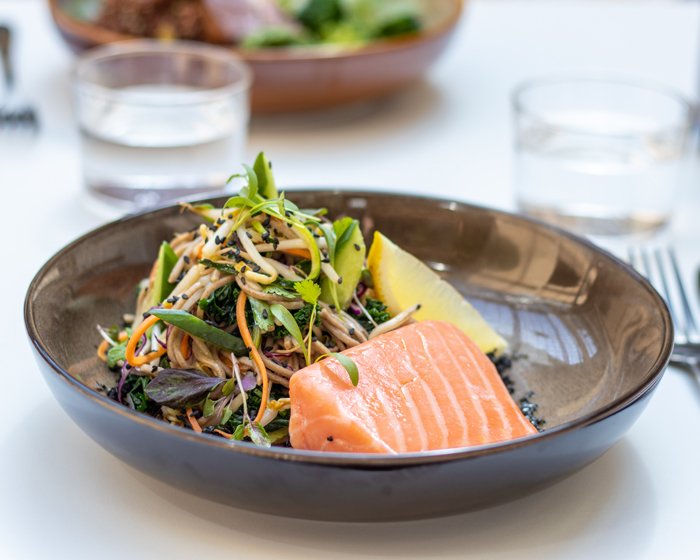 Lunch includes seasonal bowls of salads and greens with free-range proteins such as braised lamb, confit salmon, and soy and sesame tofu from $11, and a line-up of sandwiches ranging from free-range chicken with miso mayo, to fried eggplant, bocconcini and romesco from $10.
"I want to keep the menu as fresh as possible. There are lots of healthy grains, poached proteins and raw vegetables from Sydney markets. If we don't make it from scratch, we'll buy from local producers who share the same values," Siudeja said.
The café is about making a difference with its front of house staff too. Portal's floor team are refugees who are part of The Pure Collective's Symbols of Hope programme, an initiative which offers hospitality training to recently settled migrants who are permitted to stay in Australia, but have yet to receive a visa to work.
Degryse says these refugees do not have access to government services like Medicare while they wait for approval to earn an income. In some cases, this can take up to 18 months.
"These are people in need who have arrived legally and yet have to survive on goodwill until they're able to work. It's a distressing time to say the least.
"We offer hospitality training as an option so they can learn skills and hopefully find jobs as soon as they're able to do so. As we're not allowed to pay wages, we supply clothing, meals and things like Opal Cards, and donate to The Salvation Army which does amazing work to keep people afloat with access to housing, counselling and healthcare."
Portal has free wi-fi, is 100 per cent plastic free and Degryse says the hope is that it becomes a communal space where people come to eat together, co-work and hang out for the day.
"It's about really good coffee, beautiful food and creating social change, without having to think about it too much."
Portal
Mezzanine Level, 1 Martin Place, Sydney
Hours
Mon to Fri, 8am - 4pm