By Leigh O'Connor.
Do you enjoy a drink at midweek lunch, or fancy a cold one at the pub but need to drive home?
Heineken has got you covered – to celebrate the national launch of the brand's first alcohol-free beer Heineken 0.0, the brewer is setting up Australia's first 'beer drive-thru' to give drinkers a chance to sample one for the road, without compromising on taste or their ability to drive.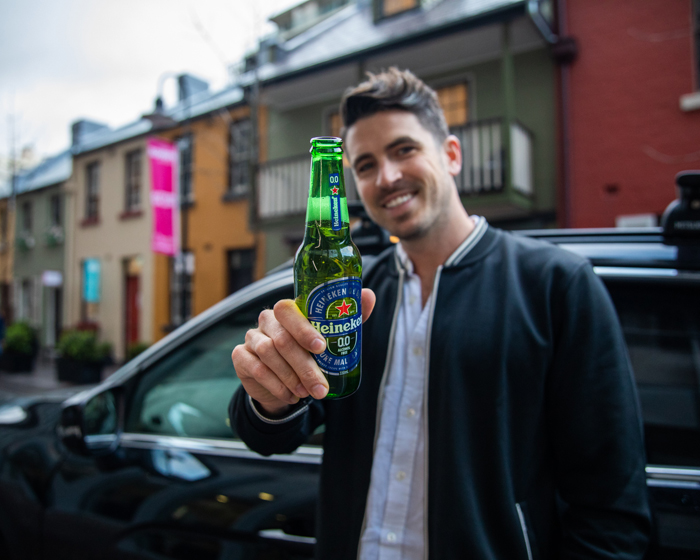 Australian TV presenter, Scott Tweedie launches Heineken's first alcohol-free beer.
On Wednesday, September 11 grab an ice-cold brew at any time from the Heineken 0.0 drive-thru in Tempe, next to Harry's Café de Wheels on Princes Highway. Curious consumers can taste test this great-tasting alcohol-free beer for free in an Australian-first initiative, spearheaded by popular Australian TV presenter Scott Tweedie, who will be on hand to pass over the goodies.
"If I can enjoy a great tasting beer while on-air, without the restrictions or worrying how I'm going to get home, then that's a win all round," Scott says. "As a long-time beer lover, Heineken 0.0 is the perfect pit stop ahead of beer o'clock and I am thrilled to working with Heineken on this Australian first."
Heineken master brewers used only natural ingredients to produce the beer, which has balanced flavours, including refreshing fruity notes and a soft malty body.
"There is no longer a reason to miss out on a round of drinks, just because you are driving," says Damian Dabkowski, Heineken Country Manager. "You can now enjoy one for the road without compromise and alcohol."
Following the launch, Heineken will be taking the new beer on a 'One for the Road Bar' tour across Australia.