Only after Jeremy Blackmore had knocked back a glass of mescal in a local bar in Mexico, did the owner bring out his homebrew stash, which had a wild rattlesnake fermenting in the bottle – it got crazier from there!
Jeremy talks to Roots Podcast about understanding and learning the culture behind mescal, tequila and the locals who have been making it for generations; leading to he and business partner Alex Dowd opening three bars in Sydney.
Roots Podcast is an interview channel which dives into the personal stories of those in the hospitality industry - whether it be in the restaurant, or out in the field.
Elijah-Jazz, Chef de Partie at
Yellow
in Potts Point, also talks to those in the media as they look back on where it all started for them. It is a retrospective look on the passion, ambition and drive involved in a competitive industry.
Initially having goals to be a Chef until a friend told him about the terrible rate of pay, Jeremy began bartending on the side in his late teens. Working in Scotland and London in his early 20s, he was lured back to Australian when Mayor of Sydney, Clover Moore began changing laws for small bar owners to open more easily and be more profitable.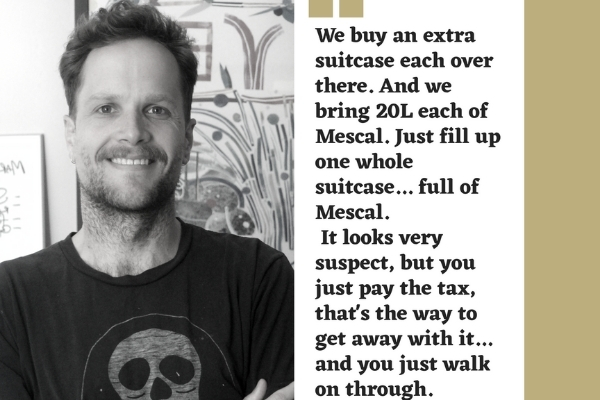 After working for the Swillhouse group as one of the first people to help open
Shady Pines Saloon
, in 2012 Jeremy along with Alex opened
Tio's Cerveceria
– a tropical-themed tiki bar which boasts delicious cocktails and a uniquely fun vibe.
Two years and much fun later, the pair realised they needed to knuckle down as they were 'losing money all of the time'. It didn't stop them from opening their next venue
The Cliff Dive
, which used to go by the name 'Rogues' in the late 70s and early 80s; Jeremy glosses over the wild stories attached to the venue.
After Cliff Dive and Tio's continued to bust big numbers, Jeremy and Alex stirred up the idea for a vanity project – a place they could focus and funnel out the great tequila and mescal that had motivated them to travel across the world for.
Initially, their ideas where far from how
Cantina Ok
has turned out to be. Fast forward and their passion project is more successful than ever, having recently been named 28th best bar in the world, by the World's Best 50.
Elijah says it was an absolute gem to sit and chat with Jeremy about his career and personal experiences through the hospitality industry along with his interest in mescal.
"His humorous perspective on the wins and losses of the industry remind us all why it's a good thing to support local hospitality venues," he says.
Make sure to tune into Roots Podcast to listen to Jeremy's story (*disclaimer – language warning on some Roots Podcasts*)!