Unearthing a Hunter Valley Landmark
We continue our quest to uncork some of the best wines from around Australia.

Introducing Constable Estate Vineyards, a family owned and run boutique vineyard established in 1981; Constable Estate is now a landmark on the Hunter Valley scene. Famed for their honest full flavoured wines served amongst their lovely gardens with an ornate sculpture collection, they attract thousands or visitors annually.
This is a delightful winery, producing some incredible wines: The 2007 Cabernet Merlot, and the 2007 Chardonnay PREMIUM Hunter Valley are of particular note.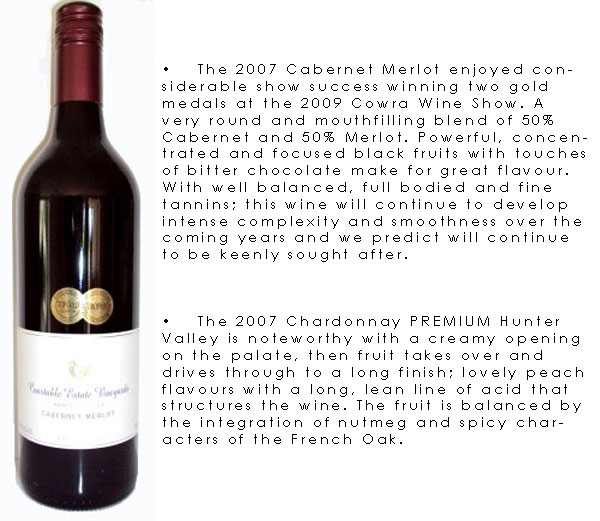 Other wine varieties include Semillon, Verdelho, and Shiraz producing approximately 3000 cases of premium wine per year. But don't think you can scoot off down to your local liquor shop and snatch up a bottle, alas these superb wines are only available through the onsite cellar door, mail order and selective restaurants in the Hunter Valley, Central Coast, Newcastle and Sydney.
The Estate itself is cradled against the magnificent backdrop of the Brokenback Ranges and is well worth a visit. In 1984 a project commenced to establish a large scale Hunter Valley country garden comprising various well-spaced grounds and a sculpture garden.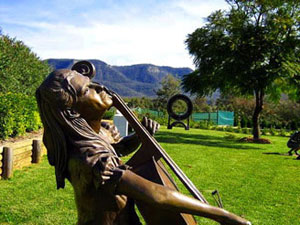 In addition to the formal gardens, you will find a number of interesting sculptures placed at strategic points throughout the vineyard. There are a number of bronze sculptures by various Australian artists, including several by Julie Squires, well-known Newcastle artist. The latest addition is a 1½ times life-size bronze of the illustrious English cellist, Jacqueline Du Pre. This was unveiled by The Hon. Senator Helen Coonan, Minister for Media, Communication, Technology and the Arts.