By Leigh O'Connor.
Scott Wilson-Browne is a self-confessed larrikin – by birth and by nature. He likes playing a few tricks and having fun, but the real Larrikin is the gin he produces with business partner and mate, Chris Pratt.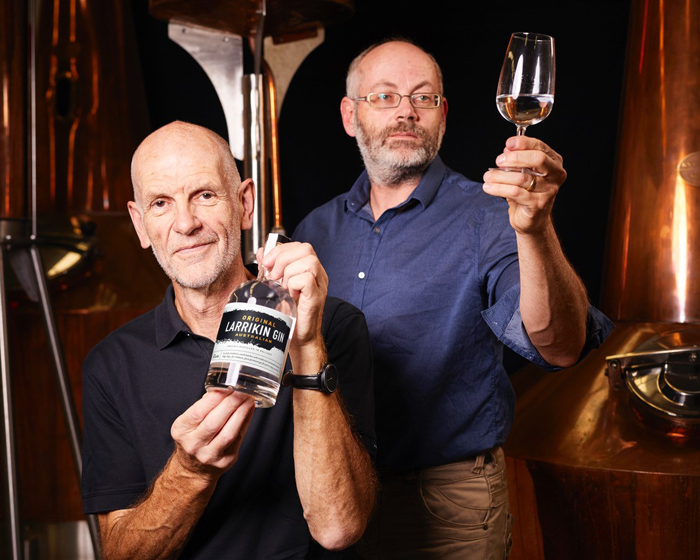 Scott Wilson-Browne and Chris Pratt.
In an entertaining two-on-one interview with AGFG, the pair open up about how they met and why they decided to make gin in Ballarat, a city with a long history of distilling, both illicit and licit.
"Scott brews beer and I have a passion for trying and exploring beers," Scotsman Chris recalls. "In fact, I tried to explore 365 beers in one year. I discovered Scott's brew and began helping him at events so I got free tastings – it went from there."
Why did they decide gin was the drop of choice they would distil?
"Because we hate vodka," Chris quips. "Gin is quicker, easier and more delicious."
Larrikin makes four varieties of gin – Scoundrel, Original, Barrel Aged and Buccaneer – along with special editions such as Bramble and a new secret label due to be released this month.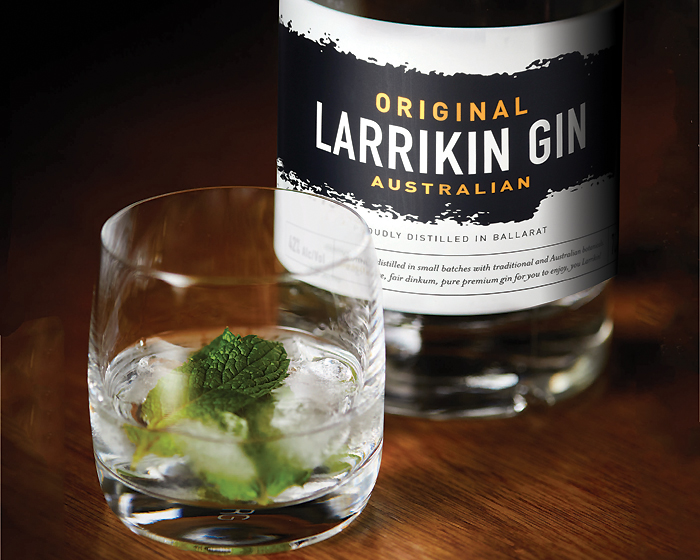 A whiskey is also on the horizon, with a scheduled release date of 2020, but there won't be any wacky names for this drop.
"Scott is good at coming up with appropriate names – having a bit of fun and loads of creativity. But we wouldn't go crazy with whiskey, gin on the other hand is fun. It opens up a whole range of opportunities that you don't get from whiskey, once you meet the requirements of having juniper for flavour you can experiment with many different botanicals and spices.
"White spirits don't need ageing – you could come in early and distil the gin, label it in the afternoon and sell it in the evening," Chris explains.
Ballarat was chosen as the base for Larrikin Gin as Scott was already operating a brewery in the city and it made sense to steal some space for their new endeavour.
"When the gold rush was happening, every second hotel in town was brewing their own beer. The quality of water in Ballarat is excellent and that was another drawcard," Scott says.
"We had two pot stills manufactured so our gin is entirely vapour infused, making it very smooth. I looked at a lot of other distilleries with stills from Germany and they are very complicated.
"I don't understand why they need this process – ours are very simple."
The difference between the four gins produced is the botanicals:
Scoundrel is a style of London dry gin, more spice based and juniper driven, with hints of fresh orange and lemon.
Original has no citrus, instead using Australian botanicals such as pepper berry leaf, anis myrtle and lilly pillies, along with coriander.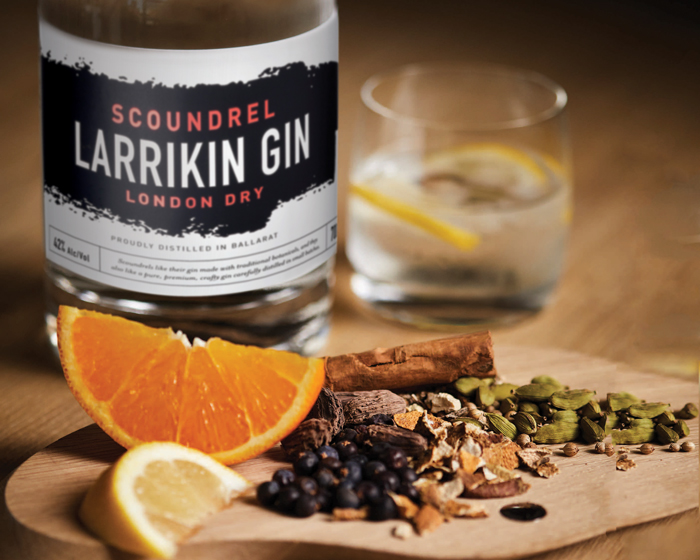 Barrel Aged – which originally had the moniker of Old Bastard, but was changed because it didn't seem to go down as smooth as the gin – has been briefly aged in a barrel for two to three months.
Buccaneer is based on the London dry, with lime, more juniper and more alcohol. Chris and Scott recommend to drink it neat and hold it in your mouth before swallowing, as it is wonderfully smooth despite the extra juice.
The obvious question for these larrikins is what's their favourite tipple and why?
"Gin, gin and a bit more gin… we tend to drink it neat. Please don't drown it in tonic – if you are going to add something have a Negroni, try it with a bit of soda or Taffy's ginger beer," Chris says.
"The best way to drink gin, is the way you like it most.
"One customer told us he likes his with a pickled onion in it. I don't like pickled onions, but my mouth was watering by the time he had finished describing it."
Not surprisingly, Aussies are embracing Larrikin in droves, some even travelling from Melbourne to taste and buy gin at the cellar door. So next time you reach for a G and T, do yourself a favour and let your inner larrikin out!