By Leigh O'Connor.
"Something wonderful happens when you work in a community of people pulled together by a common goal. There is a certain misconception around the idea of going it alone and the satisfaction that solo achievements can bring. But many of the world's greatest achievements have only been accomplished through the help of the community." – The Lanes.
In 2011, in search of a simpler, but richer pace of life, Emma and Tom Lane left their big city lives and fast-paced jobs for the quieter setting of the Byron Bay Hinterland.
For Emma and Tom it was the chance to pass on their cherished farm life experiences to their young children – they purchased a small farm and seeing the almost instant positive impact the 'tree change' had on the family they were inspired to create The Farm at Byron Bay - as a way of promoting farming, good food, wellness, healthy living and all their benefits to the wider community.
It has since become a diverse community of its own, made up of organic growers, Chefs and bakers – all connected by the common values of simplicity, sustainability and farm-fresh food.
In their book, The Farm Community, the Lanes explore the joys of simple living through stories, recipes and projects collected through the connections they have created on their working farm, with a deep passion for real food and heart.
"The Farm at Byron Bay is a place where a group of people are working together for a more sustainable future," the couple says.
"We want to show that by working as a community, following organic farming principles, we too can enjoy the food that our ancestors enjoyed. It's about the joy of simple living and you can taste the difference in every bite."
Alongside tales of the people who have made The Farm what it is today, the book offers tips to living more sustainably – whether in the city, suburbs or countryside – rewarding projects like making your own compost bucket, companion planting and drying flowers; as well as recipes collected from the community, celebrating a shared love of growing and cooking.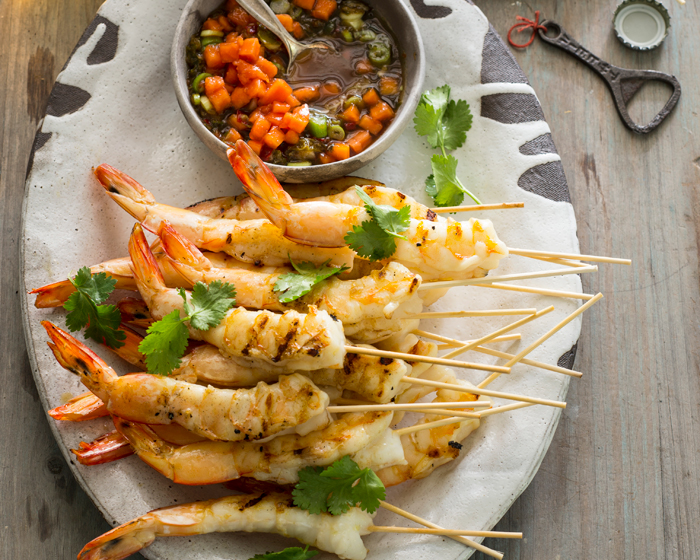 Nick and Simone Hatherly grow oranges, lemons, limes, mandarins and grapefruit, among other produce, on their own little cornucopia, tucked away near the historical village of Newrybar. Supplying both The Farm and restaurant, Three Blue Ducks with their citrus needs, the couple shares their recipe for King prawn skewers with papaya nam jim.
Served on a large plate with fresh lime wedges and coriander leaves, the nam jim sauce can be drizzled over the skewers or left on the side as a dipping sauce.
Pam and Martin Brook, inspired by a passion for quality, healthy food, transformed a rundown dairy in the Byron Bay Hinterland into a working macadamia farm. When macadamia prices suffered a downturn in the 1990s, they decided to add value to their harvest, resulting in Brookfarm – an award-winning business leading the way in Australia for premium macadamia products.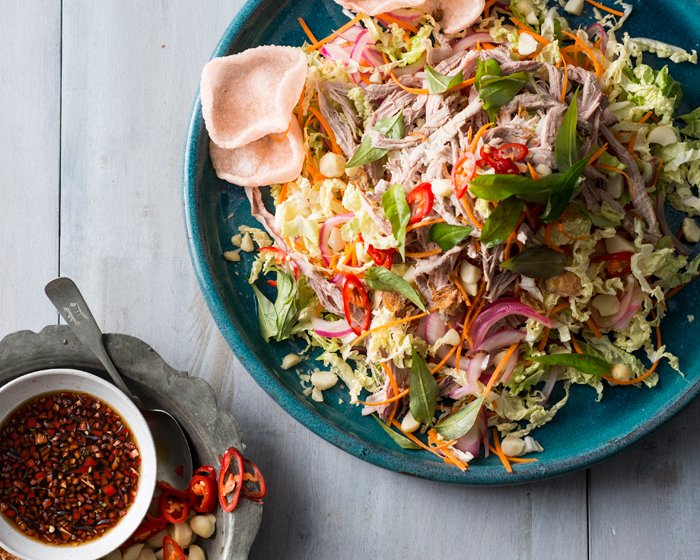 Their recipe for macadamia nut and shredded pork salad can be substituted with chicken, while you can find crisp fried shallots at most Asian grocery stores.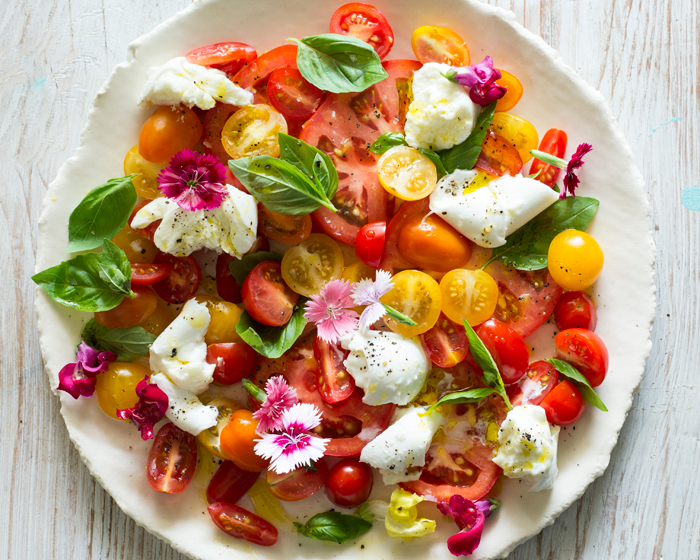 Emma's own flower, basil, tomato and buffalo mozzarella salad is a vibrant dish on the plate and in the mouth. Basil and tomato are great companion plants and Emma says what grows well together, often tastes delicious together as well.
"It's not just about being sustainable; it's about regeneration and returning the earth to what it once was, while at the same time nurturing a community of people," she says.
This is a book about how real change can happen when people come together – told by the people themselves. The recipes and images are stunning – but even more so is the philosophy behind this couple's dream of 'The Good Life' – it is sure to become a staple on many kitchen shelves.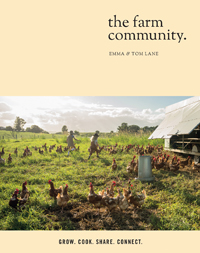 This is an edited extract from The Farm Community by Tom and Emma Lane published by Hardie Grant Books $39.99 and is available where all good books are sold. Photography: © Alan Benson.