Hold on and brace yourself for Australia's wildest rapids
Blessed with a scenic countryside, unspoiled beaches and striking mountain alps, Australia also has many accompanying outdoor activities to get your adrenaline pumping and make you feel alive. White water rafting mixes the best of the great outdoors with an energetic team exhibition, whereby an inflatable raft is navigated through a rapidly running river. White water rafting comes under several classifications, depending on your degree of experience as well as the conditions and difficulty of the course. For beginners, a level 1 course is encouraged in order to get a feel for the sport.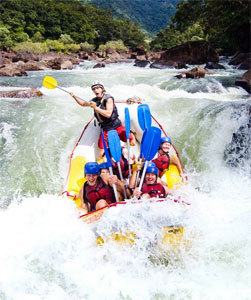 Where can I go white water rafting?
The Tully River in Cairns is one of the best places to white water raft, with plenty of fast flowing white water ready to put up a challenge. Also located in Cairns, the North Johnstone River is a steep, fast flowing river that makes its way through a breathtaking volcanic gorge, guaranteed to go down in your traveller's journal as an absolutely unforgettable experience. Perfect white water also runs down the Nymbodia River of Coffs Harbour in northern New South Wales, with tours running as full day activities. For those brave enough to accept the challenge, get ready to brace yourself for the natural forces Australia has to offer.