By Freya Ensbey.
Sake is the alcoholic beverage delicacy synonymous with Japan and the Japanese cuisine.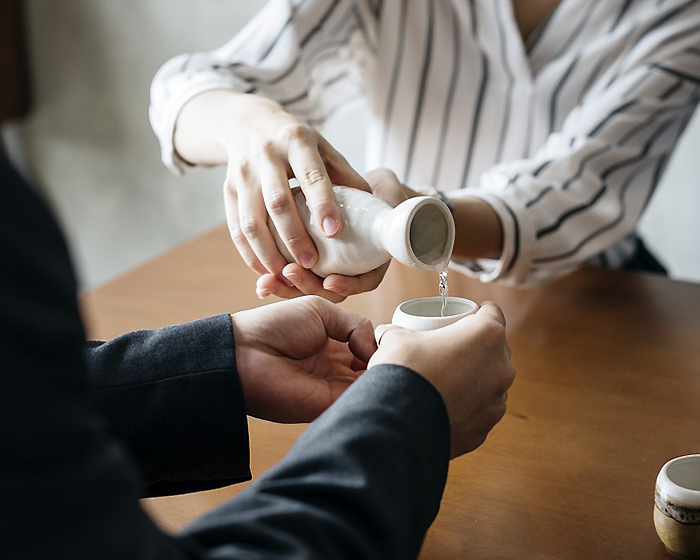 A true Japanese sake is a rice wine made by fermenting rice that has been polished to remove the bran. Over the years, it has developed into incorporating modern manufacturing techniques, but the concept and foundations have always remained the same.
Today, there are over 1,600 producers of sake in Japan, creating a unique taste with every batch they make, just as vintners do. Each sake has a suggested temperature at which to drink it and we highly recommend asking a sommelier of their opinion to best enjoy each specific label before sampling a bottle of sake.
Traditionally drank in a small cup called a sakazuki, sake is a popular drink of choice in most bars or restaurants and often used throughout the year for important celebrations like that of Hanami. This is a short window of about 3 or 4 weeks when Japan is covered in flowering cherry blossoms. During this time, locals are encouraged to take a day of "hanai" and sit beneath a cherry tree drinking sake with friends.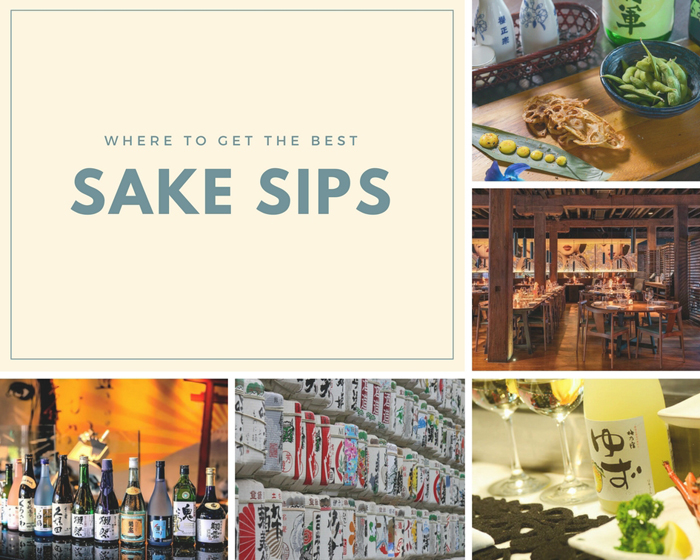 Sake Restaurant and Bar The Rocks | NSW, Double Bay | NSW, Hamer Hall | VIC, Flinders Lane | VIC, Eagle Street Pier | QLD
Offering the choice of five sought after locations, Sake Restaurant and Bar, is leading the way in boutique Japanese cuisine and premier Sake varieties.
The Rocks establishment resides in Sydney's popular Argyle Street, greeting guests to a contemporary and energetic atmosphere which is awash in exposed timber furnishings, slat room dividers which resemble traditional Japanese abodes and larger than life murals of red lipped Geisha girls, poised above diners on the wall. Communal tables ensure diners have an intimate experience as they indulge in a menu, presented by way of visually stunning dishes which are as equally appealing to the eye as exciting to the palate.
Sample the likes of scampi tempura with amazu ponzu, red onion and jalapeno or perhaps the chirashi salad with sashimi, masago, netta, lettuce and yuzo dressing. As impressive as the food menu is, it is the variety of sake which has really gotten our attention, offering a boutique menu of varieties hand selected from Asia and around the world. Share a carafe of Tateyama Junmai Ginjo, a harmonious blend of fresh fruity notes like peach, pears, steamed rice and a hint of umami, whilst those after something a little more layered may opt to sip on the 2018 Akishika Shuzo, with tasting notes of mushroom and hazelnuts.
Ten Japanese Restaurant | QLD
For a true taste of the Japanese sake fine dining scene in the land down under, a visit to Ten Japanese Restaurant on the Gold Coast is a must do experience. This high class restaurant embraces modern oriental art and aesthetics, with an extravagant space fitted out with luxe metal floor to ceiling front doors, stone walls leading to high ceilings, an eclectic mix of feature chairs, a sparkling centre feature bar and oriental flora placed throughout. The beverage list offers an ultra-premium range of sake with sought after drops like the Dassai Beyond originating from Yamaguchi. This drop offers unparalleled smoothness and a clean, complex flavour which is followed by a stunning length to finish. For those who prefer a lighter sake, the Bunraku hailing from Saitama holds a good balance between flowery scent and light taste, with delicate notes of grapefruit, walnut and apple skin, celery stalk and blue fruit flavour.
Kobe Jones Melbourne | VIC
Residing riverside at Melbourne's most popular meeting place of WTC Wharf, Japanese restaurant Kobe Jones Melbourne offers easy access by road, foot or even water. Discover a restaurant of modernity fused with traditionalism, styled with simplistic furnishings of timber, upholstered seating, hanging pendent lighting and an open plan dining space, Kobe Jones has made the most of their absolute water front location by bringing the outside in.
Start with exciting dishes like the Dragon egg - tuna tartare sushi mixed with chipotle mayonnaise on a shiso leaf, topped with avocado and finished with ponzu sauce as you peruse the premium Japanese sake menu.
For those who enjoy a lighter sake, opt for the Umami Sonomama Junmai, which is a well paired drop to match with seafood, whilst those after something bright and uplifting can sip on the Umenoyado Yuzushu with flavours of yuzu lemon.
For Sydneysiders, find Kobe Jones Sydney.
Shimbashi Japanese Soba and Sake Bar | VIC
When visiting Melbourne's prominent suburb of Fitzroy, make sure to take time out to visit locally loved Shimbashi Japanese Soba and Sake Bar. This cosy and relaxed restaurant is genuine Japanese, with a focus on their own stone milled buckwheat flour which is made to create soba noodles and a selection of top shelf sake to match.
Wrap your hands around a bowl of steaming noodles as you sample a glass of Daimaoh, a sake made from sweet potato or perhaps opt for a dry flavour tasting set and sample from a paired trio including Asabiraki Suijin Junmai, Suishin Kome no Kiwami and Kome Dake no Sake Junmai.
To taste more of what Japanese cuisine has to offer, visit one of our recommended Japanese restaurants across the country and continue on with a sneaky sip of sake.