By Leigh O'Connor. Photos: Dr Roger S White.
Visit Japan in Spring and it's all about pretty pink cherry blossoms, various festivals celebrating the flowers and a vibrant culture of dance and music, that makes this nation one of the most intriguing on the planet.
As many Australians know, Japan has a whole different side that emerges when snowflakes fall and ski fields around the country burst into life, with overseas skiers and snowboarders arriving to sample some of the fluffiest, driest and lightest powder in the Winter world.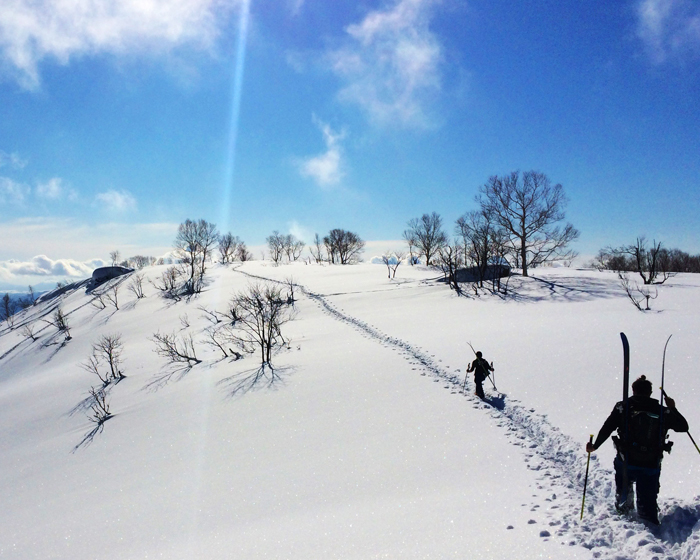 On the slopes in Niseko, Japan.
I was one of these intrepid ski bunnies in January this year when I travelled from the Gold Coast to Sapporo in Hokkaido to visit two distinctively different and wonderfully snow packed resorts, at Rusutsu and everyone's favourite Niseko.
Flying from the GC on Air Asia X involved a stopover for six hours in Kuala Lumpur before arriving at Shin-Chintose Airport, with each leg of the flight taking about eight hours. It is a further two-hour bus ride from the airport to Rusutsu village, where lodge and resort-style accommodation await, along with the three-mountain ski area.
A powder purist's dream, Rusutsu is a family-friendly resort with wide, tree-lined slopes to suit all levels including immaculately groomed trails, tree-lined gullies and powder bowl access. The village itself is small with only two resorts – Rusutsu and the Westin, which was named best new ski hotel in the world in 2016.
The West Mountain ski field is directly outside Rusutsu Resort and offers gondola and chair access to higher parts of the slopes. It is also open until 8.30pm, so skiing under lights is an attractive proposition for those who want to make the most of every day.
The runs vary in difficulty from beginner to black, but generally intermediate, with some steep sections and powder among tree lined edges. I found West was a great starter to each day with lengthy runs to warm up the legs, before heading over to East Mountain and Mount Isola.
Some of the best runs, especially first tracking in the morning after overnight snow, are on Mount Isola where Steamboat, Isola Grand, Heavenly Ridge and View offer long, top to bottom skiing with the option to off piste among the gullies.
There is no better way to end the day when your legs feel like lead weights and your lungs are bursting with mountain air, than to visit the onsen - where muscles relax and a feeling of overall cleanliness is hard to describe. Rusutsu Resort has separate men's and women's steam baths, where I daily soaked away tiredness and refreshed before an evening of apres ski entertainment.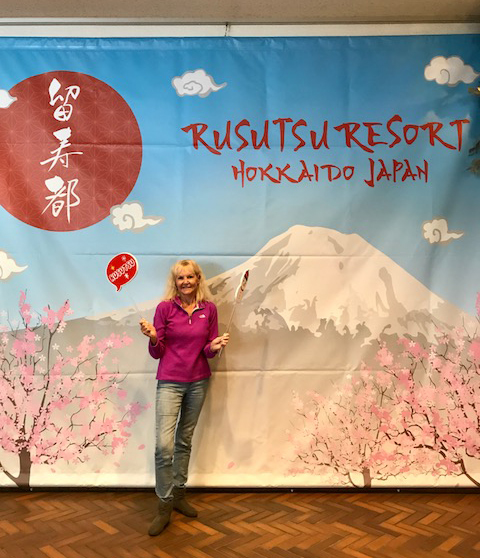 Rusutsu Resort - right on the slopes, ski in, ski out.
My first visit saw me a little self-conscious as I was the only Westerner there, which created a few giggles from the young girls as I am blonde, tanned and not what they are used to seeing. But after a couple of days I relaxed into an atmosphere of female camaraderie and enjoyed the sensation of hot, steamy water washing away the cares of the day.
Toiletries such as shampoo, conditioner, face wash and moisturiser (Shiseido no less) are all provided along with hairdryers, so onsen-goers leave feeling completely pampered.
While the resorts offer expansive accommodation options, they are pricey. Most visitors opt for lodge-style hotels, which are both cheaper with breakfast and shuttles to the slopes included – and also a great way to share your ski adventure with other travellers. The majority have a communal area where sitting for a coffee to chat about the day's activities is not only recommended but encouraged.
I stayed at Lodge Romulus in a double room with ensuite for $100 per person per night, but there are cheaper rooms available with shared facilities. Breakfast was always hearty with a choice of cereal and fruit, juice, toast and cooked eggs, salad and usually bacon. Tea and coffee was available all day and the lodge is in partnership with restaurant and bar The Pirateman, so evening dining was a comfortable walk or shuttle ride away.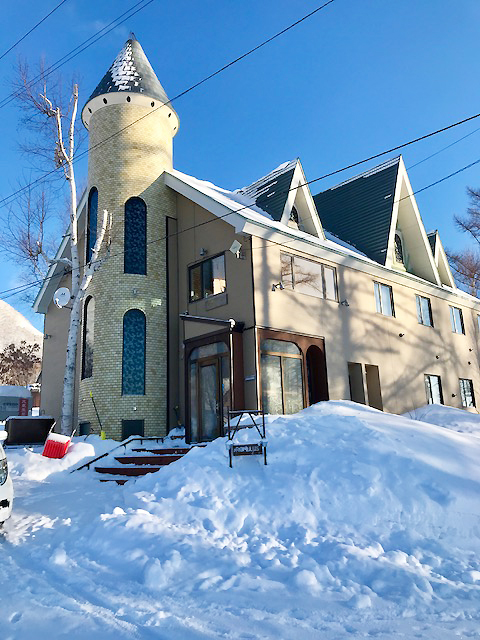 Lodge Romulus…great rooms and breakfast.
On the Sunday night The Pirateman came alive with a local Japanese disco band making for an interesting apres ski experience, where the singing resembled karaoke but the enthusiasm was unbridled, leading to many patrons shaking their booty!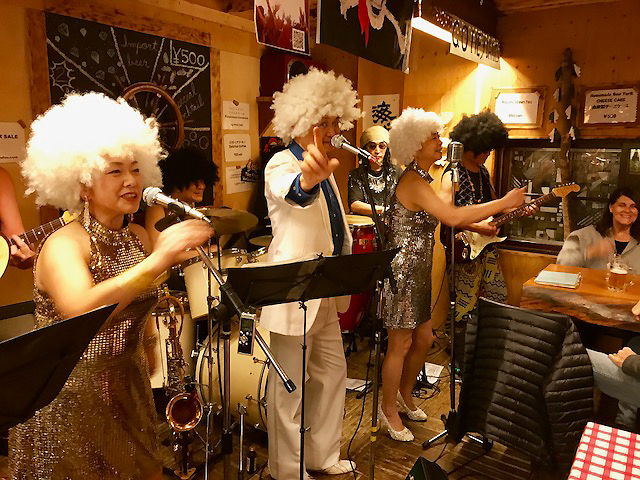 Apres ski entertainment – shake your booty at The Pirateman.
One of the best meals I had in Rusutsu was at a small family-run Japanese yakitori restaurant called Tampopo. Reasonably priced at around $50 for two people, try the scallop, duck, deer and chicken skewers along with succulent deep fried octopus. A glass of wine was around $8, although not overly full, and the food was so good I dined there three times.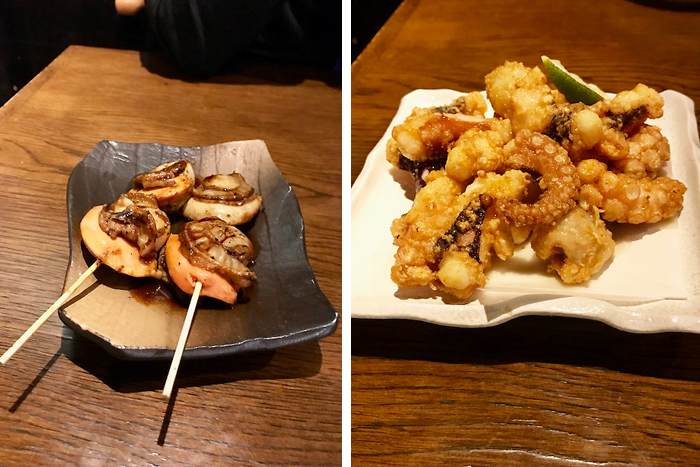 Scallops and octopus Tampopo-style.
As a special treat, I spent one night at the Westin Rusutsu Resort, where a two-level one-bedroom apartment with deluxe bathroom (and English television!) sets you back more than $600 per night. While the room was spectacular, with views of the ski field, snow covered amusement park and monorail, the restaurant options are limited and over-priced, with teppanyaki quoted at $300 per person for dinner.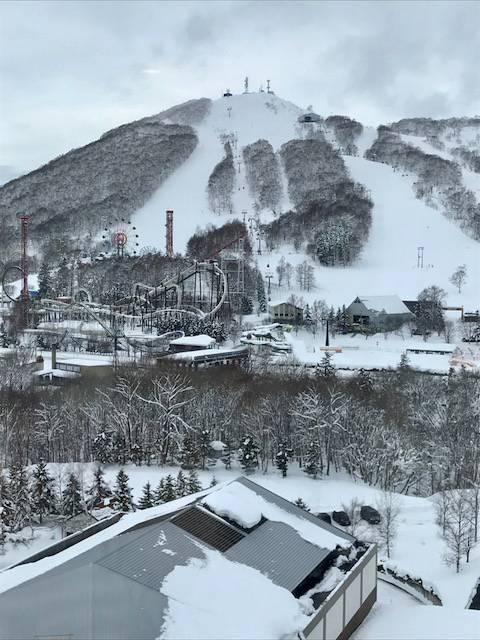 Snow covered amusement park at Rusutsu.
However, it is hard to go past sitting outside in a steaming onsen with snowflakes falling all around and watching skiers and boarders enjoying the slopes under the glow of night lights. I can see why it was voted best new ski hotel in the world, but luxury always comes at a price!
After a week enjoying fresh snow every day, it was time to pack up and catch the bus to the big brother of Japanese ski resorts Niseko, about an hour away. Much more developed – and still developing – Niseko is one of the most popular destinations for overseas skiers with an abundance of accommodation, restaurant, supermarket and café options.
Again, I went for lodge-style, staying at Pension Berg on the main street up to the slopes and not far from the Welcome Centre. Both Western and Japanese rooms are available – Japanese rooms are larger, with a futon bed on the floor – and with shared bathroom facilities and daily breakfast, the cost is around $90 per person per night.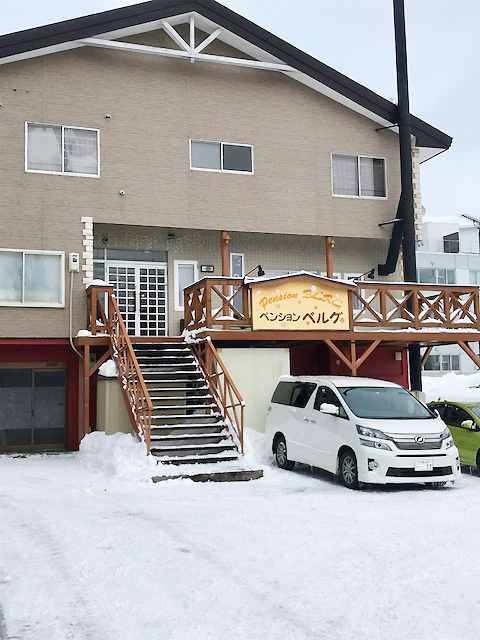 Pension Berg in Niseko…bathrooms have individual onsens.
While the bathrooms are shared, one of the highlights is an onsen in each of the men's and women's facilities. Not overly large, perhaps seating four or five people at a pinch, I never shared the steam bath once during the week I was there.
From the pension it was a quick walk across the street and through to the ticket office at the base of the Ace Family Quad Chair, offering access to the upper slopes of Grand Hirafu and Hanazono resorts. There are plenty of run options to choose from once at the top of the Ace Quad Lift, including skiing through the trees alongside the King Hooded Quad.
It snowed every day I skied Niseko, making visibility challenging at times, but with soft powder to land on, canning out didn't seem as daunting as on those days when it is blue skies and icy conditions.
An ideal spot to enjoy a morning coffee or after slopes drink is the brand new ski-in, ski-out Aya Hotel, where Ginger Restaurant delivers uninterrupted views of the mountain, as well as cocktails and a full Western and Japanese menu.
While those looking for café-style fare can take a short stroll to the other end of the village to JoJo's Café. Nestled on the second floor of the Niseko Adventure Centre, JoJo's serves up gourmet burgers, real coffee and views of Mount Yotei from the deck, as well as a rock climbing wall and children's play area.
One of the advantages of Niseko is its closeness to the town of Kutchan, just a quick bus ride away and with all the facilities tourists require such as banks, train station and big supermarkets. A trip to a Japanese supermarket is always an adventure, just taking in the variety of fish, seafood, sushi and sashimi on offer.
In fact, the best and least expensive meal I had while in Niseko was sashimi purchased fresh from the supermarket and enjoyed back at the pension with a glass of wine.
I just scratched the surface of this huge ski resort in the time I was there, it is simply too big to cover in a week - but that just means another visit at a later date. For me, skiing Japan was an experience like no other, the snow is incomparable, the people hospitable and food amazing.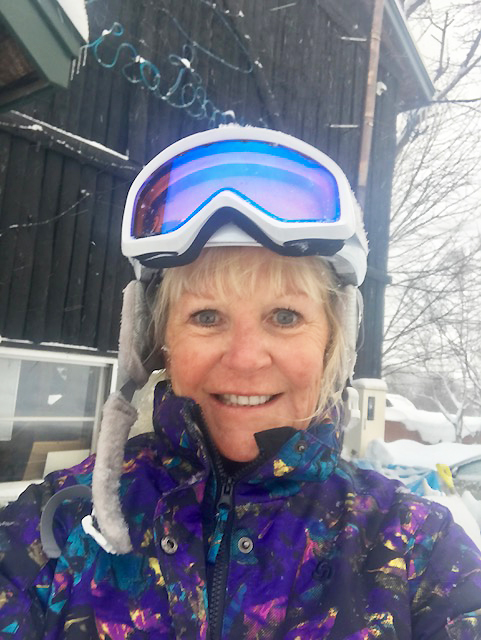 Selfie snow bunny!
So, while I say sayonara for now… I'll be back!
For more information on Japanese ski resorts, click
here.