Bring out the saffron-infused seafood paella and raise that glass of Tempranillo; we'll be celebrating Spain's National Day on October 12 with a fiesta!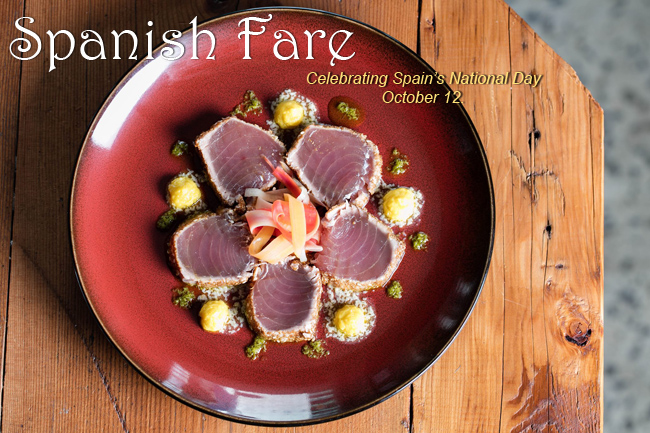 Sesame seared tuna, sweetcorn and ginger puree with pickled carrot and chive oil at Bistro Dom.
Known as Fiesta Nacional de España in Spain, this day commemorates the anniversary of Christopher Columbus' first arrival in the Americas. The special day is also known as Columbus Day in the United States and Día de la Raza in some Latin American countries.
Although October 12 is symbolically significant, the Spaniards surprisingly do not typically throw parties on this day. Rather, they prefer to preserve their energy for the feast of Our Lady of the Pillar. Also celebrated on October 12, the day commemorates the Patroness of the Hispanic people and the Spanish Civil Guard.
Just because the Spanish don't go loco over National Day, it doesn't mean you can't, celebrate this week snacking on delicious Spanish fare.
Sweet Copper | Canberra ACT
Creating an inviting space for art, coffee and cuisine, Sweet Copper café is loved by residents in and around Nicholls, housed by the Old Ginninderra School House in Ginninderra Village. On Saturday October 29, Sweet Copper is offering you a taste of Spain without leaving Canberra. Featuring traditional paella and tapas in 5 courses, you're also able to BYO with no corkage charge.
Rustico @ Hay Shed Hill | Willyabrup WA
Adopting a spacious structure at Hay Shed Hill Wines estate, Rustico eases guests into decadent dining, nestled among lush vineyard rows and gently undulating hillsides with an elegant interior tempting guests to indulge at leisure.
Casa Asturiana | Sydney NSW
For a celebration of flavours, join a lively Sydney city crowd at Casa Asturiana an all-in-one tapas bar, restaurant and events venue on Liverpool Street with a distinctly Latin vibe. Friday and Saturday nights come alive with a display of colourful flamenco dancing with the kitchen opening late in true Spanish tradition.
Lola Cocina Spanish Restaurant | Sydney NSW
The surprises of Spanish cuisine await at Lola Cocina café, tapas bar and restaurant, nestled into the maze of streets in Crows Nest. Mouth-watering meatballs stuffed with manchego cheese and pan-fried chicken and pork chorizo with caramelised onion may be just some of the tantalising bites on offer.
Bouzy Rouge | Richmond VIC
Feast like a king at Bouzy Rouge, a sophisticated space with an underground vibe, well suited to the suave crowd of Melburnians who frequent this Bridge Road establishment. Start your dining experience with a visit to the impressively stocked bar before deciding between traditionally inspired Portuguese and Spanish dishes.
Tapavino | Sydney NSW
Celebrating Spanish culture with a sip of this and a taste of that is Tapavino, splashing onto Sydney's dining scene in many a shade of sherry. Famous for its Spanish fortified wine collection, Tapavino has already accrued a loyal following, who line up to enter the laneway location as if on the cobblestoned streets of Madrid.