Compiled by Julie Johnson.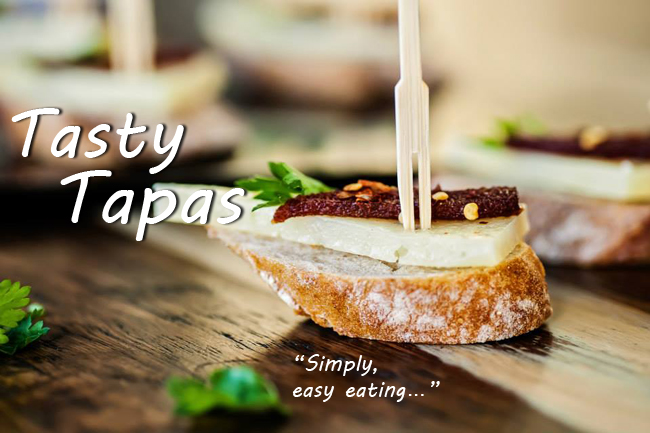 Pintxos, Boca Del Sur.
Easy eating is the motto of tapas - an ideal way to enjoy a feast of flavours and textures all in one sitting with friends, and without looking too greedy! The Spanish were some of the first in the world to perfect the art and style of eating tapas, first by using 'tapas' to cover the top of a glass of wine so as not to let bugs go for a swim, and also to slow down the process of absorbing alcohol too quickly.
Many popular Spanish towns are also set by the seaside and those inland were close to main roads of dirt and dust back before they were sealed. Using a flat slice of bread, cheese or meat to cover the glass prevented dust from the roads and sand from the beach from flying in to ruin a beautiful glass of wine.
Thankfully, this traditional has continued to develop around the world so that here in Australia, we can dine out for small dishes still referred to as tapas and see through a night eating and drinking with flair. It is a great way to enjoy dining in large groups by way of sharing in good food and great times, to encourage conversation rather than having heads buried in an individual dish until every morsel is eaten, and to create a relaxed, fun vibe when dining out together.
Featured below are some of our favourite Spanish tapas bars in which to clink glasses together and yell ¡salud! in unison (that's Spanish for cheers)! Enjoy mouth-watering food, fun drinks and a great atmosphere in these tapas hotspots, and for more, see thetapas restaurantarea on our website.
Boca Del Sur | Sandringham VIC
Join a lively crowd at this vibrant tapas bar spending time delving into a diverse menu, featuring heady wood fired cooking and succulent grilling, all the while admiring views over Anonyma Shoal in Port Phillip Bay.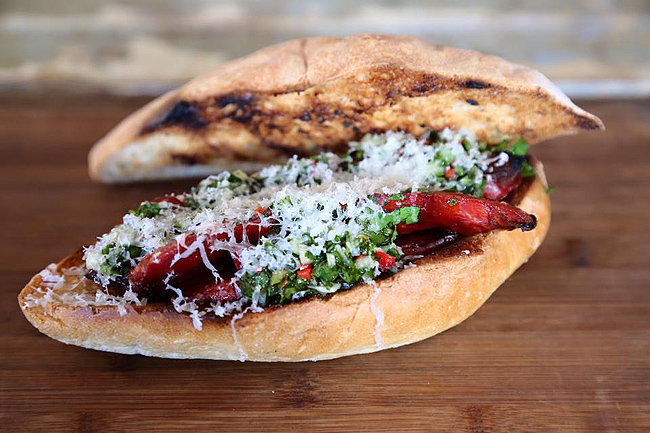 Bocadillo's at Pablo Pablo.
Pablo Pablo | Palm Beach QLD
Popular with friendly Gold Coast locals, this trendy, pint-sized venue offers craft beer, boutique wine and sangria to pair with the likes of crispy baby cuttlefish with mojo verde and lime, and Spanner crab on charred chorizo with fennel puree.
Tapas Tapas Bodega | Turramurra NSW
The name says it all! Come here for tapas, more tapas and drinks. Diners can rest assured their culinary experience is in safe hands; restaurant Chef Ramon Bracamonte has trained in a hatted San Sebastian restaurant and now focusses on Catalonian and Basque style tapas and pintxos.
Maria's Donkey Tapas Bar | Mackay QLD
Perched upon the pier of the Pioneer River, Maria's Donkey puts an emphasis on the 'bar' where chilled sangria is best enjoyed out on a rustic timber deck beside the river's rippling waters.
Rustico Tapas & Bar | Rockingham WA
Set along the vibrant foreshore of Rockingham Beach, find Rustico Tapas Bar on the corner of Rockingham Beach Road and Wanliss Street for lively Spanish style fare among a laidback vibe bursting with bold colours.
El Toro | Yeppoon QLD
Just a quick stroll away from turquoise waters makes El Toro a popular choice for locals with a tropical backdrop for dining in sleek surrounds creating an ideal place for fresh prawns with garlic and lime, and hot churros with chocolate dipping sauce.
Barrio 2304 | Mayfield NSW
Like bulls to a red cape, locals charge towards Barrio 2304 for a taste of the Mediterranean and to submerge in a lively atmosphere as waiters deliver jugs of fruity sangria and more.