By Freya Ensbey.
We deconstruct the famous 'Oh Crab!' burger by Chef Truman Ng of Kung Fu Burger.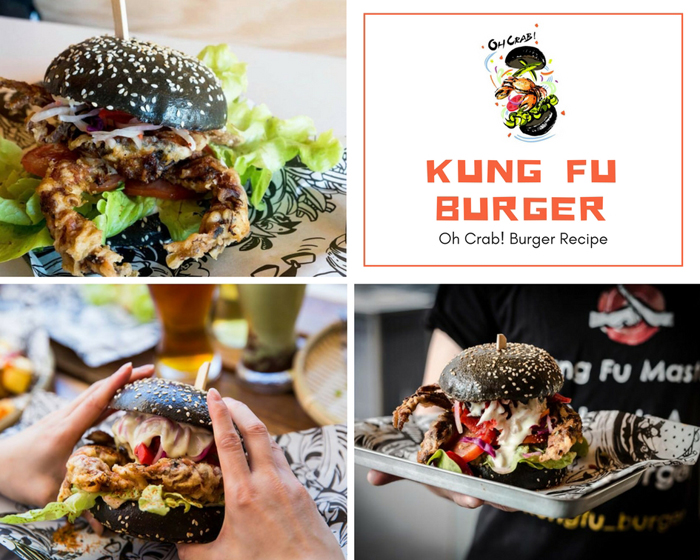 Soft shell crab is a menu staple of most Japanese restaurants, being offered in all its deep-fried glory, with a golden crispy tempura batter. However, what many may not know is the exact timing needed for to harvest "soft shell" crabs, which allows us to enjoy these crunchy morsels of goodness.
Rather than a specific species, soft shell crab is a culinary term used for 'Blue Crabs' that have recently molted their old exoskeleton, exposing their softer inner bodies, meaning that almost their entire body can be eaten. This is an important process for crabs who otherwise would outgrow their shells. Before the crabs 'drop' off their harder outer shells, they grow a soft, translucent beginning of another one beneath to protect their limp bodies during this process, which can sometimes leave them in this vulnerable position for only a day. This is the exact transitional stage fisherman need to harvest the crabs in order to be able to sell them to local fish mongers, restaurants and gourmands alike.
One Asian fusion eatery which has added soft shell crabs to their menu in a unique and playful way is Kung Fu Burger, set along Chapel Street in Melbourne's South Yarra. Filled with hungry locals from open to close each day, Kung Fu dishes out tantalising tastes like the Peking Pork Taco with pulled pork, Peking-duck sauce, cucumber, spring onion and Asian slaw. However, it is head Chef Truman Ng's tempura, soft shell crab burger which has gotten our attention of late and made us drool as we pinched up their recipe for the Oh Crab!
A stark charcoal black bun is used to base this creation, with the addition of a punchy Asian slaw made from fresh ingredients like green papaya, Japanese red radish and chilli, which is drizzled generously in a lip smacking creamy wasabi mayonnaise sauce. The hero of the burger is the perfectly cooked soft shell crab which is cooked in a light and crunchy potato starch batter with the addition of onion powder and garlic powder for flavour.
For those left reeling and wanting to wrap their claws around this seafood sensation at home, follow the link to find the recipe for Chef Truman Ng's Oh Crab! burger here.