By Karissa Straughen.
An overnight stay at The SEBEL Noosa, followed by a water taxi across Noosa's glistening river and a steam cooking masterclass at Wasabi Restaurant & Bar's The Cooking School Noosa – what more could you dream of, for a foodie weekend getaway?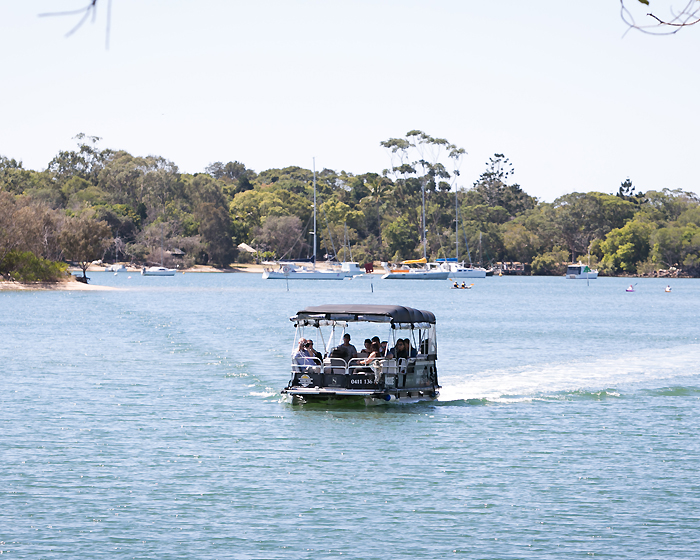 We're on a boat! Water taxi across the Noosa River from The SEBEL Noosa to Wasabi Restaurant & Bar.
We'll be straight up with you, yes, we were invited by the lovely folks over at Hausmann to be a part of the Electrolux Life Dinner Series, to experience everything we needed to know about Electrolux's steam oven and how best to use it for the home cook. No, we did not expect to love it as much as we did – we're foodies, we mostly find ourselves eating not cooking!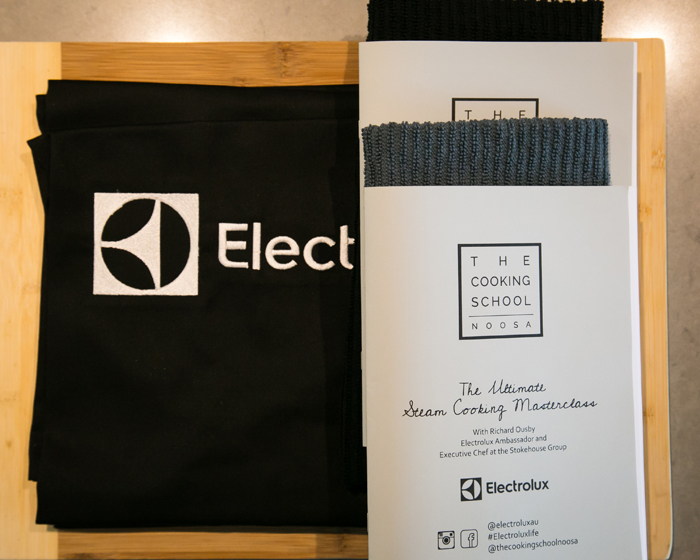 The day's agenda.
Around 20 of us piled into the cooking school, wide-eyed and eagerly (some of us nervously) awaiting our day of cooking ahead. We were met by Electrolux ambassador and the Executive Chef of Stokehouse Restaurants in Brisbane and Melbourne, Richard Ousby, along with the Founder and Co-owner of The Wasabi Group, Danielle Gjestland, who led us through the nine recipes we would all be contributing to – from entrée to dessert, with a number of dressings in between.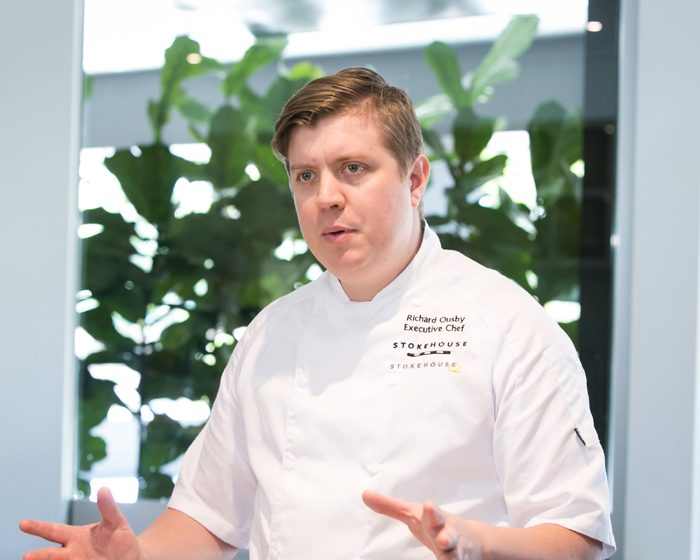 Executive Chef of Stokehouse Restaurants in Brisbane and Melbourne, Richard Ousby introducing himself and detailing the instructions for the day.
Usually, The Cooking School Noosa runs classes for a maximum of 10 guests, followed by your cooking being presented back to you via a 3-course lunch with matched wines in the Wasabi Restaurant & Bar – but we were all invited to bring our partners or friends, so it certainly became busy and fast-paced quickly, like all kitchens should.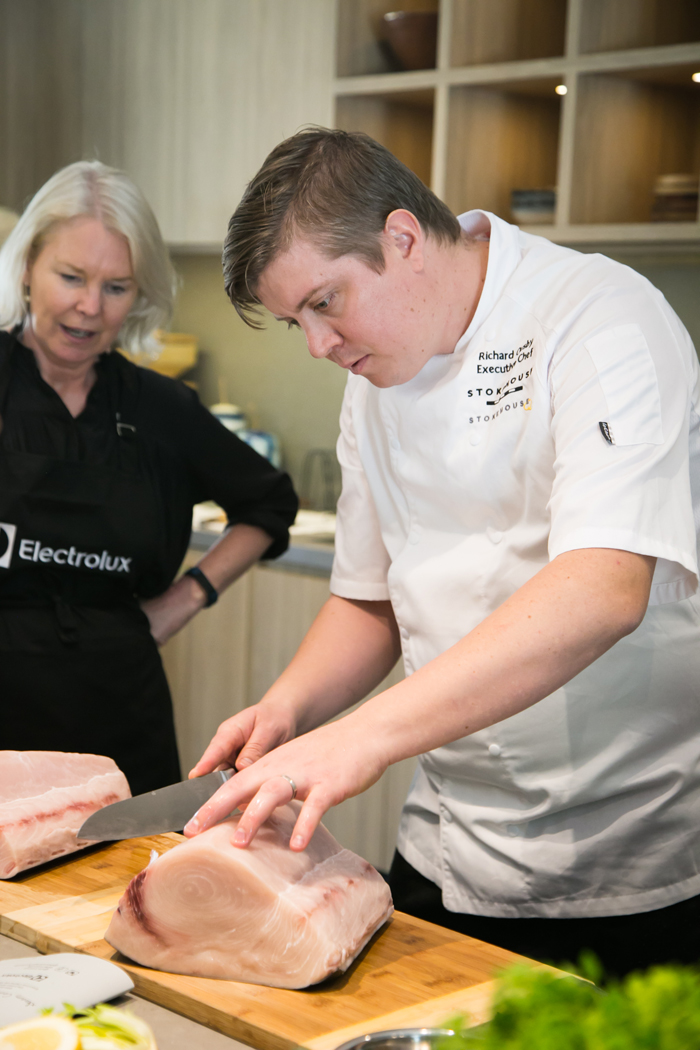 Richard showing us the correct knife techniques for cutting the swordfish.
Uniting Richard's steaming techniques with Wasabi's ethos of sustainable living, through contemporary sensibility and the purity of their Japanese roots, we were presented with ingredients from local farmers and producers; along with elements from Wasabi's very own restaurant farm – Honeysuckle Hill, where Japanese ingredients, that would otherwise not be available, are grown.
Using Yoshisada Japanese knives was also another element that really added finesse to the whole cooking class experience. They're hand crafted knives from Mr Teiichiro Yamaguchi – a 10th generation Yoshisada Hamono grand master, which made the long journey from Kyoto into our hands at Noosa.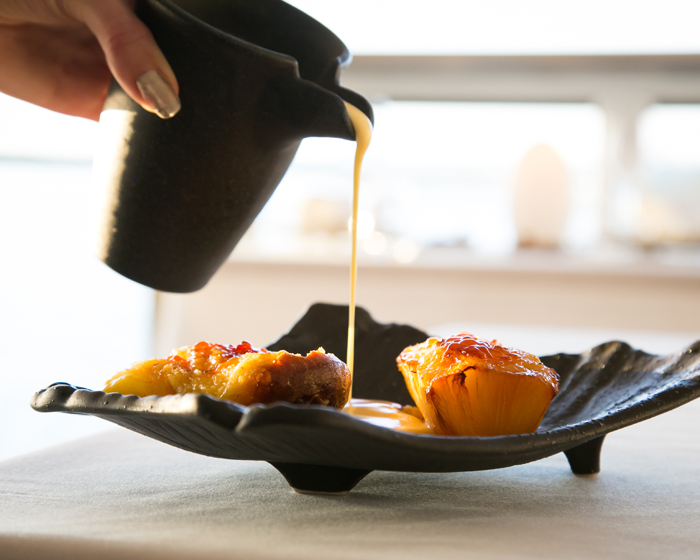 Our dish is served! Rum roasted pineapple, paired with vanilla custard, caramel brioche and fresh passionfruit.
Split into pairs, we all went to work, luckily for us, we were tasked with desserts – our favourite part of the meal! We made Richard's famous rum (yay!) roasted pineapple, paired with vanilla custard, caramel brioche and fresh passionfruit (recipe here). Using Electrolux's steam oven at 82 C, we baked the vanilla custard before whipping it with equal parts of double cream to make the ideal pairing to cut through the sweetness of the roasted pineapple and caramel.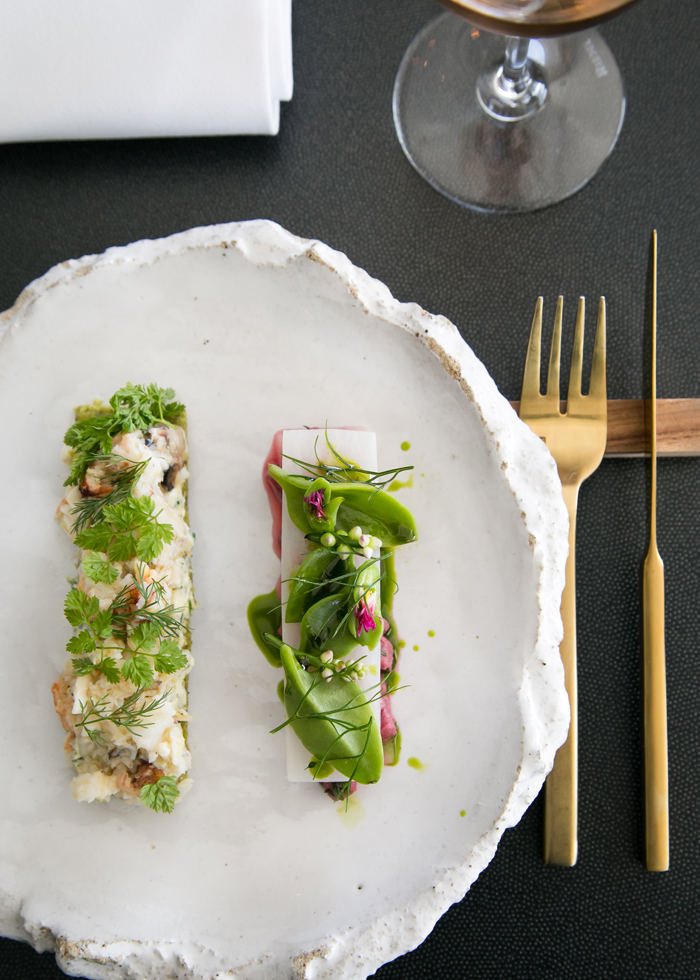 Entree (left to right): fresh crab tart with lemon myrtle shell and herb crème fraiche and tuna ceviche with daikon, tigers milk and succulents.
Richard and Danielle moved amongst us all, improving our knife skills and teaching us pastry and pickling techniques as we produced restaurant quality meals like tuna ceviche with daikon, tigers milk and succulents, fresh crab tarts with lemon myrtle shells and herb crème fraiche, as well as chargrilled Walker's swordfish with capsicum and smoked mussel ragu – utilising the steam oven again before grilling it using the induction cooktop. As primarily gas stove and oven users, using a steam oven with the smart food temperature probe was really interesting and exciting, especially as you could see and taste how the steam worked to keep the proteins moist and lock in all the flavour.
Some of us moved in and out of the recipes, making components to complete each dish before we all sat down to enjoy it back in the restaurant, all beautifully plated with artistic flair and a few extra touches from Wasabi's Chefs.
Ending the experience with a scenic sunset over the river, we really didn't want to leave! Time had gone so quickly, we didn't even realise it was nearly dinner time until we began to notice tables filling up and the excitement in the restaurant become palpable. A full day spent cooking made us appreciate Chefs even more than we already do and allowed us to learn some restaurant quality techniques we wouldn't have learned anywhere else. Whether it's with your partner, friend or your colleagues, a day spent at The Cooking School Noosa, is a day well spent.
We were gifted Electrolux's The Chefs Collection: A Steam Recipe Book from Australia's leading Chefs, where Richard shares some more of his recipes, like his breakfast quiche, steamed whole snapper with green mango salsa, chilli and lime dressing, as well as roasted beef rump cap – we have all the recipes to share with you, so be sure to tag us on your socials after you make them. Happy cooking!