Aussie, Aussie, Aussie
Talk of Aussie Rules Football anywhere other than Melbourne or Perth and you may get booed away. But rest assured, it is a truly iconic Australian sport cherished among these states that should be spectated if the chance arises. The sporting temple of the Melbourne Cricket Ground plays host to a variety of sports, most commonly that of Australian Rules football – not cricket, like you may have logically thought- and is the birthplace of Aussie Rules Football (or AFL).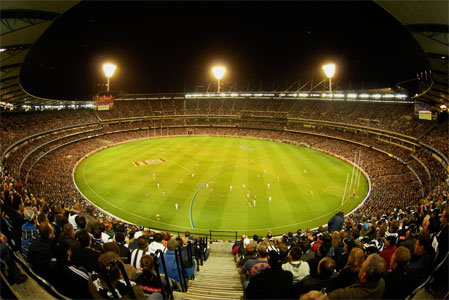 Where can I catch a game?
Melbourne is quite possibly Australia's most sports mad city and the Melbourne Cricket Ground is the hotspot to experience it all. Annually, the grounds are swamped by fans for two major football events; the AFL Grand Final and the Essendon vs. Collingwood Anzac Day blockbuster. Regardless, many other games throughout the season get up to 80,000 fans turning up to support their team and is a site to see in itself. Football is usually played in the winter season so ensure you rug up before you head on down to Melbourne to take a seat on the tier and enjoy an authentic Aussie experience, meat pie in hand.