With Easter just around the corner, we are all looking for an egg-cellent and easy fish recipe to serve on Good Friday.
We asked
Alimentary's
Alison Wright for a quick and nutritious dish that isn't egg-hausting to make and will put smiles on faces around the dinner table over the holiday weekend.
Her
pesto salmon
, served with sweet potato mash and fresh salad, is a highly nutritious meal, which took no time at all to prepare - spread with homemade pesto and baked in the oven, the fish is elevated to a whole new level of deliciousness.
Pesto is a rich green sauce, which is full of flavour, easy to make and very forgiving with ingredients; add to fish, chicken, pasta and even steamed vegetables and your meal is transformed from ordinary to memorable.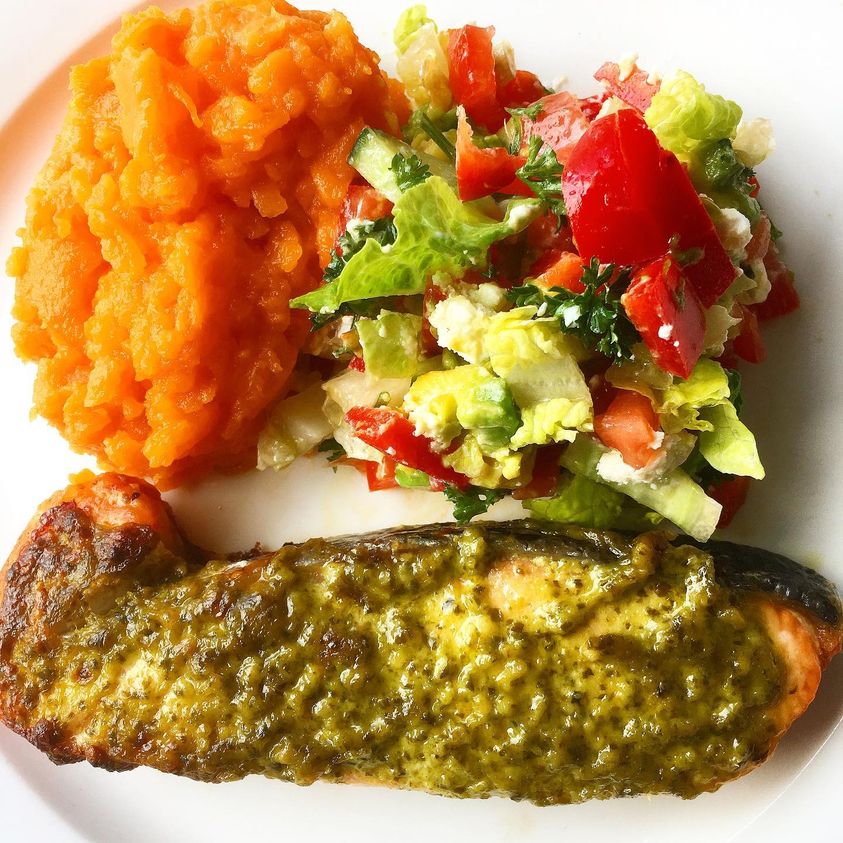 "As a nutritionist, I also love pesto because it contains many anti-inflammatory and antioxidant-packed ingredients, which can support your health," Alison explains. "To me the olive oil, garlic and basil are the stars of the show, but when you make your own you can alter the ingredients to taste, or depending on what you have on hand."
For example:
•Swap basil for another green, like rocket, parsley, mint, coriander or kale. These herbs and leafy greens contain plenty of vitamin K and other important nutrients, such as magnesium, folate and potassium.
•Swap pine nuts for any other nut. Alison loves to use walnuts, but you can also try hazelnuts, almonds, or even sunflower seeds. Nuts and seeds are rich in protein, healthy fats and fibre, as well as health-supporting vitamins and minerals.
•You can leave the Parmesan cheese out, or swap it for nutritional yeast – a vegan option, which is highly nutritious.
•
Do not
leave out the olive oil, or swap it for another vegetable oil! Olive oil is a staple of the well-researched Mediterranean diet and an anti-inflammatory fat with powerful, health-supporting properties, including reduced risk of heart disease. If you want to reduce the fat content of your pesto, you can use a little less oil or reduce your portion, but this ingredient needs to stay!
•Feel free to increase, or reduce the garlic according to taste. Garlic contains active compounds which can assist with the management of high blood pressure. It is also known for its immune-boosting properties, reducing the severity and length of the common cold.
All of these are compelling reasons to add some pesto to your life! It will also keep in the fridge for up to 5 days, or freeze it for longer; so there's no excuse not to add a dollop of pesto to any meal.