By Leigh O'Connor.
"Wine is romantic and spiritual. It is also artistic. Most farming is about cropping; we're actually farming for flavour." – Stephen White, owner and founder of Stonyridge.
It's where the celebrities hang out when visiting Auckland, Stonyridge Vineyard on Waiheke Island.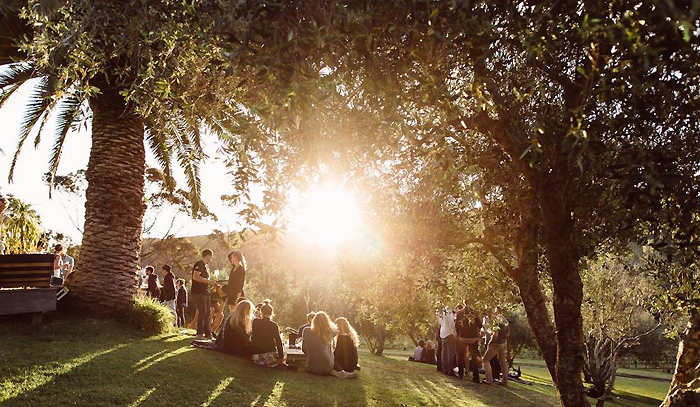 Stonyridge Vineyard. Supplied.
Think dudes like Kendrick Lamar, actor Pamela Anderson and the bearded ones from ZZ Top, they all make their way to this stunning vineyard on Onetangi Road, right in the heart of the island destination in the Hauraki Gulf.
Located at the same relative latitude as the southern tip of Sicily, Stonyridge sits on a gently north-facing valley, sheltered from the cold south-westerly winds with all-day sun enabling Cabernet varieties to ripen to perfection.
It is more than 35 years since owner and founder, Stephen White walked onto the property. He had just returned from completing a round the world yacht race and skippering in the Mediterranean, one look was all it took for him to fall in love with the property and his dream to make the greatest red wines in the world was born.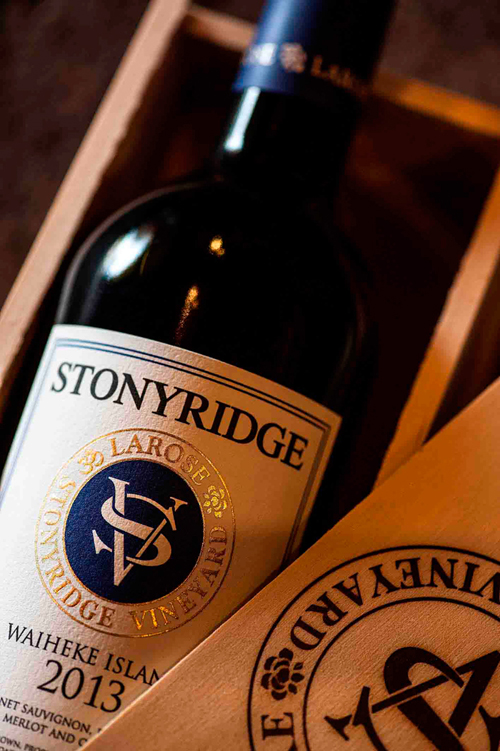 Larose 2013. Supplied.
Since these humble beginnings, Stonyridge has gained an international reputation with its top wine – Larose – sold in some of the world's best restaurants, including Ducasse at The Dorchester in London. Back in Aotearoa at the vineyard's restaurant, the 2014 vintage goes for $60 a glass and $400 a bottle – believe me when I tell you it is worth every cent, with a blend of six varietals giving it great length and focus.
I was lucky enough to take the ferry trip from downtown Auckland out to the island – about a 40-minute ride on a good day – and have lunch at the vine-covered cellar door restaurant. Stephen was dining as well and made a special effort to welcome us with a glass of Larose.
Named as a tribute to the rose, the most aromatic, colourful, intense and beautiful of all flowers, the wine is a world-class Bordeaux style red; a blend of Cabernet Sauvignon, Petit Verdot, Merlot, Malbec, Cabernet Franc and Carmenere.
A complex, deep purple colour, vibrant and with great clarity, this wine has a complexity of blackberry fruits, cedary oak and the sweetness from the higher alcohol level helps with balance and volume on the palate.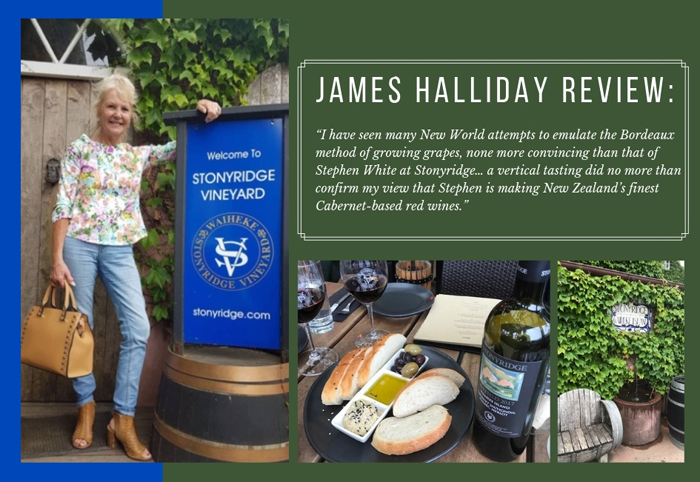 Leigh in utter bliss with great food, wine and vineyard scenery.
The restaurant itself was buzzing with the lively chatter of visitors from the mainland, a testament to its popularity as true to New Zealand's reputation for unruly weather, it was not the best of days in the Land of the Long White Cloud.
Dining with Kiwi international fashion designer Christina Kilmister and her husband Bevan, we settled on a bottle of Airfield – the second label of Larose and a mid-price drop of red – to pair with a starter of ciabatta, housemade dip, marinated olives and extra virgin olive oil.
For the main affair, I chose pan-fried tarakihi (NZ fish), with Camargue rice, green beans, celery, carrots and red capsicum sauce. The fish was perfectly cooked and the plating vibrant with the black rice an ideal foil to the orange smear of sauce.
Both my lunch companions chose grilled Angus eye fillet steak and weren't disappointed when the plates were delivered to the table, cooked as requested and melting in the mouth, with roasted potatoes, wild rocket salad, shaved Grana Padano and chimichurri sauce ideal accompaniments.
For dessert, it was hard to go past a dark 80% chocolate tart with coconut ice cream, mixed berry sauce and coconut flakes, while the lemongrass infused panna cotta with kiwi and mint sauce and biscuit crumbs certainly hit the spot.
There was just enough time for a visit to the cellar door to taste Stonyridge's other label Fallen Angel Wines. These vintages are high-quality wines that are not grown on Waiheke, as Steve recognises that other regions of New Zealand are more suitable for growing varietals such as Marlborough Sauvignon Blanc and Otago Pinot Noir.
Originally developed for Stonyridge's restaurant, these drops have become so successful they have been made available to the trade and export market. Being a bubbles girl, the Fallen Angel Methode Traditionelle was my drop of choice, with a nose of fresh Summer peaches, roasted hazelnuts and pastry crust, while the subtle sweetness balanced its zingy acidity.
Time to go… with the taste of Larose still lingering on the palate. Let's leave the last words to respected Australian wine critic James Halliday:
"I have seen many New World attempts to emulate the Bordeaux method of growing grapes, none more convincing than that of Stephen White at Stonyridge… a vertical tasting did no more than confirm my view that Stephen is making New Zealand's finest Cabernet-based red wines."