Award Winning Wines & Other Varieties
When touring the Tamar Valley in Tasmania, Velo Wines is a must as the natural surrounds will put you right at ease and their big grey cellar doors invite you into a welcoming atmosphere for some light hearted tasting of serious wines. Whether you are in the area and have a chance to try their wines on site or are trying to decide on the right variety to pick up from your local retailer, we have a few suggestions to keep in mind.
The majority of their Velo Range wines are white, though one remarkable red, the 09 Pinot Noir, is available in this range; reasonably priced at AUD $25, the hand picked grapes are basket pressed and have a traditional multi-layered flavour with black pepper hints spicing up the fruity star anise notes. For lovers of red wine, you'll find a greater selection in their Willo's Reserve Range, featuring wines that are typically selling at a higher price point. By comparison, the new release of their 08 Reserve Pinot Noir is priced at $45. Owner Micheal Wilson specializes in making the red wines, while Julian Alcorso concentrates on the whites.
Vine News from Behind their Big Grey Cellar Door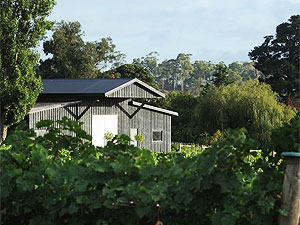 Taking a closer look at the Velo Range one thing's for sure, their award winners are hard to come by; two sold out varieties are 05 Dominique Sparkling Brut -named after their daughter- and 08 Chardonnay. If they're offered at a party, you'll definitely want to partake. The idea of 'five star' rating always holds appeal, so keep an eye out for their aromatic 09 Late Harvest Riesling, the last we heard it is still readily available, featuring an enticing combination of lime zest and honey botrytis.
Other cool climate white wines to watch out for include the beautifully balanced yet complex10 Sauvignon Blanc with citrus and herbal accents; and the Pinot Gris from the same year that had contact with the skins resulting in a pre-ferment pink hue –refreshing white pear & peach define this wine. In 2009 their intensely floral Riesling came into fruition, designed to age well over 3-5 years. If you have yet to store this one on your rack, you may wish to acquire it for consumption in the next couple years.
The Wilson's Vision for Velo of Legana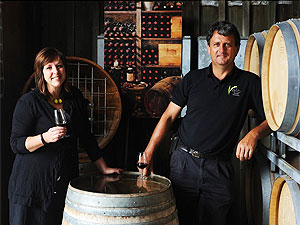 Dedicated winery owners, Mary and Micheal Wilson, have a commitment to quality of Olympic proportions. While Micheal is the qualified viticulturist informing their wine direction, Mary is the vibrant soul that everybody loves to meet. Their energies combined, the Velo experience is highly recommended and surely their story carries through within the wines themselves. Olympian turned professional cyclist, Micheal Wilson toured the European circuit where he acquired a good deal of chaffing and a deep love for great wine.
Today his concentration is on the vineyard and their 'shabby chic' wine cellar at Velo wines; it is a clean and contemporary building characterized by reverent and rustic thematic cycling décor. If you can't make it to Tamar you can always experience it vicariously by picking up your preferred vintage, trying out either the Velo Range or Willo's Reserve Range.
By AGFG staff writer Kelly Korpesio