By Leigh O'Connor. Photos by Dr Roger S White.
With romance in the air, those looking for an extra special treat for their loved one this Valentine's Day can take to the skies and discover a breathtaking world of beauty, from the wicker basket of a hot air balloon.
Australia is a magnificent country to explore from the ground, add in a dose of altitude and it puts a whole new slant on the wonders Down Under. Imagine soaring above the red soil of the outback, floating over the coastal beauty of the Gold Coast, or the tropical rainforest and waters of the Great Barrier Reef.
There are several companies around Australia offering balloon flights, most include a sunrise trip with champagne and breakfast on return. This can mean a very early start, but the stunning views and feeling of flying above this wide, brown land make it worth the effort.
Let's take off on a flight to the best destinations around the country for soaring above the clouds with that special someone…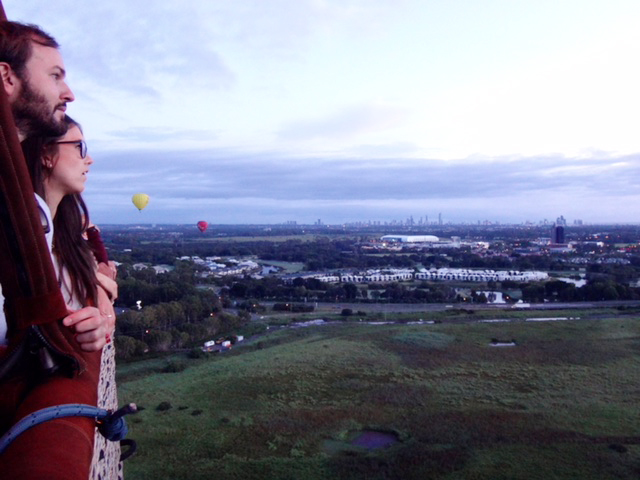 Gold Coast:
The thrill of ballooning is something that can't be put into words, becoming one with the wind and gliding quietly above the earth; this is why the world's oldest form of flight is also considered the most romantic.
I was fortunate enough to take a festive flight with Balloon Aloft Gold Coast during the Christmas holidays and can vouch for the serenity, spectacular views and peacefulness such an adventure provides.
Arriving at 3.30am is a bit of a challenge but as incredible panoramas of the high rises of Surfers Paradise and the scenic Hinterland emerge as daylight dawns, it is well worth it. We watched the sun reflecting off canals and waterways and shimmering on the Gold Coast's most iconic beaches, creating a magical experience and unforgettable memory to last a lifetime.
On completion, we were whisked away for a delicious champagne buffet breakfast and picked up our personalised flight certificates.
For those not on the beautiful Gold Coast, here are some other options:
Alice Springs:
Outback Ballooning specialises in remote outback experiences and with more than 30 years in operation, it is one of the longest established companies in Australia. Operating every day, weather permitting, the company caters for individuals and large groups from its Alice Springs base.
Choose either a 30 or 60-minute flight, including sparkling wine and light refreshments and soar above the Red Centre and MacDonnell Ranges, while keeping the eyes peeled for a glimpse of local wildlife. Providing impressive views of remote countryside kilometres from civilisation, see the heart of the country from an entirely different vantage point and take home a flight certificate to celebrate an amazing journey.
Barossa Valley:
Only 75 km from Adelaide, Barossa Balloon Adventures is a local family owned and operated company that has been soaring above stunning wine country landscapes for more than 30 years. After an hour aloft, guests are taken to a local winery for a gourmet breakfast, as well as a visit to the cellar door to taste award-winning wines.
Take in the rich tapestry of vineyards and breathtaking vistas of rolling hills in the background, while peacefully drifting with clouds, as the sun rises in a spectacular reddish glow on the horizon. Don't forget to purchase in-flight photography at the conclusion of the adventure.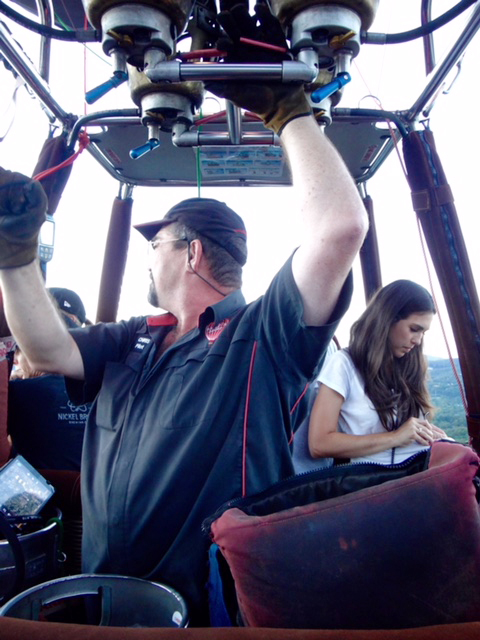 Cairns and Port Douglas:
Queensland is the most popular spot in the country to float in a hot air balloon and some days the skies around the Gold Coast, Brisbane Hinterland and Cairns are abuzz with a multitude of brightly, coloured orbs. Hot Air operates out of Mareeba on the Atherton Tablelands, inviting guests to enjoy a picturesque dawn landscape with time to breathe in the wide open spaces.
Combining views of the Great Barrier Reef and Daintree Rainforest, take in some of the country's top natural tourist attractions, in softly sighing breezes and tranquil vistas. With one of the best suited climates for ballooning, get the morning off to a flying start with a memorable flight.
Camden Valley:
Australia's very first commercial balloon flight took off in the Camden Valley more than 35 years ago, and Balloon Aloft still flies every weekend and on selected week days, over the beautiful and historic Macarthur region.
A hidden gem, just 50 minutes from Sydney's city centre, the picturesque landscape and favourable weather patterns of the region make the Camden Valley area an ideal flight location. Soar above the treetops in the gentle early morning breeze, ascending to 2000 feet to take in 360-degree views of the Nepean River and Blue Mountains, before landing an hour later and finishing with breakfast and bubbles.
Melbourne:
There are few major cities around the globe where you can traverse the sky in a hot air balloon – drifting over the beautiful skyline of Melbourne is a truly unique experience. Global Ballooning Australia offers a peek at city life from a totally different angle, as guests sail the breeze beside skyscrapers and follow the Yarra River as it unwinds through parks and gardens.
For an hour as Melbourne below begins to wake up, marvel over landmarks such as Eureka, the MCG, Port Phillip Bay and surrounding suburbs, before crossing another wish off the bucket list.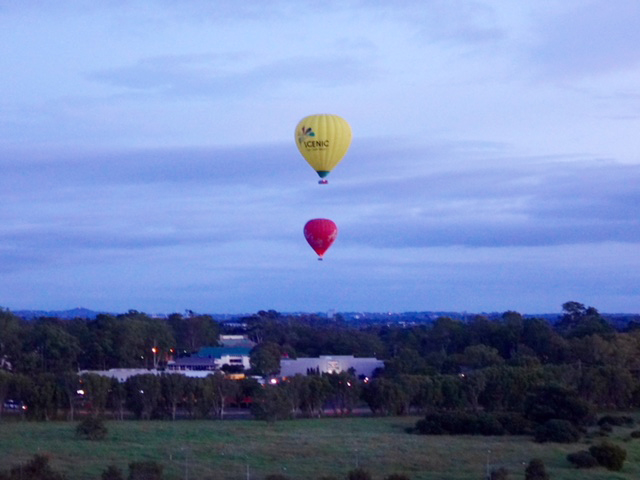 Byron Bay:
For the romantic adventure of a lifetime, take off with Byron Bay Ballooning. This seaside northern NSW town is a popular tourist destination for many reasons and a spectacular sunrise balloon flight ranks at the top of the list for most visitors. During the one-hour trip expect to take in panoramic vistas of lush, green hills and Mount Warning's volcanic caldera to the North and the coastline and beaches to the East.
Flights run on a daily basis and a VIP private experience for two can be arranged, perfect for those looking to pop the question!
Canberra:
Picture the joy of floating over charismatic Canberra landscapes with a glass of champagne in hand, on a romantic and serene private flight for two. Make this an exclusive experience, complete with bubbles and chocolate followed by a buffet breakfast, for a special Valentine's Day to remember for years to come.
Balloon Aloft Canberra also offers group flights, where guests can explore the greenery and waterways that surround the nation's capital and enjoy sweeping views of the greater Canberra region from the city to Black Mountain Nature Reserve and Mount Ainslie. The city is also home to the Canberra Balloon Spectacular from March 7-15, when the skies are filled with floating splashes of bright colours.
Ipswich:
Discover Greater Brisbane's big backyard from the air, drifting above the heritage city of Ipswich, the Scenic Rim and Somerset countryside with Floating Images. Just a 30 minute drive west of Brisbane's CBD, Floating Images is a boutique ballooning experience with only one flight per day and a maximum of 10 passengers.
Rise up over green farm fields, a world away from city skyscrapers and be astounded by a majestic view of the golden sandy beaches of the East Coast, while revelling in the quiet solitude of a one-hour flight. Lifting off before sunrise, watch the Ipswich region wake up to a new day in peaceful serenity.
Most adventures encourage participation in preparing the balloon for flight and helping with deflation at conclusion. Guests can be as involved as they like, or sit back and swap tales with other fliers as the crew packs away the equipment.
Ready to fly Up, Up and Away in a beautiful balloon? For more adventure options click here.