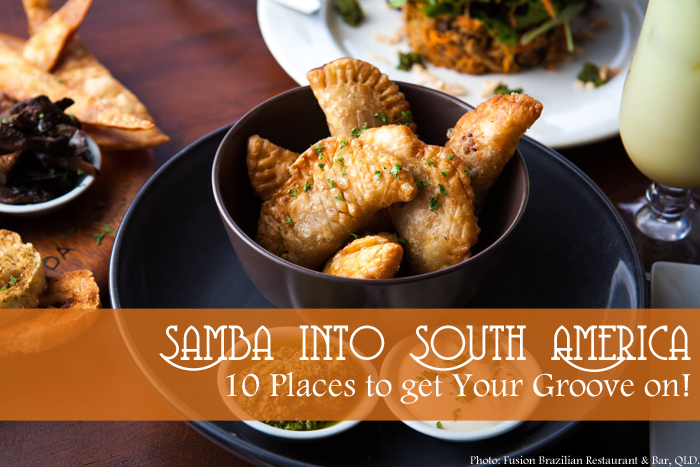 Recognised around the world as a sensual and romantic dance, the samba immediately sends the mind to the golden sands of Rio de Janeiro beaches, where elaborate costumes, cheeky bikinis and beautiful bodies abound, along with the thumping beats of drums.
Long the icon of Brazilian national identity and the annual carnival, the samba's roots originate in Africa via the religious traditions of Angola and the Congo. Now days, its rich and syncopated rhythm and often voluptuous dance moves have circled the globe, as one of the most infectious and popular dance styles from South America.
After all that shaking and grooving, thoughts turn to food and drink to fortify the body for the next round of dance moves. From the high protein, high energy meat loving Argentinians to the refined cuisine of fish loving Peruvians – South America has it all.
This is the continent that gave the world some of its favourite staples, such as chocolate, corn, tomatoes, vanilla, potatoes and chilli. Its cuisine is as diverse as the climate, from the mountains of the Andes to the Amazon rainforest, South America has some of the driest and wettest places on earth.
Bold colours and flavours abound in dishes that aren't just eaten for sustenance, they are devoured as part of the social fabric of partying, mourning and spending time with family and friends. South American fare has many influences due to the continent's ethnic fusion, but one thing is constant – grilling meat in the open air on an asado or churrasco.
So, let's take a tour around the country looking for the best restaurants to sample all things South American…
NSW: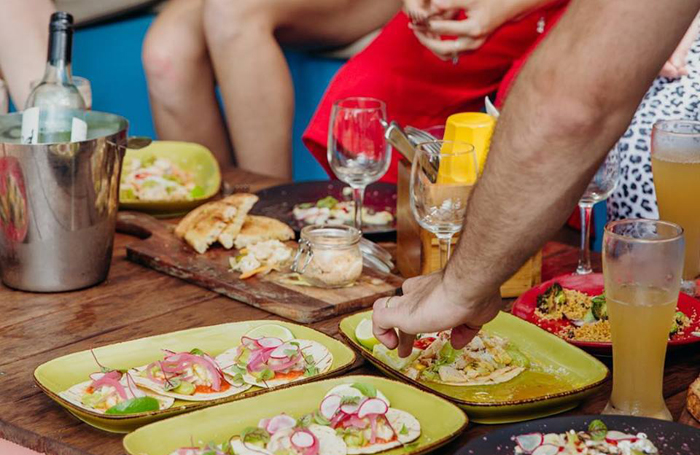 Indulge in exotic South American tastes at Barcito (pictured above) on Beaumont Street in Newcastle. An affectionate term meaning little bar for the neighbourhood, Barcito is a family owned and operated restaurant with different spaces to suit diverse diners – eat on the street and watch the hustle and bustle, or relax inside in comfortable surrounds. Tuck into housemade Argentinian empanadas filled with beef picadillo, spinach and ricotta, or Guatemalan tortillas with pulled chicken, avocado, piquillos, black beans, corn salsa, coriander, fresh chilli and Manchego cheese.
For an authentic Brazilian barbeque experience Leichhardt locals drop into Braza Churrascaria on Norton Street. With continual table service and a buffet-style degustation option with more than 20 different skewers on offer, there is much to explore from a menu where meat is prepared in the traditional way – slow roasted on a wood fire and charcoal rotisserie grill. Think lamb rump with tomato salsa, rocket salad and polenta chips, or delve into the likes of chicken drumettes teamed with coleslaw, black beans and Brazilian style rice. Other Braza locations include Manly, Miranda and Darling Harbour.
Refreshingly healthy and gluten-free stuffed tortillas are on the menu at La Reina – Queen of Venezuelan Arepas on King Street in Newtown. Once a market stall, La Reina has set up shop in a funky, hole-in-the-wall style restaurant where dark charcoal walls and wood floors create a relaxed vibe, with splashes of orange adding vibrancy and warmth. Firm and crunchy on the outside, soft and steamy inside, arepas are typically served warm and filled with delicious savoury ingredients such as slow cooked pulled pork and Venezuelan-style juicy shredded beef.
South Australia: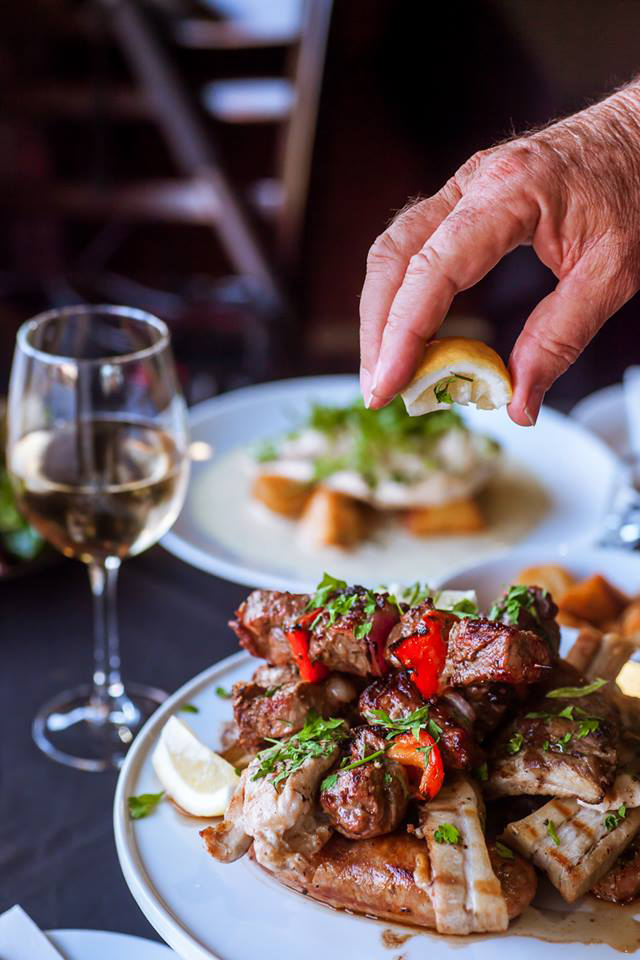 Argentinian fare with flair awaits diners at Fire on Unley (pictured above) bar and grill on Unley Road. Step into a sleek, modern interior where light reflects from an overhead chandelier and take a seat at booth or table settings, to peruse a menu bursting with exotic flavours. Kick start the evening with traditional empanaditas filled with minced beef, green olives and boiled eggs, before a parrillada de carne mixed grill for two with marinated pork ribs, spicy chorizo, chicken strips, steak skewers and pork belly, served with Argentinian-style potato wedges and chimichurri sauce.
Queensland:
Carnival flavour abounds at Fusion Brazilian Restaurant & Bar on Discovery Drive in North Lakes. This hidden gem beckons guests with a spacious alfresco dining area fitted out to resemble a rainforest, with thatched roofing, gardens and candle lighting, creating a tranquil oasis to enjoy authentic cuisine. Sample dishes from a tapas menu like honey, lemon and rosemary BBQ chicken wings, coconut crumbed prawns with curry mango mayo, or crispy pork belly with spicy sumac tomato jam. Those wanting to share may opt for an antipasto board of cured meats, marinated vegetables, hummus and bread.
Tantalising Brazilian barbeque fare and a picturesque view of Airlie Beach lures diners to MIKA restaurant on Airlie Esplanade. A two metre tall hot coal rotisserie filled with smoking wood coals ensures authentic flavours, as guests sample mouth-watering cuts of meat from an all-you-can-eat menu. Sit back and enjoy ambient live music while plates such as slow cooked rump cap with pink Himalayan salt flakes, octopus marinated in lychee, chilli and mint, or duck shanks brushed with blood orange glaze, are brought to the table.
Victoria: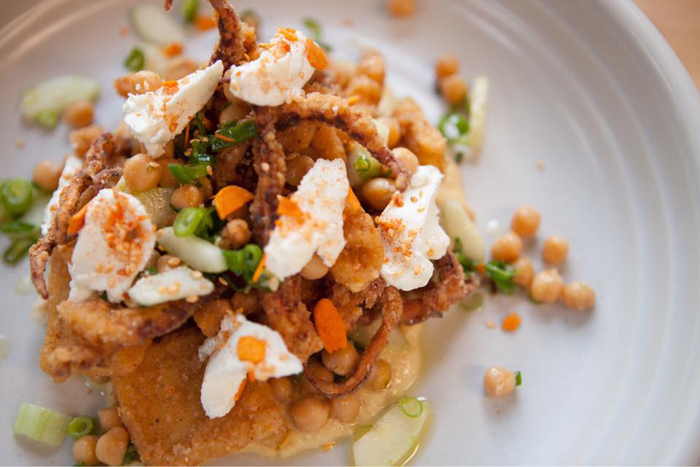 With a menu inspired by Argentinian Chef Mauro Callegari's background, The Independent Gembrook (pictured above) on Main Street is a lively hot spot in Melbourne's outer south-east dining scene. Housed in a fully restored historical building, this spacious eatery boasts high ceilings and an open plan kitchen with a relaxed atmosphere. Savour contemporary South American dishes such as grilled ox tongue with tomato and pickle, or slow roasted lamb shoulder, carrots, chilli, coriander and peanuts; while those with ravenous tastes can order roasted suckling pig, served with lettuce and chips.
Still looking for a South American fix nearby? Click here for more restaurants in your region.