Inspiring Events Inviting Pre Peak Season Stays
Come November, spring is in full swing and now is the perfect time to getaway for a bit, taking in ever popular sites before the cheerful bustle of Christmas peak season begins. For the most part, this month suits those who enjoy leisure travel when it isn't so busy; those without children may find it quieter as the kids aren't off yet and it's still a bit early for the seasonal fanfare of festivities amongst groups of families and friends. It is easier to book reservations in your favourite accommodation; restaurants are relaxed rather than bustling and attractions are not bursting at the seams with tourists, camera flashes surrounding you at every scenic landmark.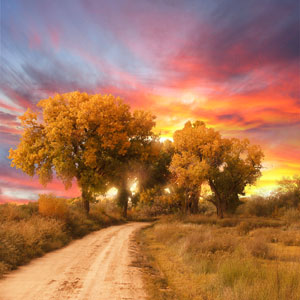 Having said that, at the AGFG we know how hard it is to figure out where you want to go, taking full advantage of the great weather, that last little bit of laid back calm before the storm vibe, and better yet, the reasonable rates just before they are raised for the summer. At this time of year the weather is fine everywhere, with areas in the North being a bit warmer while the South enjoys mild spring temperatures which are also inviting. Since a bit of pre peak season travel is an open ended opportunity for exploration, we sought out key events and highlights that may inspire you to travel in different directions this spring perhaps somewhere you've already visited or have yet to visit. As well, we have suggested places to stay that will keep you comfy at varying rates, depending on your budget.
Here are some possible November endeavours; we are underscoring one entertaining option per state, travelling clockwise starting with Queensland.
On the coastline of North Eastern Australia is an inimitable area where two official World Heritage sites meet, the Wet Tropics Daintree Rainforest & the Great Barrier Reef. Amongst the forest lives 430 species of birds, including the rare Wompoo Fruit Dove which is featured in the Daintree Eco Lodge & Spa logo. Part of the eco tourism trade, Daintree Eco Lodge manages an ethical establishment, ensuring their business is run in the vein of environmental conservation and biodiversity.
Because of their distinctive location, there is a strong cultural component which shines through in their facility design and tours. Local aboriginal culture is highly regarded and Daintree employs many indigenous peoples through their "Aboriginal Champions" programs. This program ensures guests have the most engaging and authentic experience that Daintree can give, including Aboriginal Tours such as ancient bush walks that are unparalleled in their educational depth within this region.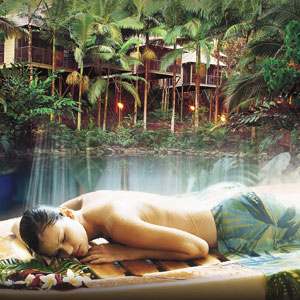 The Daintree Eco Lodge & Spa is a destination for relaxation in all the wonderful ways you would imagine. There's original aboriginal art at Julaymba Art Gallery; the Julaymba Restaurant is now releasing an expansive menu of fine cuisine made from traditional aboriginal fare using ingredients from the land. The Eco Lodges are bayan houses –there are only 15- designed for a peaceful stay where you are at one with nature and finally their Spa is purely sensational, where you will be immersed in healing touch and aromatic fragrance of their original product line Daintree Essentials.
Heading south, to ACT, we suggest a bit of art and culture at the beginning of this month in the heart of our nation's capital.
From the 27th of October to the 7th of November is the 12 day celebration Canberra International Film Festiva which takes place in various venues. This is an opportunity to celebrate Australian film and there will be new releases so you can see what is buzzing from within our own vibrant industry. There will also be screens of retrospectives which will give you an opportunity to enjoy a blast from the past of your all time favourites or to rediscover an Australian film you purchased ages ago though never had a chance to watch on the big screen, until now.
Feature films and documentaries from around the globe will also be showcased and panels for discussion, including Q&A events with the filmmakers are other exciting opportunities for lovers of film. The program is rich with possibilities for edutainment, well worth the travel if film culture calls you. Australian films, including Director Q&A will include "The Reef," "Bliss," & "Uninhabited." Screenings will be held at Dendy Cinema Canberra at the Canberra Centre and Arc Cinema in association with National Film & Sound Archive in McCoy Circuit, Acton.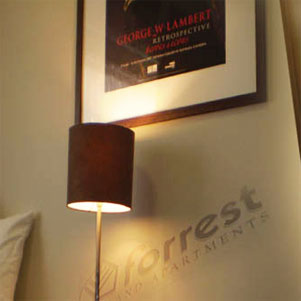 While staying in Canberra there are many accommodation options and one we recommend is Forrest Hotel and Apartments in the city surrounds, less than a ten minute drive North of Canberra Centre. Perfect for a couple days or an extended stay, Forrest offers standard rooms or apartments with one or two bedrooms, the latter of which includes Executive class stylish décor as an option. There's free car parking so there's no need to worry about heading back and forth to the cinema and associated events.
From reel to reel, that's film to fishing, if recreational culture is more your thing, turn towards the Snowy Mountain lakes of New South Wales at the beginning of November.
For those who enjoy fishing and find a friendly competition can add another element of excitement to the experience, the Snowy Mountain Trout Festival 2010, is running from the 30th of October to the 5th of November, covering a wide range of territory in the Snowy Mountain region. Weigh In centres include Adaminaby, Lake Eucumbene, Anglers Reach, Braemar, Middilingbank, Old Adaminaby, Providence Portal, Cooma, Jindabyne and Jindabyne East.
At this year's festival there is an open invitation to enter (forms available online) and winning a prized package worth $7000. The grand prize is a Quintrex 385 Explorer boat, with 20hp Yamaha motor and trailer, though additional prizes also hold appeal including the Hobie "Outback" Kayak. Considering the number of participating areas, there are many places where you can cosy up and lay your head, for the duration of the competition.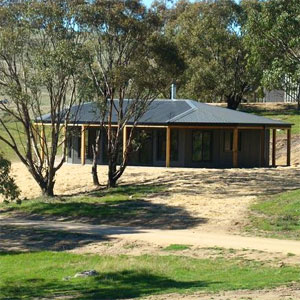 Snowy Wilderness & Luxury accommodation gives you options so that your stay in the Jindabyne area fits your preference, making you feel at home away from home. Be it High Country Lodge, beautiful Homestead, or a secluded Cottage, their 7200 acres of wilderness, nearby Kosciusko National Park, is full of possibilities for an eco friendly stay. Intermittently with all the fishing going on, other recreational pursuits that may appeal include brumby watching, horse riding, quad biking, 4WD touring, trekking and fine dining.
Traveling south to Victoria, we head to the capital of Melbourne where the JBWere Masters golf tournament is held each year, drawing huge crowds of golf fans from across the nation.
JBWere Masters is confirming Round 1 on Thursday 11th of November and Round 2 on Friday12th of November, for the 2010 golf tournament to be held at The Victoria Golf Club. It promises participation by the strongest players including Robert Allenby, Australia's #1 ranked player, Tiger Woods as defending Champion, and Sergio Garcia the Spanish sensation. Tim Holding, the Minister for Tourism and Major Events acknowledges, "Melbourne is home to some of the world's best golf courses." With Grandstand seating, spectators will have an amazing view of what promises to be a great game. Since 1979, the Masters has been bringing in spectator and media audience, and is known for the annual presentation of the gold jacket. IMG and the Victoria Government have worked toward establishing the Masters as a "Best in Class" event. With its prestigious background, it has given many Australian players a chance to break into the international stage. The Pro-Am tournament is not open to the public, rather the invitation is to come and watch provided you have purchased a valid ticket. Participants in the tournament will be leading players, official partners, or tournament sponsors.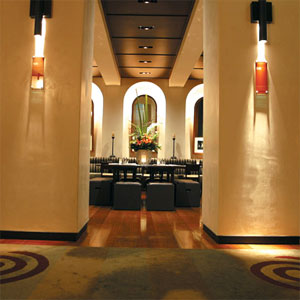 Though there is an accommodation sponsor, while in Melbourne there are many places to stay including the contemporary and sophisticated Hotel Lindrum and their adjoining Felt Restaurant. This is a stylish way to compliment travel to Melbourne. They have a health club and full size billiard table within the heart of their heritage-listed property. Hotel Lindrum is an idyllic Melbourne boutique hotel choice and part of the experience is culinary, as their Felt Restaurant is full of charm; some would call it a dining treasure.
In Southern Australia there's an opportunity to return to a more rural experience by venturing to Adelaide International to experience Equine entertainment.
Rymill Park in Adelaide will host the Australian International 3 Day event in Mid November. The 12th November is Dressage referred to as "elegance in motion." Competitors are judged for accuracy and precision as the horse and rider perform required choreographed movements. The following day, the 13th of November, is the Cross Country experience set amongst Adelaide Parklands. Show Jumping is the third and final event held on the 14th of November which will keep you on the edge of your seat.
This hallmark equestrian event has been held in Adelaide for the past ten years, and is one of only six held across the world. The Adelaide Parkland location is in the heart of city centre which makes it stands out from other global competitions. This Four Star event is Olympic level and has a huge draw for horse lovers. The Market Place this year is designed around the event and will include exhibitors from pertinent lifestyle industries.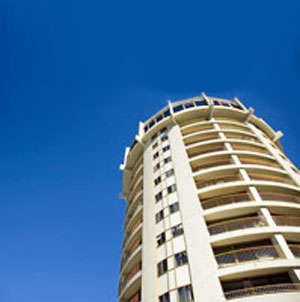 While in Adelaide consider staying at Atlantic Tower's motel accommodation offering 360 degree panoramic views and the Top of the World Revolving Restaurant, only an elevator's ride away. Staying and dining here promises to top off your Adelaide travel excursion, as they are known for years of award winning service. When planning your Top of the World dining experience, consider fitting in High Tea on Friday or Sunday depending on the racing schedule.
Crossing the ocean to Tasmania, those who travel at this time will be on track to catch the V8 Supercar circuit.
Located 30 minutes outside of Launceston, the Falken Tasmania Challenge offers a fantastic weekend of V8 Supercar racing. The Symmons Plains layout is short and fast, with cars averaging speeds of 167km/h and topping out at 270km/h. The event has a variety of ticket options, depending on your budget, and there will be off track entertainment alongside the course. If you have a corporate group of more than twenty people, one option is the Pit Roof Villas which offers exclusive private suites directly above the Pit Garages. Not only is there a view of the track, there is also an enhanced view of pit stop action –the place of frantic pit stops and adrenaline filled moments.
Considering some of the best views at V8, why not set up in luxurious fashion when taking in the Tasmanian circuit? 42 On York Luxury Apartments is an elegant home base for your explorations. Close to the city and in walking distance of Cataract Gorge this location optimum, slightly removed from the urban bustle though in close driving distance. Nearby Tamar Valley will offer you wine region delights including local varieties from local wine cellars and gourmet dining amongst picturesque wineries. If you want to base your stay on their accommodation, it's worth mentioning that the Spirit of Tasmania dock at Devonport is 90 minutes drive away.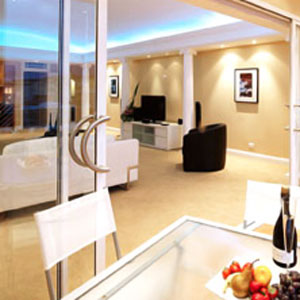 This is a luxury apartment is a luxurious living area of huon pine featuring 3 double bedrooms, 3 bathrooms, an open plan dining area. It has a kitchen with everything you will need and offers Tasmanian wine, beer & spirits in store. Nearby are the Roman baths and day spa in Launceston so the Tasmanian travel budget may require this addition as it's conveniently located nearby. That in mind, when you're staying in a place like this venturing out may not be easy.
Heading back North, visiting Western Australia, there's much diversity in land and things-to-do so we nestled into one area to capture your attention.
Less than three hours drive south of Perth, the Margaret River Region holiday destination is peaceful and a practical pick for wine lovers as local growers are known to produce award-winning top drops from the vine. In the Carbunup River area nestles Hidden Valley Forest retreat, offering quiet getaways that will make dreams of tranquillity come true. Owners, Sally and John know their location and have planted a cabernet sauvignon merlot grape vineyard to ensure guests staying with them enjoy an authentic setting and promise of wine production in years to come.
Meantime it's their retreats that we recommend booking this November for your pre peak season leisure getaway. There's the Deepwater escape in the forest on the edge of a secluded lake with a covered timber boardwalk to the spa cabana and "feel the spirit" architecture and open plan interior design. For those who admittedly adore cabin fever, the wilderness cabin is open planned living enclosed in the forest with a little foot path leading up to this romantic retreat abode. Eco tourism trends abound, Hidden Valley offers Australian style lodges capturing natural environment with a timber interior.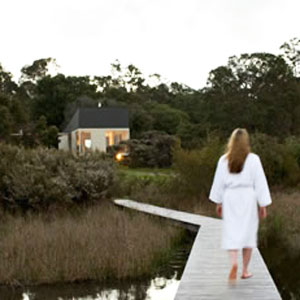 You no longer have to rough it in the forest and Hidden Valley Forest Retreat ensures it's actually an ultimate indulgence. There are luxuries like the Personal Gourmet Chef available or if you're keen to cook, the Grocery and beverage shopping service is something you can try out. Finally, it's the spa at the end of the day that really makes you feel that sense of relaxation and release, unwinding from the stresses of everyday life. The Marine Beauty Experts offer assistance restoration and detoxification using The Sea at the Origin of Life, based on 104 trace elements for the body's cellular balance. Finishing our clockwise tour of the Australian states we land in Northern Territory where you can make yourself at home in the warm arms of Katherine.
A stay in Katherine within casual mid range accommodation can be an affordable and rewarding way to see all the natural phenomena around. Knotts Crossing Resort is known as Gateway to the Gorge. Nitmiluk National Park, north of Katherine offers interpretive displays, boat cruises –with breakfast and evening dinner options- and recreational options such as canoe rentals. Their walking trails offer possibilities for those keen on 30 minutes of trekking or a five day exploration and a variety of options in between.
Katherine is a city where you'll want to make yourself at home and Knott's Crossing is a great centre point for a traveller's crossroads into a wide world of exploration possibilities. Whether you adventure to Leliyn Falls and the Sweetwater Pools, or take in the sites of the Jurassic Cycad Gardens perhaps followed by Cutta Cutta Caves, there's recreation and cultural options all around. For those who appreciate thematic tours, there are Crocodile Night Adventure sightseeing opportunities amongst a surplus of bushwalks.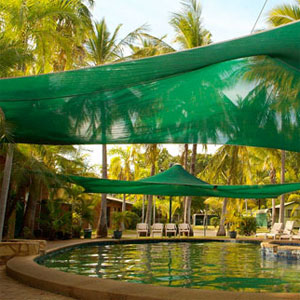 Back at Knott's Crossing they cater to all visitor needs offering hotel rooms and suites, budget accommodation, camping sites and cabins. Also Katie's Restaurant offers a welcoming meal to those who are not in the mood for cooking and diners are welcome to charge back to the room for convenience. Known for the heat, those who resist the urge to check out yet another remarkable site, rather staying nearby their cosy accommodation, may wish to cool off in the pool. It's been cleverly designed with a shady marquee area which is a restful place to escape the beaming sun.
November Destinations for Pre Peak Season Pleasure
The majority of people are building up for seasonal festivities and travel come December and January so this month is an opportune time to explore the nation. Seeking out special events and new accommodation that appeal to you Australia wide may inspire you to embrace the possibilities that await you right now, when the price is right and bookings can still be made.