By Leigh O'Connor.
Halloween is fast becoming a favourite time for Aussie children, as the once American-only holiday gains momentum Down Under. What's not to love about dressing up and collecting bags full of sweets from friendly neighbours? Even adults, who have outgrown costumes, tuck into handfuls of goodies!
It is tricky to find the right balance between treats that will be enjoyed by all and better-for-you healthy snacks, that are delicious and capture the spooky nature of All Hallows' Eve. Think substitution – instead of caramel popcorn, bake some crisp and sweet traditional Italian biscotti, cut into scary shapes, wrap in cling film and decorate with ghost stickers.
You are only limited by your imagination… so here's a few options to tempt the tastebuds with a fraction of the fat and calories.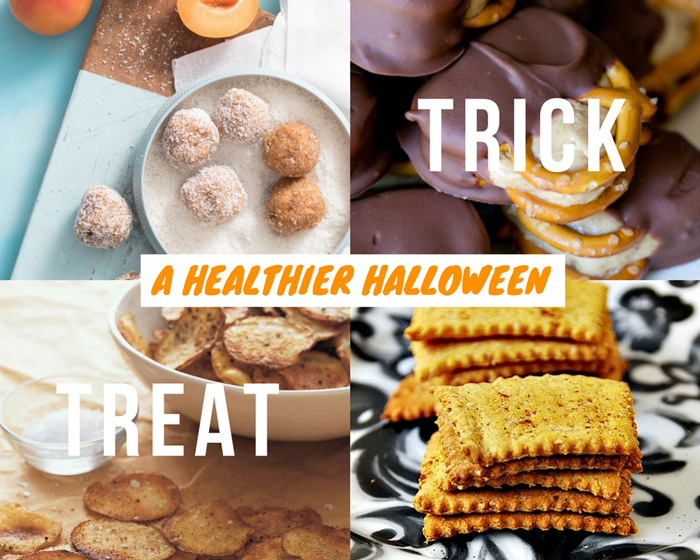 These cookies are a great replacement for any sugary snack and an ideal way to get children to eat more fruit. They can be made even healthier by substituting mini marshmallows for the chocolate chips and are sure to disappear as soon as little ones get their hands on them.
Chia seeds are loaded with nutrients and fibre as well as an excellent source of Omega 3 fatty acids. While those facts aren't something children care about, parents are always looking for any way to enhance their diet and these sweet, tasty and nutritious balls are chock full of apricots, dates, almonds and coconut.
Eskal Chocolate Covered FreeNut Butter Pretzel Bites
These bites are allergen friendly, using nut butter and gluten free pretzels, as well as dairy free dark chocolate. Their orange and brown colouring is ideal for Halloween and trick or treaters will devour them in a mouthful, make sure to cook a double batch so the family can enjoy a feast as well.
What trickster doesn't love crispy, crunchy potato chips? Sure, you can hand out packets of store bought munchies, but this recipe is a much healthier and just as moreish option, using vegetable oil spray to oven bake russet potatoes to golden brown morsels of deliciousness. Change the flavour by using different salt, pepper or herbs to create your own unique combinations.
Okay… this may be a little bit naughty with the inclusions of M&Ms, but it's still a much better choice than blocks of straight chocolate. Most children love rice bubbles when made into chocolate crackles, so getting mini monsters to try these bars shouldn't be a problem, especially when they see the colourful specks of M&Ms and marshmallows hiding inside.
Crackers are a snack staple for any family and these tasty little morsels are ideal for stuffing into Halloween treat bags. Crunchy with a hit of paprika and sesame seeds, they will also tempt bigger tricksters as a TV snack with homemade dip or peanut butter. Bag them up with an orange ribbon and pumpkin motif and watch them take off on a broomstick of their own.
Strawberry & Pistachio Yoghurt Bark
Using plain Greek yoghurt instead of melted chocolate as the base for this yummy slice makes it a much healthier option, but equally as good to look at and taste. This recipe uses strawberries and pistachios, but any fruit and nut combination would work depending on personal taste. Colourful and easy to make, this is likely to become a firm, family favourite and not just a Halloween treat.
Just a few ideas to make Halloween not only a super scary trick or treat experience, but also full of fun and good food. For more recipes, click here.