"…sure to have connoisseurs in the region salivating with delight."
When one thinks of degustation, thoughts of classic evenings at Quay, Tetsuya's and Vue de Monde spring to mind. But few would think of a small suburban restaurant on the outer edges of Lismore's CBD, better known for coffee and breakfasts then its refined culinary skills.
But on the 18th August 2010, La Baracca unleashed what promises to be the first of many degustation evenings sure to have connoisseurs in the region salivating with delight.
Julianne and Steve Krieg's spirited restaurant is located just around the corner from Lismore's district court house. It is a contemporary establishment with décor in rich dark mocha & soft coffee shadows complete with polished wooden floor boards. Last night the trattoria was transformed from a civil hotspot to gourmet dining room alive with an air of anticipation as Chef/Co-owner Lloyd Hilder was given unbridled creative rein of the kitchen.
Tealight candles set the mood atop tables of crisp white linen, bringing life to the tiny bubbles of NV Groser Sparkling, received upon entry. This was the beginning of what was to be a night of warm regional hospitality fused with modern city chic.
THE SERVICE
Cordial and knowledgeable waitstaff worked the room with indefatigable zeal moving effortlessly between tables of animated diners with an easy flow resulting in balanced service that was both professional and informal.
THE CHEF
A home grown lad, Executive Chef Lloyd Hilder commenced his culinary journey in the Northern Rivers region before moving on to Brisbane where he completed his apprenticeship at the Carlton Crest, all by the age of 17. By 19, Lloyd had taken out third place in the prestigious "Proud to be a Chef" national scholarship program.
Apprenticeship in toe, Lloyd went on to work at the Ayres Rock Resort before setting his sights on Gary Meaghan's multi award winning Fenix Restaurant.
After eighteen months in Melbourne, Lloyd departed on a culinary adventure overseas which saw him furthering his skills at the internationally renowned Fairmont Banff Springs Resort. Through it all Lloyd established a flair for innovative, interesting cuisine and three years ago he returned home to his family and co-ownership of La Baracca.
Lloyd may have a reputation as a diffident individual but his food exudes self confidence and aplomb. Working alongside him too is a trio of talent. Sous Chef Nathan Townsend-Gailer and 2nd year apprentice Chefs Paul Seru and Nicholas Holt demonstrate an equal commitment to excellence, feverishly working behind the scenes to deliver a seamless production.
THE FOOD
There was no chance of being abstemious with an eight course menu sure to satisfy even the fussiest of critics.
An Amuse Bouche of Thai influenced prawn larb arrived beautifully presented, encased in sticky rice and served with nam jim; Master Stock Braised Pork Belly with Asian herb salad, Chilliwick macadamias and a caramelized pear and chill glaze delivered a profusion of flavour; Tea Smoked Atlantic Salmon, seared scallop, cauliflower Blancmange, baby asparagus spears, candied citrus zest and lemon beurre blanc was skilfully balanced.
A quick palate cleanser of vanilla bean, lemon, mandarin and passionfruit sorbet saw the satisfaction continue.
Grilled Wagu tenderloin was perfectly cooked and married with granny smith apple hollandaise oh so well, served with thyme infused fondant potato and al dente green beans; Mauri Bon Tallegio croquet offered a twist from the standard with a watercress, peppered pistachio praline and cranberry salsa; and an unforgettable French and Asian influenced ginger, lemon and white chocolate pudding with bittersweet lemongrass caramel and kaffir lime ice cream, made for a sure highlight.
As a saccharine finish, dark chocolate and limon cello truffle, and lime, pistachio and white chocolate Biscotti were served in accompaniment to a velvety Macatoni.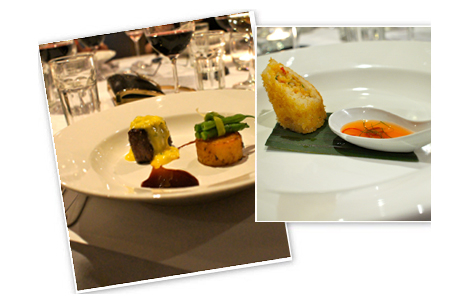 THE RESULT
Diners admiration rang loud and clear, rushing out in a palpable wave as the room erupted in a loud hum of approbation upon arrival of the kitchen staff to the floor at the end of the evening. It was the electric ambiance of success shared amongst all that allowed us to leave assured there is more La Baracca degustation to come – Bravo!
Special mention must also go to Geoff Taylor of Fine Wine Partners, whose empiric wine pairings complimented the evenings feast brilliantly.
For information on upcoming degustation evenings contact La Baracca direct on (02) 6622 7980.