AGFG swigs down and discovers some of Australia's best boutique beers.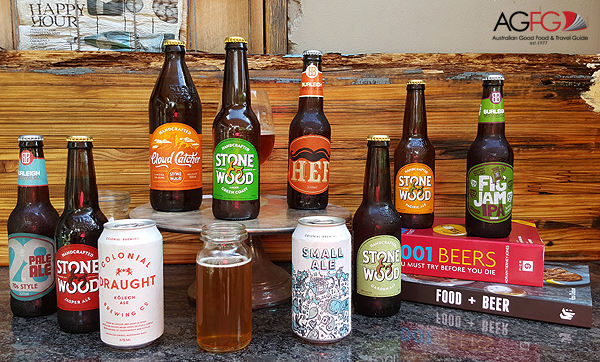 The microbrewery trend is climbing the height of popularity in Australia, so much so even the big companies are releasing small batches of exceptionally eccentric flavours to appeal to the ever growing craft beer audience. If you're still on the fence and just can't seem to let go of that Toohey's extra dry, VB, XXXX or Crown lager*, then let us try and convince you otherwise this Australia Day.
From Margaret River, to Brisbane; to Burleigh and Byron Bay, we've set out to taste a range of boutique, hand crafted beers that will get you off the fence and onto the score carding game (see our past article here about score cards). Versatility is the aim of the game for Australia Day and these beers will sit well with whatever you're cooking up, from lamb, to beef to prawns and salmon, they're truly Australia's Summer drink.
Stone & Wood
Starting off at Australia's eastern tip among the beautiful beaches of Byron Bay is Stone & Wood Brewery, where they keep it simple with four main releases: Pacific Ale, Green Coast, Jasper Ale and Garden Ale while, mixing it up with a few limited editions.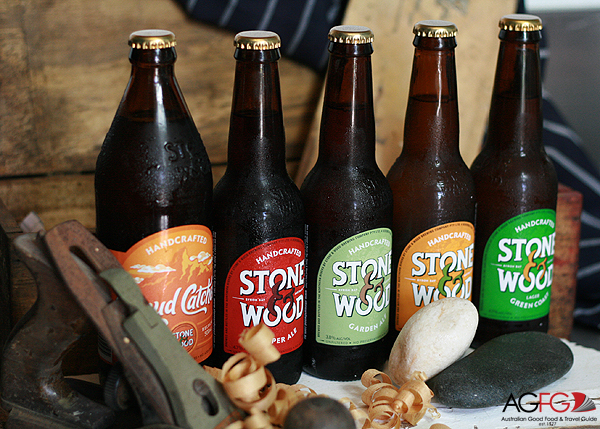 Pacific Ale, 4.4 %
Drawing its name from the edge of the ocean Stone & Wood call home, this ale is perfectly fruity and crisp, while being cloudy and golden with a robust aroma of fresh "red" fruits. Don't be deterred by the yeast at the bottom of the bottle as it adds a particularly dry yet refreshing taste to the beer.
Green Coast 4.7 %
Green rolling hills are what you can smell when opening this bottle of lager, think fine malts and a natural yeast cloud causing the flavour profile to have a fine balance between hoppiness and full malt. This one is clean and fresh – perfect for the hot sun of Australia.
Jasper Ale 4.7%
This is more of a winter beer than the rest of their range, however you can still enjoy it around dusk in Summer when laying back on your alfresco. Red in colour from the rich malt and spicy hops, Jasper has a certain bitterness about it that leaves you with a little kick on your back palate (and inner sinuses) – or as they like to say, a "firm finish."
Garden Ale 3.8%
With its low alcohol content, the Garden is certainly the beer of choice in your backyard by the barbecue. It's been brewed with a blend of pale and crystal malts while both being kettle and dry hopped with "Ella," a very floral and yet slightly spicy hop that considers itself to be the true Australian flavour - think stone fruit and citrus.
Colonial Brewing Co.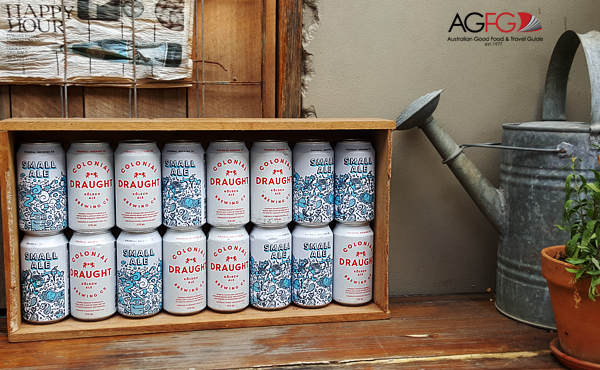 Next we fly all the way to Margaret River, no, not for wine but for Colonial Brewing Co., a new brewery boarding our lands and bringing us their boutique beer in … wait for it ... cans. Cans? You ask. Yes, cans! Now don't be fooled by the past, these cans leave the beer untainted and fresh.
Kolsch Ale 4.8%
Pale gold in colour, this ale shows a hint of lemon sorbet and is complemented by a subtle background of passionfruit and green herbs. Your nose follows the palate which is spotlessly clean, fresh, zesty and focused, delivering a very 'sessionable,' refreshing Summer beer.
Small Ale 3.5%
Big on taste, this ale is a refreshing brew that punches your palate into action with a bold tangerine flavour along with citrus aromatics giving it a bit of bitterness which is pleasantly soft. Carrying cheeky hints of sweet caramelised malt, this brew has a copper ruby tint in the sunlight and at only 3.5% it is responsibly delicious!
Brisbane Brewing Co.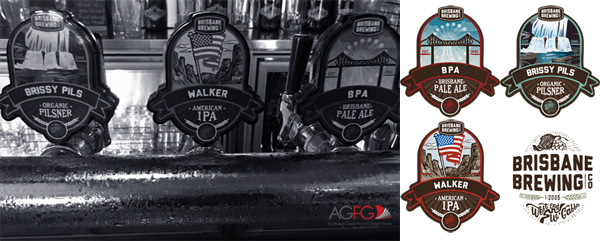 Hopping on a plane back to the Queensland coast, we stop at Brisbane Brewing Co., where you can only taste their beers in house off a Boundary Street laneway – how very artisan. Their motto "if you can't see the brewery, don't drink the beer," resonates with their tap only collection and if you're getting a bit hungry (like we were), head onto Brewhouse Brisbane where you can be entertained by live music and top quality food all in a relaxed beer garden setting.
Brissy Pills – Organic Pilsner 4.9% "Czech out this natural beauty!"
This strong, export strength lager has its roots in old Bohemia, but borrows a fresh leaf from the southern hemisphere. It begins with a hoppy herbal bouquet of NZ Wakaitu, builds up a medium malty body, but finishes with a crisp, dry bitterness. The refined combination of drinkability and relaxed complexity provides the perfect end to a day out under the sun.
Walker – American IPA 6% "Drink this beer before it drinks you!"
Punching well above its weight with a reckless recipe for fruity, citrusy hop driven disaster, this beer is tempered just in time with its sensitive malty side. There's a tip of the hat toward the hoppy beers of the West Coast, but this AIPA is "Texas-sized" with its resinous mouthfeel and dusty dry finish. Righteously bitter with a strong body to balance, it breaks no rules - it is the rules!
BPA – Brisbane Pale Ale 4.4% "Brisbane born and bred!"
An Aussie Pale Ale bursting with the bold character of one of Australia's most exciting 'new world' hops – "Galaxy." Packed with plenty of passionfruit, tropical and citrus flavours, with a gentle malty body to balance this resinous ale, it'll be around long enough on the palate to enjoy its mild sweetness. Quintessentially Queensland this is a refreshingly different ale full of flavour.
Burleigh Brewing Co.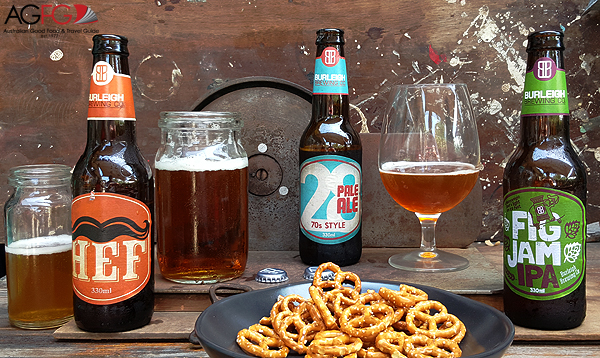 We jump in the car and take a short drive down the coast to Burleigh Brewing Co., founded on a pioneering spirit that makes them distinctly different. Thoughts of beer being around for 8000 years linger on the minds of Brennan and Peta, Burleigh Brewing Co. owners, who knew that they needed to challenge themselves and come up with something new in the world of beer, and what a taste challenging range they've made! The laid-back nature of the Gold Coast is perfectly suited to the mindset of Burleigh Brewery, where with no chemicals, the finest and purest natural ingredients are left to brew, stew and ferment.
28 Pale Ale – American Style 4.8%
Boasting a light orange colour and fragrant bouquet, 28 is a medium bodied beer with a deliciously balanced hoppiness that allows for a complex and fruity character to linger on the palate. Citrus and grapefruit come to the fore while passionfruit and lychee linger a little longer, with such complexities it's such a surprise that this ale is only brewed from malted barley, water, hops and yeast.
FIGJAM IPA – India Pale Ale 7%
By far the heaviest ale of the tasting, with a fine balance of malt, hops and alcohol, FIGJAM is a uniquely floral beer, that dare we say, has a slight taste of fig to the fore while its distinctive hop characteristics lingers quite a while on the back palate. Beautifully balanced, this beer is best enjoyed alone for full enjoyment of the flavour profiles.
HEF – German Style Wheat Beer 5%
Boasting classic German wheat beer characteristics of banana and clove, rich flavours, a bright white head and a smooth, creamy texture, HEF is a must try boutique beer. It is unfiltered, refreshing and will work seamlessly with seafood.
Photography by AGFG and experiences by the AGFG Foodies.
*Disclaimer: all perfectly delicious beers well suited to the Australian market.