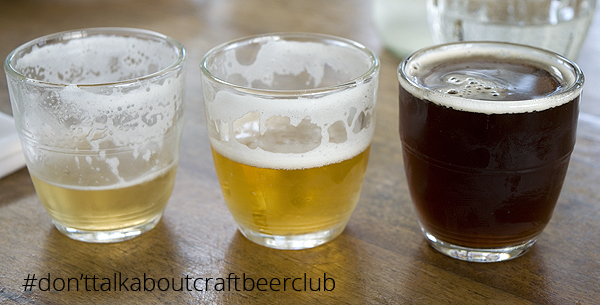 I heard tell of a Craft Beer Club on the Gold Coast that met once a month. It was invite only, I was told, but I wanted in! After a few weeks of tracking down friends of friends, I finally got an email about the next Craft Beer Club meeting at the Ecovillage in Currumbin – how very mysterious, whoops I just let it slip didn't I!
I arrived and followed the trail of smoke to the community's pizza oven to find thirty-odd people sipping from jam jars and wafting score sheets.
The subs were $20 and I got handed what was probably an old Vegemite jar. Tonight's theme was local brewers. I waited for someone to pour me a glass of, who knows what.
It was a family atmosphere with children running around and other wives for my missus to chat to - some of them clutching beer jars. Pizzas were extracted from the oven and shared around, among homemade pates and dips. The atmosphere was lively but focused earnestly on beer.
I sipped absent-mindedly on HEF - a wheat beer made by The Burleigh Brewing Company. It was pleasant enough, though a little too much like Weetbix once my taste buds connected the dots.
"Drinkable, hey?" one of the members leaned over, holding aloft his mason jar of ale. "What did you score it?"
I flustered and tried to sidestep the paperwork by shrugging "no pen." Not good enough I was told. I was handed a pen and talked through the scoring system.
The host-organiser stood on a chair, tinging his glass with a pen and began announcing the tasting notes for the next beer - Stone & Wood's Pacific Ale.
A new theme was quickly emerging - a State of Origin of beers if you will. Queensland represented by Burleigh Brewing and Stone & Wood punting for New South Wales.
The beer flowed, the noise level rose and scores were noted. From Burleigh Brewing, we drank My Wife's Bitter - an English style ale and 28 pale ale. Stone & Wood competed hard with Jasper - a dark ale and a limited edition Garden Ale - a light but very drinkable beer.
At the end, the scores were gathered by the time-honoured 'loudest cheer' method. The Garden Ale won the battle, with 28 very close behind. After, volunteers who were organising the next Craft Beer Club had stepped forward, the stragglers huddled round the fire and emptied the eskies of remaining beers. With such a friendly crowd, I'm sure I'll get an invite to the next one too, but next time I'll bring my own jar. By Conleth Prosser.