Summer and seafood go hand-in-hand, but to really make the most of fresh seafood while it's here in abundance, spare a hand for a glass of white wine. Feeling a little apprehensive and worried you might get the flavours completely wrong? Check out our pairings below and if you wish, use it as a general guide for your own dishes, or try out our recipes linked below in the seafood category and find the bottle of wine through the winery link. Experiment with what flavours suit your palate best, as everyone is going to enjoy something slightly different, and be sure to pace yourself by drinking water too.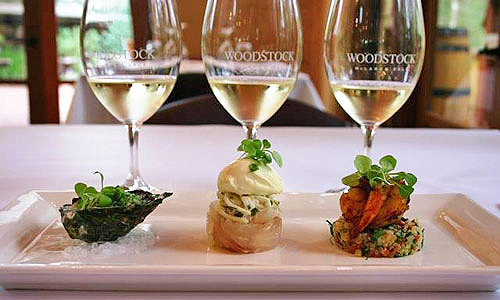 Wine: Sparkling Chardonnay
Seafood: Oysters, Abalone, Lobster, Prawns
Winery: Passing Clouds, Daylesford, VIC
Have your guests throwing back oysters with a glass of Passing Clouds' Sparkling Chardonnay NV, made from handpicked, hand processed grapes, offering bright aromas of candied citrus and lemon peel with a touch of flint and toast lead to the palate. Grown near Daylesford in the Macedon Ranges, these grapes grow well on the cold climate estate.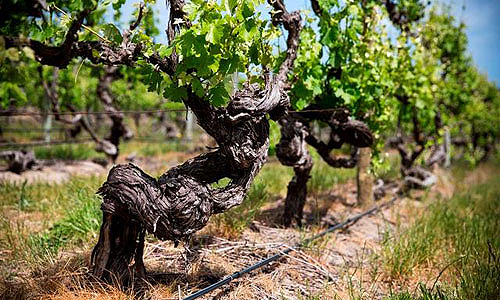 Wine: Riesling
Seafood: Hiramasa Kingfish, Baby Marron
Winery: Woodstock Wine Estate, McLaren Flat, SA
For a drop with these mouth-watering plates, perhaps try the 2012 Woodstock 'Mary McTaggart' Riesling, providing floral perfumes with citrus blossom aromas on the palate with a crisp acidity and a long, lingering finish. These grapes were grown in a small, north-facing vineyard up on high sandy slopes, soothed and kept cool by sea and gully breezes through summer.
Wine: Pinot Gris
Seafood: Sashimi, Kerala Prawn Curry
Winery: Howard Vineyard, Nairne, SA
Find Howard Vineyard's Clover 2015 Pinot Gris with fruits grown in the Adelaide Hills, harvested in the middle of the night from Block K at Schoenthal. These grapes grow 450m above sea level for a cold, long ripening period and consistent quality. Taste flavours of Granny Smith apples, Nashi pears and a touch of white pepper.
Wine: Pinot Grigio
Seafood: Asian Crab Cakes , Calamari
Winery: Sam Miranda, King Valley, VIC
Pair crab cakes, calamari and Asian inspired dishes with Sam Miranda 2014 Pinot Grigio for a true Grigio subtlety that is soft, yet crunchy and crisp. Scoring 90 points from James Halliday, this Pinot Grigio won the bronze medal for 2014 in the North East Victorian Wine Challenge.
Wine: Verdelho
Seafood: Smoked Trout Salad
Winery: Sirromet, Mount Cotton, QLD
Pair the smokiness in the trout with a fresh, crisp salad with Sirromet's Grand Reserve 2013 Verdelho Blanc, pale lime green in colour with aromas of tropical fruits, green apple, citrus and lychees. The grapes for the 2013 Verdelho Blanc were grown exclusively in the Cat and Fiddle Block within the Night Sky Vineyard located in the Granite Belt.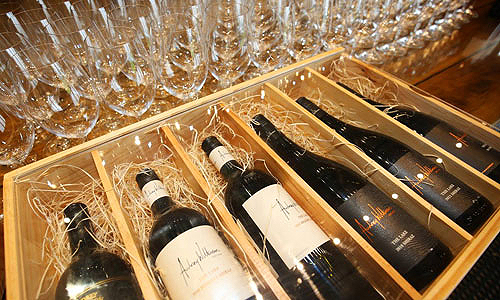 Wine: Semillon
Seafood: Blue Eye Cod,Fish and Chips
Winery: Audrey Wilkinson, Pokolbin, NSW
Pair fillets of fish with Audrey Wilkinson Reserve Range The Ridge Semillon 2012 with lifted grassy aromas of limes and lemons while a palate of fresh lemon sherbet flavours hits with hints of kaffir lime. A cool spring, followed by cooler than average summer temperatures on the Ridge Block in the Hunter Valley resulted in wines with lower alcohol and great natural acidity.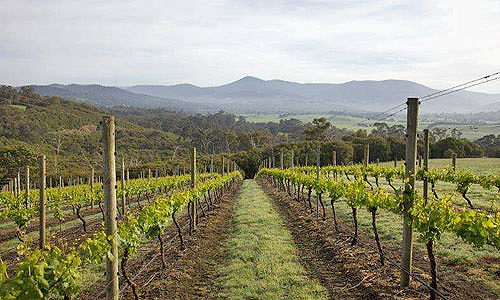 Wine: Semillon Sauvignon Blanc
Seafood: Fish and Prawn Cakes seafood salad, crab cakes, freshly peeled prawns
Winery: Levantine Hill , Coldstream, VIC
Try Levantine Hill's Sauvignon Blanc Semillon 2014 from the Yarra Valley when munching on fish cakes and freshly peeled prawns and enjoy pronounced characteristics of pear skin, lychee, preserved lemon and cardamom. All the fruits for this wine were hand harvested in small parcels when perfectly ripe, hand sorted and hand plunged with care.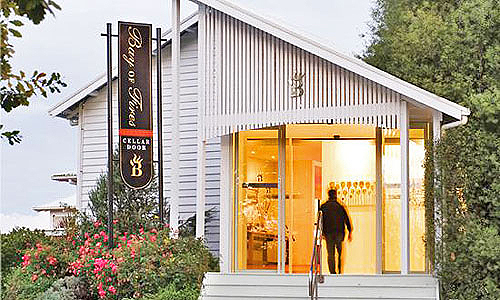 Wine: Sauvignon Blanc
Seafood: Grilled Prawns, Scallops, Barbecued Salmon
Winery: Bay of Fires, Pipers River, TAS
Hands are on bottles of Bay of Fires Sauvignon Blanc, with the 2014 harvest winning five gold trophies from the Decanter Wild Wine Awards above many of France's best. Taste notes of exotic fruits with delicate hints of flint and fresh herbs, while palate characters of guava and passionfruit follow. The grapes were grown in Tasmania's Coal River Valley and the Derwent Valley and careful monitoring of water throughout a dryer than usual summer resulted in this revered drop.
By Julie Johnson.