Born from a career as a classically trained French chef, Teresa Cutter is now best known for her work as The Healthy Chef, as well as her wholesome and organic café on the shores of Avalon in Northern Sydney, which she was a part of for six years before diverting her energy solely into her website.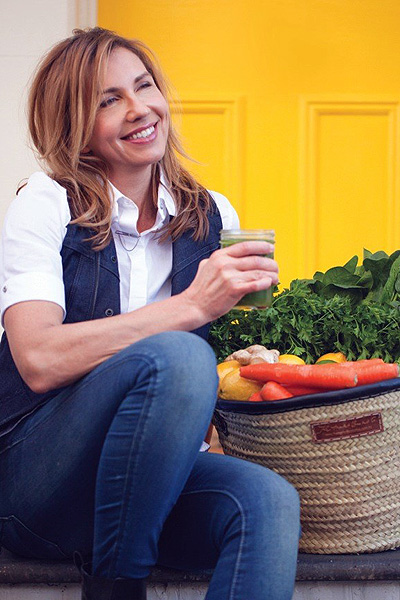 Not only does Teresa specialise in all things food, she also studied nutrition at Deakin University and became an accredited fitness trainer with the Fitness Institute of Australia; so she could have the understanding to combine her knowledge of food, cooking, diet and exercise to best help those wishing to better their health and wellbeing.
After an eventful Easter and Summer full of over indulgence in the form of chocolate, alcohol, BBQ's and sweets, we thought it was time to get back on track and talk to Teresa about the best ways to overcome any obstacles that may stop us from being our optimum selves.
AGFG: Beginning out as an apprentice, what was your vision for the future and how has that changed to who you are today?
My philosophy since starting out has always been to keep food fresh, simple and homemade. My recipes are for people who love food, who love to eat and who have made a conscious decision to maximise their health and wellbeing. I'm all about changing health in our society by making simple food choices and using better quality ingredients. It's all about cooking with wholefoods and making healthy and purely delicious recipes that will nourish the body. As a classically trained French chef and fitness expert, I have always believed in honest, natural food.
AGFG: What was the catalyst for going down a more natural, well-balanced and healthy lifestyle path, what obstacles were you met with and how did you overcome them?
Being overweight, sick and unfit when I was very young was the catalyst for going down a more natural and balanced healthy lifestyle path. Also seeing how my parent's diet effected their health - I vowed I wouldn't go down the same path. My Great Aunt was a great inspiration. She showed me how food could nourish the body and make you healthier. She taught me how to cook, how to ride a bicycle and get regular exercise. She was an amazing woman. I was fortunate to have spent a lot of time with her. They had their own vegetable garden and cooked everything from scratch.
AGFG: Easter has just passed, any advice to those of us who may have overindulged?
It's important to nourish your body with plenty high antioxidant and alkalising foods such as wheatgrass, parsley, mint, kale, cos lettuce and other green vegetables. A great way to enjoy them is to put them in smoothies – they're a quick and easy way to get your daily dose of green goodness!
AGFG: Most people find that they are pretty good with eating healthy, but it's the sugar cravings that destroy all their hard work, what would your advice to them be?
First of all, I believe that you should never deprive yourself and if your body feels like having a sweet treat, savour and enjoy it. I'm all about having a realistic approach to eating – this is my whole philosophy of my 80/20 diet. Eat well 80 per cent of the time and 20 per cent of the time you can enjoy a little indulgence. Life is too short not to!
AGFG: What were your reasons behind believing in the 80/20 philosophy instead of a completely regimented health regime?
It was pretty simple really – I realised a long time ago that losing fat takes time, effort and commitment. But I also realised it was unrealistic to not be able to satisfy my sweet cravings. You should enjoy the good food you're putting into your body and every once in a while indulge your cravings, enjoy them in moderation without feeling guilty and move on. The 80/20 diet is all about helping you achieve your weight loss goals sensibly and establishing lifelong healthy lifestyle habits.
AGFG: Given the fast paced nature of society, what's your advice to those that find changing their habits overly stressful (which usually leads to them never starting)?
Our habits create our life! If you want to lose weight and get into shape, you have to develop the habits of a fit and healthy person. Studies show it takes about 21 days to change a habit. The key to successfully changing your habits to healthy ones is to substitute alternative behaviours that also satisfy your needs. Once the new habit is ingrained, the new behaviour pattern becomes easy and automatic.
Be realistic and clear on what those needs are, set your goals and build to achieve them. Take small steps and choose one new habit each week to implement into your daily life. Simple examples include drinking mineral water instead of alcohol when out with your friends, swapping your sugary breakfast cereal for a wholegrain porridge, or riding your pushbike to work instead of driving the car. I live by these words from Lao Tzu….
Watch your thoughts, for they become words.
Watch your words, for they become actions.
Watch your actions, for they become habits.
Watch your habits, for they become your character.
Watch your character, for it becomes your destiny.
What we think, we become.
—Lao Tzu
AGFG: What is your go-to easy dinner meal after a long day?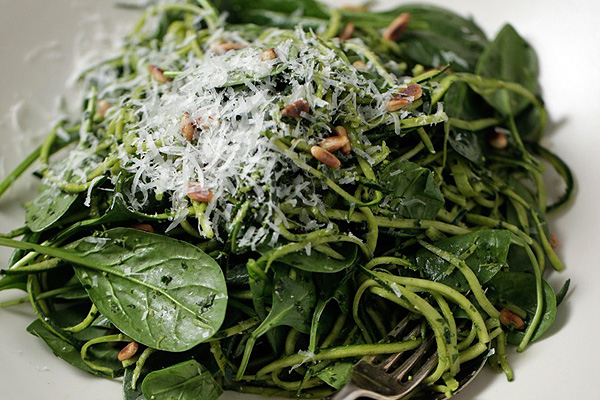 I love anything with vegetables for a quick and easy dinner. My Zucchini Linguine with Spinach + Basil Pesto from my new book Purely Delicious is one of my favourite go-to meals after a long day because it's a great alternative to traditional pasta and it has the added benefit of being nutrient dense and kind to the digestive system. If you like, you can add a piece of salmon or steak on the side for a good protein hit.
See Teresa's recipe here.
AGFG: If you could be a food, what would you be?
Almond … It tastes delicious, loaded with health benefits and high in antioxidants and minerals. I would be roasted then scattered over leafy salads or blended into the creamiest nut butter or nutrient rich almond milk. I would make sure that my best friend was called chocolate!
Want to know more? Teresa's latest cookbook, Purely Delicious, is out now, check it out here.