By Leigh O'Connor.
Change your health, change your world - that's the motto of Townsville providore The Happy Wholesome Kitchen.
Founded by passionate foodie and trained health coach Kelly Smith, the business aims to maximise people's health and vitality through incorporating more delicious raw, fermented and wholefood meals into their diet.
Kelly's approach is to empower everyone to understand and respect their own bio-individuality and dietary needs, by offering recipes, raw food and cooking workshops, demonstrations and healthy meals from her food van at markets and festivals.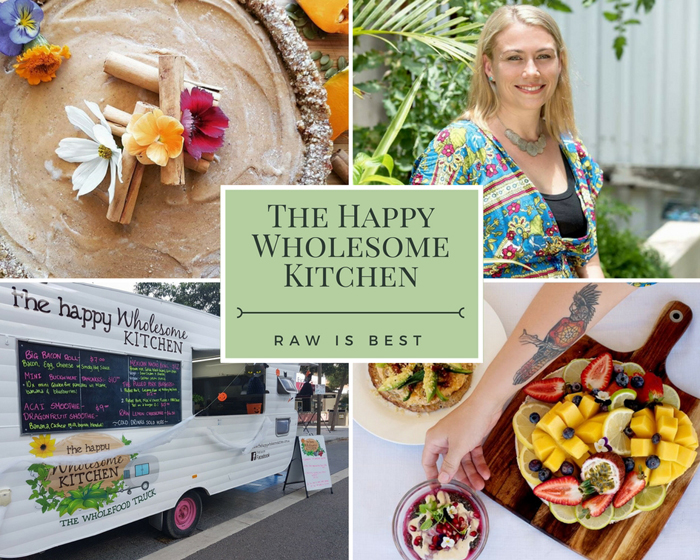 A qualified herbalist and environmentalist, she believes raw is best and has developed recipes accordingly. Her creative flair is inspired by inventing healthier twists on traditional cooking and her workshops are a fun way to teach people about great food choices.
Focusing on overhauling your diet and kitchen, the workshops share secret cooking weapons as participants prepare a healthy menu from Kelly's recipes before they enjoy the fruits of their labours. Kelly's cookbook – Renew Yourself – is included in the workshop cost, passing on more than 35 wholefood recipes, which are adaptable to any diet.
Covering topics like dehydrated, nut based, nut free, low fructose, dessert and savoury dishes, the sessions are extremely popular and advance bookings are recommended.
Introducing raw and real wholefoods into your diet can drastically change your life, especially for those sensitive to dairy or gluten and who suffer from bloating, skin issues, slow digestion, fatigue and low energy.
Think taste tempters like creamy carbonara pasta, raw spaghetti with tomato pasta sauce and nut Parmesan cheese and decadent indulgences such as raw cherry ripe slice.
Kelly shares her raw pumpkin and wholefood pie recipe with AGFG readers, with a base made from almonds, desiccated coconut and dates. The creamy pumpkin filling, sweetened by maple syrup and spice, makes this a divine dessert that is easy to make and will impress family and friends, as well as ticking all the healthy boxes.
For those who enjoy the food truck revolution, Kelly serves up her version of burgers, nachos, salads, sweet treats and fermented kombucha at various venues around Townsville, as well as offering catering options.
Want to find out more? Click here to visit The Happy Wholesome Kitchen website.