By Sean Melrose.
"Being alive with a few handicaps is better than being dead. That's for sure. That's for damn sure!" – Eduardo Garcia.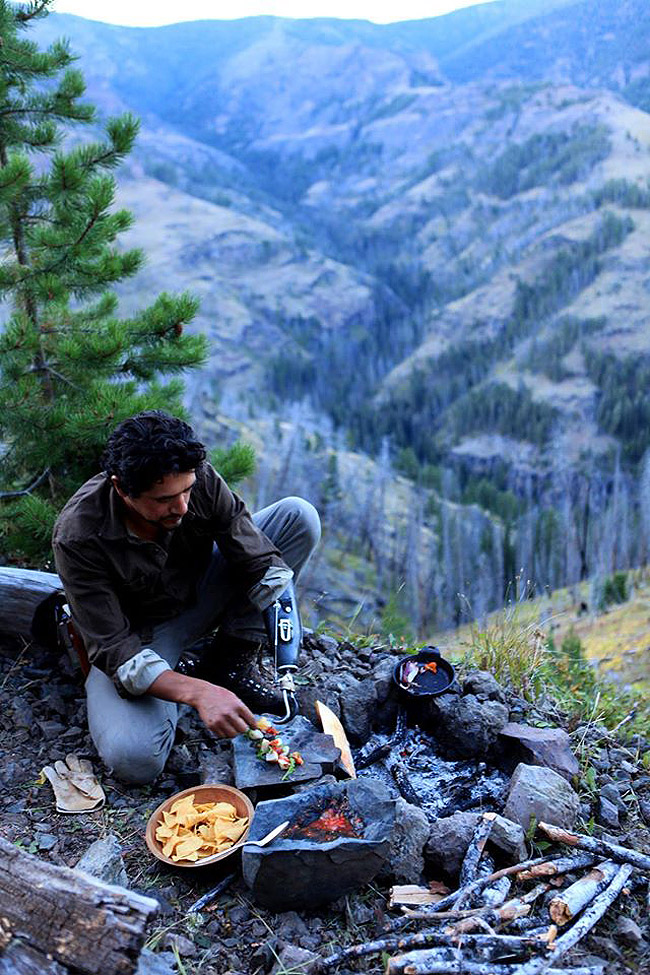 You're walking along in the Montana wilderness, taking in the quiet beauty of it all and breathing in the fresh air, when you see what looks like a dead bear slumped in the bushes. Like many, you're a curious person, so you delicately slide out your hunting knife to prod the bear. Unbeknownst to you, that bear is in contact with 2400 volts of electricity. So, in the words of travelling Chef Eduardo Garcia . . . "Lights out."
Gracing the red carpet on the 1st of February at the Santa Barbara International Film Festival will be Garcia's incredible recovery story, Charged. Viewers watch as Eduardo finds his way back to the kitchen, showing that cooking is in the head and in the heart.
In England at the time of the incident, Garcia's partner Jen received a call explaining that now would be a good time to talk to him, as it might well be the very last opportunity. On arrival at the ICU, they said he was a dead man with a heartbeat.
The damage to Garcia was extraordinary, he spent 47 days in the burn trauma ICU dealing with 21 surgeries; there were 9 severe exit wounds, doctors had to remove 4 ribs and cut away destroyed muscle mass from Eduardo's torso, legs, arms and scalp. As if it wasn't enough, in a case of life or limb, Garcia also lost his left hand and forearm.
In an incredibly dark twist of fate, amidst all the surgery and struggle to keep his heartbeat going, Eduardo was told he had Stage 2 testicular cancer. Surgeries were suspended while he flew back to Montana for aggressive chemo.
The documentary follows Eduardo's journey back from heart wrenching darkness to life and his subsequent, captivating transformation afterward. Charged features film of Eduardo before the life altering injury, in contrast to the live footage filmed by Jen in the hospital, through to Garcia's life after the event, his work with the Challenged Athletes Foundation and the growth of his food company, Montana Mex.
Charged Preview:
Charged, The Eduardo Garcia Story.
Eduardo's Kickstarter.