Let the AGFG be Your Guy
(Ah-hem, I mean Guide.)
Are you a foodie traveller heading everywhere in Australia? For those of you who've been eating all your lives and travel beyond Sydney, Melbourne, Brisbane, Perth and Adelaide, here's the good news…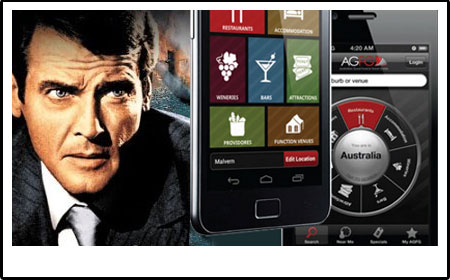 The Australian Good Food & Travel Guide (AGFG) is a clever resource with a vast database of restaurants and accommodation nationwide.
Here's the even better news… Our AGFG App is now available for iPhone & Android, and you can download it for free.
The Best iPhone & Android Apps
The AGFG est. 1977 knows the best new iPhone and Android apps are the ones that bring to life the things you love and enhance your experience. A recent campaign, 'The App for Everywhere' shows that the AGFG is the go-to guide no matter where you are in our big, wide and beautiful nation.
Our New guyPhone is a Walking, Talking iPhone
Our walking, talking guyPhone phenomenon (made in Australia) was first introduced to our foodie followers in June 2011, and the big news hit home with the staff at Macworld Australia. The guyPhone goes to show that the AGFG is a fun-loving mobile companion you can count on.
The AGFG App Goes Everywhere
Over the last year we've followed our innovative guyPhone around and put together a few video clips showing you just how mobile we are. Australia's 1st and ONLY guyPhone, the tech savvy crew behind it all are the very same genius developers of our iPhone and Android apps so trust us, the AGFG app is the best app to have, everywhere you go.
In the…
Snow
[youtube:oKFkiKFARgI]
At a…
Waterfall
[youtube:msMp52q3wN0]
The AGFG App Goes...
Everywhere.
[youtube:Xjgz6cb7kdk]
So Let the AGFG App Go...
Everywhere with you.
[youtube:0e_skVwumsQ]
CLICK HERE and download the AGFG iPhone or Android Apps for free. You'll never go anywhere alone again.