By Kirsten Kruck.
"Cooking outdoors is just more fun than cooking indoors. Food prepared outdoors seems to taste better. Everyone seems to be in a better mood and there always seems to be a party atmosphere." ~ Robert Louis Murphy.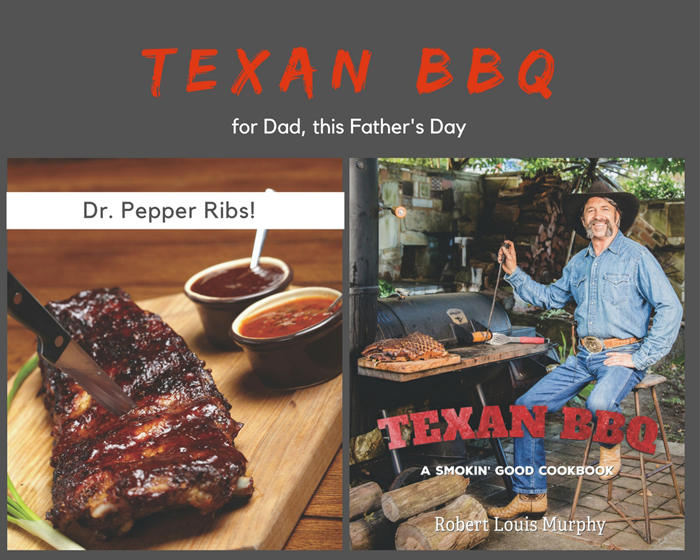 Wondering where to start to become a barbeque aficionado? Look no further than Texan BBQ, a 'smokin' good cookbook' by My Kitchen Rules contestant Robert Louise Murphy, just perfect for Father's Day.
This heartily presented cookbook offers 80 authentic Texan style BBQ recipes, time tested and wholesome, alongside information on smoking, marinating and rubbing meat to create a tastebud exploding Texan style BBQ.
Broken down into seven succinct chapters, Texan BBQ takes readers through recipes for beef, lamb, pork and chicken as well as side dishes, stock-sauces and marinades, finishing with the perfect rubs for making BBQ time fuss free and easy, no matter what recipe you're trying to tackle.
Most of the recipes in this meat manifesto require preparation and planning, but the results are worth it, especially when delving into melt-in-your-mouth dishes like Dr. Pepper Ribs. Beginning with marinating the ribs overnight, Murphy wraps the ribs in foil and puts them in the BBQ for at least an hour before cooking them in the flames. A glaze of maple syrup is lightly brushed onto the ribs before they're served with a homemade barbeque sauce, or any of your other favourite condiments like mayonnaise and aioli.
"I have a deep sense of pride for the Texan way of life that influences what and how I cook and I'm delighted to be able to share that." ~ Robert Louis Murphy.
A relatively simple but flavoursome dish would be BBQ grilled lime chicken with fresh coriander, juicy lime and avocado oil served with a fresh salsa of tomato, onion, avocado and lime or if you're not feeling like meat, perhaps try a vegetarian option like roasted spicy vegetables loaded with potatoes, pumpkin, beetroot and onions, and topped with coriander, parsley, paprika and chilli, offering up a flavour that will have everyone salivating and can be served as a side dish as well.
"Before I was a teenager, I could take my hunting rifle and feed 50 people later that day. I have to wonder if some cooks could do that now. I was lucky to have been raised in a place where cooking outdoors is a way of life." ~ Robert Louis Murphy.
Raised in Breckenridge, Texas and spending his childhood years hunting, fishing and cooking his own food, this likeable TV personality has captured our hearts all over again with his ability to entertain as well as have a good time, while offering up hearty food. To enjoy all of Murphy's tips, tricks and recipes be sure to pick up a copy today.
Images and recipes from Texan BBQ by Robert Louis Murphy, published by New Holland Publishers. RRP $45, available from all good book stores or online.