By John Rozentals.
Mudgee's Robert Stein Winery and Vineyard was established in the mid-1970s but the family's connection with Australian wine goes back to 1838, when Johann Stein migrated from Germany and brought with him our first riesling cuttings.
They apparently thrived under his supervision at Camden Park, the Macarthur family's property not far from Sydney. Johann's brother, Jacob, established his own vineyard, Sandal Farm, also towards Sydney's South-West.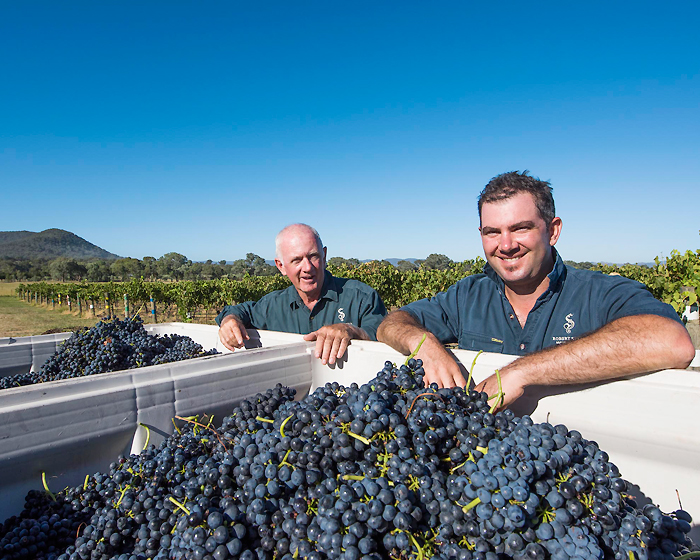 Bringing in the grapes ... Andrew Stein and his son, Jacob.
In 1976, Robert Stein revived the family's connection with wine when he planted vines at Mudgee, and the rest, as they say, is history. Robert was helped by his son Andrew in establishing the vineyard and grandson Jacob in now the winemaker at one of the district's most acclaimed wineries.
Jacob and his team produce quite a broad range of wines, but, understandably, given their Germanic roots, are particularly proud of their rieslings.
Robert Stein 2017 Riesling ($30) Buy here.
I've never really thought of Mudgee as a riesling district, though the wines produced by Ian MacRae at Miramer during the 1980s, when I lived and made wine near the town, should have convinced me of the variety's potential there. Jacob Stein, winemaker at Robert Stein Winery and a descendent of the Jacob Stein mentioned above, is also turning out some very useful rieslings. This certainly shows in this wine's varietal hallmark citrus and floral notes. I'm drinking it on its own as an aperitif, and its dry and highly more-ish, but I'd also like to try it with some freshly caught, quickly seared white-fleshed fish such as bream.
Robert Stein 2017 Half-Dry Riesling ($35) Buy here.
I always take a bit more personal interest than usual when tasting a release from Mudgee's Stein Winery and Vineyard. It's because some years ago Robert Stein, who planted his vineyard in the mid-70s, confessed that when designing his own winery he had copied in miniature the winery I had helped design and construct a few years earlier not that far away. His grandson Jacob is making wine there now and doing a splendid job, as shown by this wonderful riesling that carries just a little bit of residual sweetness. Like its completely dry brother, the wine has some bracing acidity but shows more fullness of flavour. Hence it will carry food that's a bit richer, so serve, for instance, with fish that has a creamy or buttery sauce.
Cockburn's 2011 Late Bottled Vintage Port
Most reasonable ports consumed in Australia are tawny ports. They're generally a golden brown in colour hence the name — and fairly sweet. They've been matured in barrels and should be ready to drink very soon after bottling. Vintage ports are usually a deep red in colour and have been bottled quite early in their life and should improve with many years of bottle maturation. Late-bottled vintage ports, such as this beauty from Portugal, sort of combine bits of both styles, though this is certainly drier than most Australian tawnies. I like it a great deal, mostly because I'm not overwhelmed by initial sweetness, but also because it offers a genuine mouthful of elegant flavour. Drink with cheese and crackers, after dinner with some really good friends.