By Leigh O'Connor.
What do you get when you team a Chef with an Italian background who hated tomatoes growing up, with a Welshman who was a fussy eater as a child?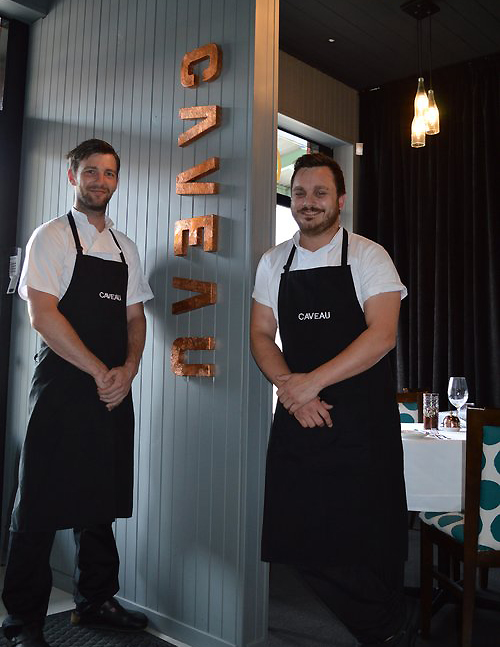 Caveau Chef Duo: Thomas Chiumento (left) and Simon Evans (right).
The answer is award-winning Wollongong restaurant Caveau, where Thomas Chiumento and Simon Evans create dishes with an extreme dedication to local producers, winemakers and artisans, to form a refined, artistic menu of Modern Australian tastes.
Thomas spent his childhood living next door to his Nonna and Nonno, so naturally there was a lot of time in the kitchen and around food. They grew everything themselves on the family farm, from pigeons to pork, tomatoes to bananas – there were even beehives his Nonno brought to Australia in a shoe box 60 years ago.
"It was a pretty amazing upbringing that I totally took for granted and it wasn't until I started working in kitchens [that] I realised how lucky I was," he recalls. "I hated tomatoes as a kid and being Italian, my grandparents thought maybe my parents picked up the wrong kid at the hospital."
Simon grew up in Wales and confesses to being a very fussy eater from about six-years-old until in his late teens.
"I don't really have the classic Chef origin story of growing up around food. My parents were always capable cooks, but it wasn't until I got older and had to feed myself that I got interested in food and started cooking every day, trying to learn new recipes and cook different things," he says.
"From there it was just a natural progression of the obsession I had developed with food, to try to make a career out of it."
The pair bought Caveau from the restaurant's founders Peter and Nicola Sheppard in January 2017 and embarked on a mission to put Illawarra on the map as a food region, using as much local produce as possible in their menu.
"Being a regional restaurant, we have the opportunity to be very connected to our local producers and showcase their amazing products. It just makes sense to us to source ingredients from people we know and trust and can build relationships with," Thomas says.
The pair collaborates on the restaurant's seasonal menus to come up with new dishes and is well-known for using every part of an animal, with no wastage.
"Normally Thomas sources the produce and I'll write the dish. Then we make it, taste it and refine it together," Simon explains. "It always starts with a product, so we work closely with our suppliers and also keep our ears to the ground to see what's new, what's in season and what we can get.
"From there it is working out what is going to work best with that produce. For example, after about 18 months of building a relationship with our supplier Something Wild, we managed to get a consistent supply of magpie goose.
"I was experimenting with dry aging and cooking it – it had a flavour and texture similar to liver – so it made sense to cook it with things that traditionally worked with liver; in this case, onions and salsa verde, [which] we make with native sea parsley."
Thomas says his favourite meat to cook with at the moment is crocodile.
"We make this cured crocodile that is really like lardo, which is cured pork fat. When I was young, I went mushroom foraging in Italy and we stopped to get lardo rolls, I will never forget how amazing that was."
One of the most eyebrow-raising dishes they have on the current Caveau menu is crumbed sweet bread in brioche crust, which is the offcut of one of their desserts, teamed with pickle liquid gel from used pickles.
"Sweetbreads are a type of gland, they're so tasty but because they are offal, people can get a little squeamish and they are often not used or thrown away," Thomas says. "Our dish shows how everything that could have been wasted, can be made into something tasty. It tastes like fried chicken nuggets with sweet and sour sauce – who would say no to a chicken nugget?"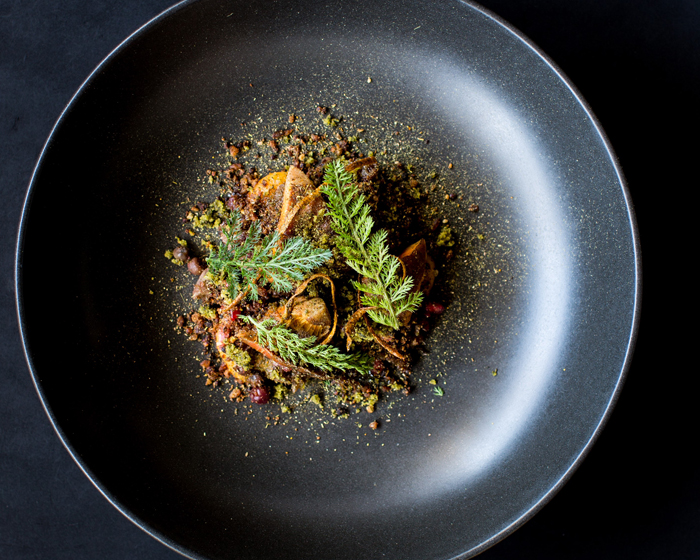 Their recipe for braised wallaby tail and wild pine mushrooms came about from wanting to use the indigenous meat and at the same time going to pine forests to forage for mushrooms, then creating a dish from the ingredients they found, plating it to look like the forest floor.
"We want to try to make people think about the food we eat in this country and why most have not tried or even heard of the ingredients we use, when they have been here and available for hundreds, possibly thousands of years," Simon explains.
"I think it is so important right now that we connect with the real history and food culture of this country and if we can play a tiny role in that, I'll be happy."
As for the future, they say their success is tied to the success of Wollongong as a whole.
"We can only improve and get busier if more people are looking at Wollongong as a viable food and wine destination. From here you can access the South Coast, Southern Highlands and the amazing beaches we have here – as well as have a great meal, get a killer cocktail, fantastic wine, or whiskey at a dive bar," Simon says.
"In five years', time, I hope the city is thriving, because that will mean we can also thrive."
Thomas wants to continue learning about the Aboriginal culture so he can pass that onto his customers with the idea of creating a stronger understanding for everyone.
"Food brings people together every single day, why can't a contemporary Australian cuisine bring a whole country together? To be proud of its incredible history."
Whatever the pair put on a plate at Caveau, it is sure to have a story to tell anyone who dines there, both now and in the future.