08-11 March 2012
Tickets for Taste of Sydney 2012 are now on sale!

Fine Dining in the Park
There is great anticipation amongst food lovers for Taste of Sydney 2012, where the city's finest restaurants and top chefs will offer tantalizing tastings and specialized tutorials for everyone who finds their way to Centennial Park. Over 25, 000 Sydneysiders are expected to partake in this four-day culinary journey. Located within the Paddington area, an inner-city eastern Sydney suburb, their Centennial Park location in the Brazilian fields area represents one of the most popular parklands visited by millions each year; this annual foodie extravaganza is a major draw card.
Looking for accommodation nearby Centennial Parklands, the iconic Taste of Sydney site?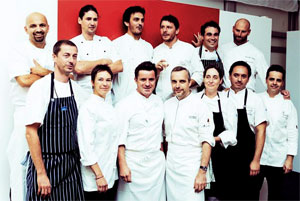 Session Times
Thursday 8th March: 5.30pm – 10pm
Friday 9th March: 12pm – 4pm OR 5.30pm-10pm
Saturday 10th March: 12pm – 4pm OR 5.30pm-9.30pm
Sunday 11th March: 12pm – 5pm
Ticket Information
| | | |
| --- | --- | --- |
| Tickets | Advance Booking | On-the-door |
| General Entry Ticket(Entry only) | $25 | $30 |
| Premium Ticket (Entry & 30 Crowns) | $55 | Only available in advance. |
| HSBC VIP Ticket (Fast-track entry, access to the exclusive HSBC VIP Lounge, 3 complimentary bar drinks plus coffee/water throughout & 30 Crowns) | $100 | $100 |
| Gala Night VIP Ticket (Fast-track entry, access to the exclusive HSBC VIP Lounge Gala Night party on Thursday 8th March, complimentary bar drinks & 30 Crowns) | $125Strictly limited tickets available! | Only available in advance. |
| Child Ticket (ages 6-17)(Entry only) | $12 | $15 |
| Children under 5(Entry only) | FREE | FREE |
* The Taste of Sydney currency is Crowns. 1 Crown = $1. Crowns can be purchased on site and in advance with a Premium or VIP Ticket package.
Taste Features that Foodies Will Love
An exciting opportunity for foodies who like to get up close and personal over food is the Chefs Table series; featured chefs will attend informal chat sessions over a glass of wine and canapés with those in attendance. These sessions are free to attend and offer an intimate way to ignite some food oriented dialogue with industry masterminds. Taste Kitchen courtesy events are eye catching and informative demonstrations by top chefs willing to dish out some trade secrets for those who are serious about cooking.
For a nominal cost, wine tasting will be available to you at the Vintec Wine Tasting theatre in the company of top winemakers and experienced sommeliers. This panel of experts will lead wine education sessions and interactive tastings, demystifying some of the wine and food matching methods. If that's not enough, consider attending "The Art of Cocktail Making" to learn the basics of becoming a host and bartender beyond your imagination.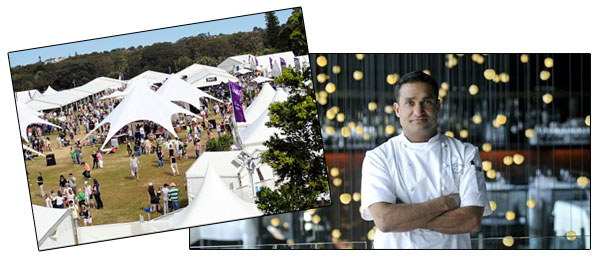 Whether you attend sessions or not, with over 50 of Sydney's best restaurants represented at Taste, you'll be given the opportunity to build your own degustation day in and day out. New to the 2012 line up are sushi master Shaun Presland with Sake, Somer Sivrioglu with his modern Turkish twist at Efendy and James Privett with contemporary steakhouse The Cut Bar & Grill.
Returning favourites include Peter Kuruvita's Flying Fish, where you'll need to be prepared for the crowds. Long lines are always indicative of a hot spot, and last year Pete "served over 400 of their curry leaf prawn skewers in a few hours." Other favourites included Richard Ptacnik's Otto Ristorante, Eugenio Maiale's A Tavola and Alessandro Pavoni's Ormeggio at the Spit, with Spiedo also on board for the first time. Manu Feildel's French L'etoile makes a welcome return to the gastronomic party in the park, as does Martin Boetz's twin-toqued Longrain restaurant and bar.
Confirmed Taste of Sydney 2012 restaurants and chefs include:
A Tavola - Eugenio Maiale
Charlie & Co. - Justin North
Efendy – Somer Sivrioglu
Flying Fish - Peter Kuruvita
Four in Hand - Colin Fassnidge
L'etoile - Manu Feildel
Longrain Restaurant & Bar – Martin Boetz
Ormeggio at the Spit - Alessandro Pavoni
Otto Ristorante - Richard Ptacnik
Quarter Twenty One - Justin North
Saké Restaurant & Bar – Shaun Presland
Spiedo - Alessandro Pavoni
The Cut Bar & Grill - James Privett
The Montpellier Public House - Matthew Kemp
PLUS the brand new Sustainable Pop-Up Restaurant featuring:
THURSDAY: Fish & Co. - Tom Kime
FRIDAY: Three Blue Ducks - Darren Robertson and Mark LaBrooy
SATURDAY: The Veggie Patch - Georgie Swift
SUNDAY: Agapé Organics - Simon Lawson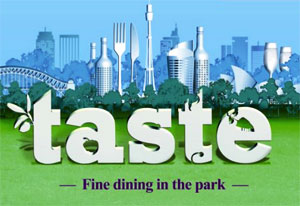 See our Sydney Travel Guide for general information, restaurant listings & accommodation options.
Read more about Taste of Sydney and other March events in our What's On guide.
Taste of Sydney is a spawling event full of entertaining possibilities. Here's is their Top Ten Picks to get festival-goers started.
Rekorderlig Cider Bar – Following its debut appearance at Taste of Melbourne in 2011, the custom built Beautifully Swedish Rekorderlig Cider Bar will appear at Taste of Sydney in 2012 with six delicious cider flavours on offer, providing the perfect location to relax, enjoy live music and soak up the atmosphere of the festival.
Quarter Twenty One Cookery School – Justin North will bring a unique pop-up experience of his newly launched Quarter Twenty One Cookery School to Taste of Sydney, offering a complete timetables of classes from Bread Baking and Simply Entertaining, to Stocks & Sauces and more. Classes are just $20 to attend and can be pre-booked online at www.tasteofsydney.com.au.
Aperitivo Hour – Ormeggio at the Spit & Spiedo have teamed up with Euro Concepts to present an exclusive Taste of Sydney Aperitivo Hour with matching wines for each dish and a special Aperitivo Stuzzichini – Sciat (buck wheat coated cheese deep fried).
Chobani – To celebrate the Australian launch of premium yoghurt brand Chobani, the CHOmobile – the brand's custom made dodge - will be making its first ever appearance at Taste of Sydney to sample seven delicious, handcrafted greek yogurt flavours.
Ketel One presents Eau de Vie – Premium Vodka brand Ketel One will bring Sydney's iconic Eau de Vie bar to life at Taste of Sydney with a selection of five signature cocktails on offer. At the helm of the bar will be Eau de Vie's award winning bartenders, lead by Luke Redington and Ketel One National Brand Ambassador David Beatty, as they entertain guests with the decorum, theatre and craftsmanship practiced at Eau de Vie.
Four in Hand & 4 Fourteen – A spit roast of suckling pig will entice festival goers throughout the weekend as Taste of Sydney favourite Colin Fassnidge returns to the fold in 2012 with his coveted Four in Hand restaurant and new venture, 4 Fourteen at the Paddington Arms.
Acqua Panna – Teaming up with Hugo's Bar, guests to the Acqua Panna stand will enjoy beautiful Italian-style pizzas served alongside exclusive Finlandia cocktails.
The Argyle Bandstand – The Argyle is set to take over the Taste of Sydney bandstand this year with a fabulous program of live music situated right in the heart of the venue.
Efendy – Taste of Sydney newcomer Chef Somer Sivrioglu will bring the Efendy experience to the festival serving up three authentic Turkish dishes complete with genuine Turkish hospitality. Somer's special icon dish of Pan-fried Lamb Testicles with Almond Tarator is one not to be missed, if you dare to try!
De Dietrich Demonstration Kitchen – Learn the trade secrets and experience a wide range of premium French appliances as the De Dietrich Demonstration Kitchen presents special guest chefs Vincent Gadan, Damien Parcineau and Alvin Quah, showcasing their cookery skills on De Dietrich's new zoneless induction cooktops.