Nothing irks Eric Kwek more than under-seasoning food and a Chef who doesn't taste their dish.
Don't even think about leaving salt and pepper shakers on the tables at
Turbine
restaurant for diners to season their own dishes; all Eric's workmates at
Trawool Estate
on Goulburn Highway know he is obsessive-compulsive about the correct seasoning.
Born in Singapore, Eric studied Computer Engineering at university but dropped out after a year as he couldn't see himself in a job where he was chained behind a desk doing something he had no interest in.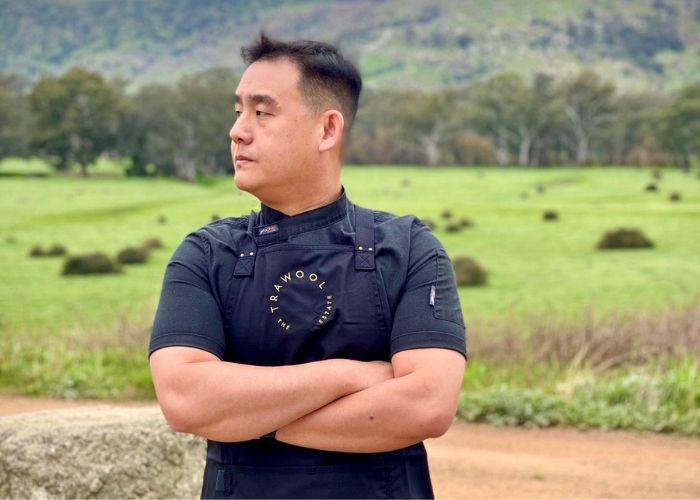 "I had nowhere to go and the kitchen took me in," he tells AGFG. "I have always loved food because Mum cooked all the time, so it was an easy transition for me. Almost immediately I appreciated the hierarchy structure, regimented daily tasks and good old-fashioned discipline when someone was not pulling their weight.
"It was something I thrived on."
Starting out as a cook at the Hard Rock Café in Singapore, after 12 months Eric enrolled in culinary school and discovered he also had a passion for butchery. He competed in National Amateur Butchery competitions and in 2010 won a competition sponsored by then Meat & Livestock Australia.
"As part of the prize I was given the chance to experience butchery in Australia and through that experience, I made contacts who eventually helped me get a job in Queensland."
Moving to Melbourne in 2012, Eric went on to work for restaurants such as Circa the Prince, Acland St Cantina and New Market Hotel. Wanting to challenge himself with a different cuisine, he then became part of Chef David Thompson's opening team for Long Chim at Crown.
Now as Executive Chef at Trawool Estate, Eric says he has a couple of personas to his cooking – one is Modern Australian with a good blend of traditional French cookery and game-focused proteins; while the other is Modern Asian with strong South-east Asian influences.
"I like to take diners on a food journey through my eyes; if there is something you have not had before, give it a chance! There is literally nothing on my menus I would not scoff down myself. I don't believe in dulling down flavours."
Eric shares his Mum's
Singapore chicken curry
recipe with us as a dish that represents his background, family and cooking style.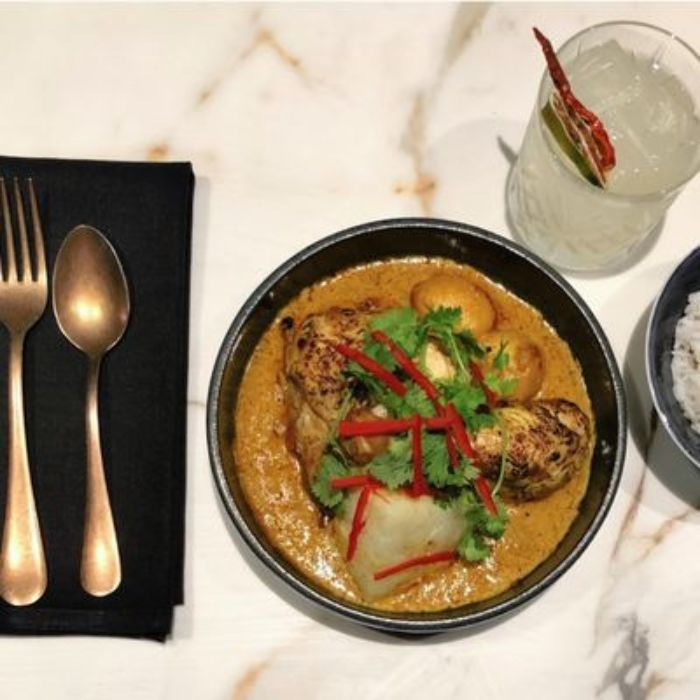 "Mum would always make it during special occasions like birthdays, Lunar New Year and I believe we even had it for Christmas one year. The dish originates from a Malay culture, which was refined and adapted to the Chinese palate."
Like many others in the hospitality industry, he believes restaurants are heavily reliant on immigrants for staff and COVID has highlighted this reliance to new levels.
"When the pandemic hit, some of us managed to operate at a minimal capacity with takeaways – it seemed fine, almost optimistic for some of us. But now, like a nuclear holocaust, when the dust has settled we've realised that all the immigrants have gone home."
Secretly terrified he may wake up one day to be one of 'them', Eric says we have all seen the occasional one person in the group who doesn't eat anything, afraid to live and afraid to try.
"I don't want to be someone who eats just to be sustained, doomed to an existence of flavourless travels!"