By Leigh O'Connor.
In high school, Richard Brown wanted to be a jet fighter pilot…just like Maverick in Top Gun.
Asthma, however, prevented this dream from coming to fruition – instead, this talented Chef is in charge of the cockpit at both
The Darwin Club
and
Char Restaurant
, nestled in one of the NT's most stunning locations in the grounds of Admiralty House.
Believed to be the only venue in Australia to run two Chef-hatted restaurants from one kitchen, Richard opens diners' culinary horizons to the richness of the ocean through a creative Mediterranean-inspired menu at the Club; while Char specialises in steak, grilled meat and Mod Oz dishes.
Born in Ndola City in Zambia, Richard moved to Western Australia when he was six months old and now calls the NT home.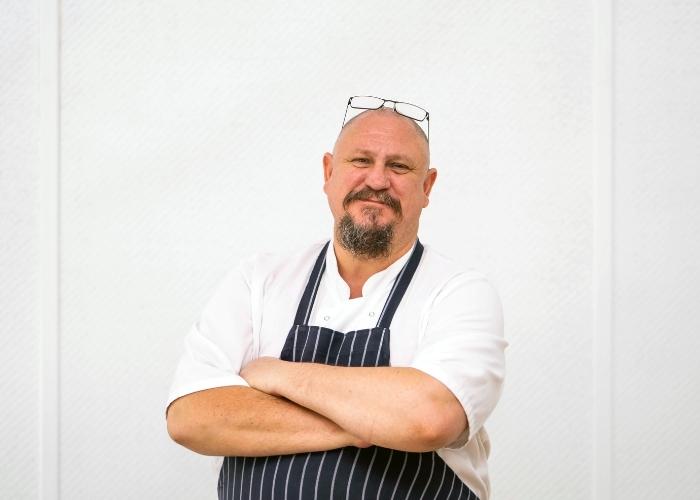 "When I was in high school I dreamt of becoming a jet fighter pilot, but due to my asthma, that wasn't possible. After three years at university, I decided to try a hospitality course and instantly fell in love with cooking. The good old rock and roll days!" he tells AGFG.
"My experiences as a Chef over the last 28 years have been exciting, broad and varied. My work has been spread over pubs, clubs, restaurants, steak houses, large-scale buffets and function venues."
Richard has worked with wood fires and rotisseries as well as being a committed Pastry Chef, perfecting the art of ice cream making; along with opening new venues and turning them into Hatted establishments.
"I embrace the diversity that comes with being a Chef in Australia. This has allowed me to perfect a range of different cuisines including Japanese, Modern British, Italian, Chinese, Malay, Thai and Brazilian."
He also shares the philosophy of his greatest culinary influence, Fergus Henderson from Michelin-star awarded St John Restaurant in London, who is noted for his use of offal and other neglected cuts of meat in a nose-to-tail approach to cooking.
"As Fergus once said: 'It's only polite really if you knock an animal on the head to eat it all – tripe, heart, feet, ears, head, tail. It's all good stuff.'"
Richard believes COVID has taught everyone the value of freedom…the ability to dine in again has been embraced as an experience, rather than a necessity; while COVID has forced restaurants and Chefs to adapt to the circumstances.
"At Admiralty House, we experienced as many other venues in Australia did, staff shortages, lockdowns, border restrictions and mask mandates.
"We adapted to this new situation and overcame the difficulties. Along with our Venue Manager, we decided to create and coordinate two restaurants from one kitchen. This allowed better efficiency of staff and equipment while also offering our customers a choice in dining experiences – Char Restaurant steak house on the ground floor and The Darwin Club showcasing local seafood in our upstairs area."
The result is two ideas that complement each other functionally while keeping their own personalities.
In celebration of all things Dessert this week, Richard shares Char's recipe for
Deconstructed Lemon Meringue Pie
with us. This stunning dessert is as beautiful on the palate as the plate, with Italian meringue, lemon curd, white chocolate sorbet and soil, alongside sable crumb and passionfruit gel – bring this to the table and what for the sighs of delight!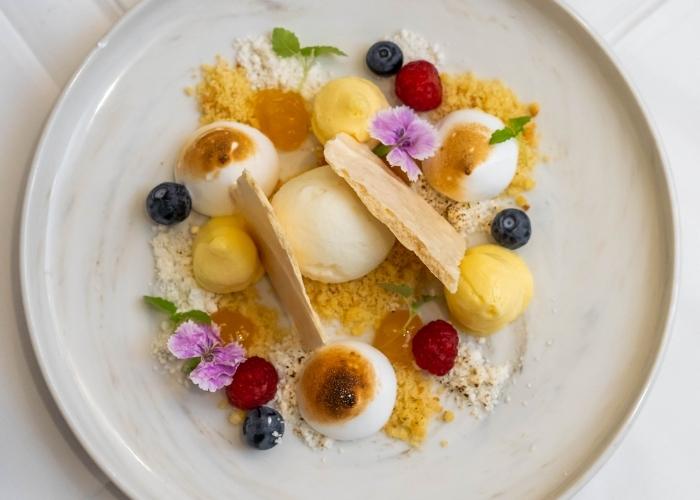 While from The Darwin Club comes this succulently delicious
BBQ Fremantle Octopus
recipe, with confit saffron potatoes, pan-fried Morcilla sausage and a dusting of sweet smoked paprika.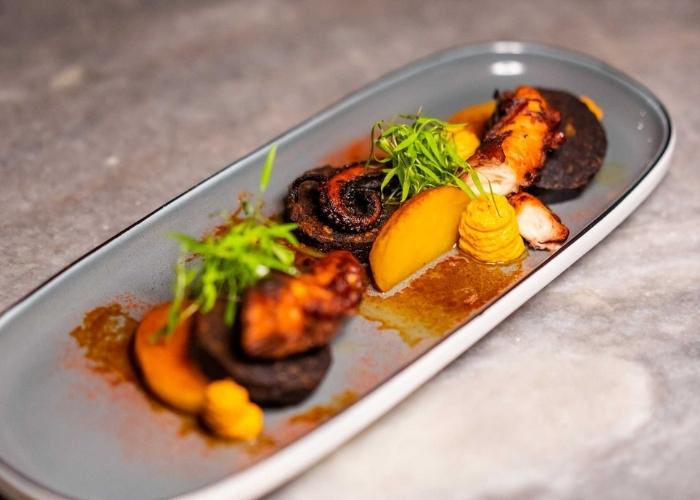 Seafood is particularly close to Richard's heart as in his spare time he is an avid fisherman – where better to catch the fish of your life than in the NT.
However, what no one really knows about this creative Chef is that he's actually not very good at it!