By Freya Ensbey.
Australia's coastline runs for more than 36,000 kilometres, making us one of the top ten greatest shorelines in the world, with vast oceans lapping at our door steps, they bring with them the abundance of seafood our country is known for.
Taking the spotlight from the traditional roasts and baked dinners, seafood is now a preferred Christmas Day staple, lending its chilled lightness and vigour as an alternative choice in the humidity of our Summer.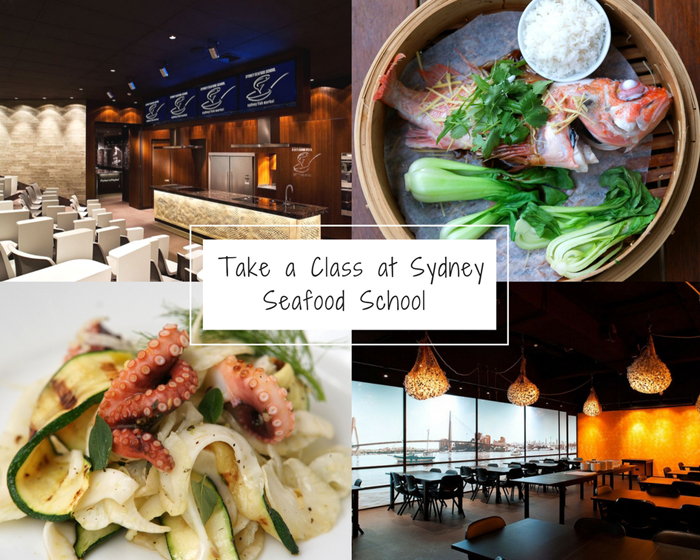 The Sydney Fish Market has been the connection between consumer and ocean over the past century, now the largest seafood market of its kind in the Southern Hemisphere and in terms of variety, the third largest seafood market in the world, trading upwards of 13,500 tonnes of seafood every year.
During the 80s, French was still the reigning cuisine in leading Australian restaurants with Asian flavours still considered exotic. The Sydney Fish Market was pulling in plenty of popular white flesh fish species, however, with it they were also netting octopus, squid, crabs, mussels and other species which seafood shoppers were not confident in cooking, with many of the species we now purposely seek out, going to waste, used as bait or sold for a pittance to those who could prepare it.
The Sydney Seafood School was initially created in 1989 to bridge the gap of this problem, by creating classes to teach customers how to cook with these seemingly foreign sea products. Gaining a fierce following over the years, the cooking school began adding more and more classes for tourists and locals alike, now with over 12,000 guests attending annually, making it Australia's largest cooking school.
A stunning sandstone entry wall greets students upon arrival, as they enter to find Icelandic fish leather lining the auditorium, rich oak wood panelling and an aubergine hued marble demonstration bench, surrounded by sleek stainless steel and clean glass lines. A destination attraction in its own right, the Sydney Seafood School is an all-encompassing holistic experience.
Our country's leading Chefs are just some of the talent who front the school, with the likes of Guillaume Brahimi, Matt Moran and Christine Manfield, offering insights from the culinary elite.
The experience is finished with students being invited into the contemporary dining room, set with cloth table linens, under ambient chandelier lighting, allowing 360-degree views over Blackwattle Bay. Guests dine together, tasting their hand made dishes, sharing in conversation and perfectly paired wines.
For a great Christmas holiday activity the whole family will enjoy, book into the popular Seafood BBQ class and learn how to take your weekend barbeques from casual to gourmet. For the ultimate gift that keeps on giving, purchase a Sydney Seafood School Gift Certificate as stocking fillers for your loved ones.
As a little taste of what's on offer before visiting, whip up these tantalising seafood recipes created by the Chefs at the seafood school in your own kitchen. For an impressive weekend dish for when the whole tribe is together, this Steamed Whole Ocean Perch with Ginger and Soy will more than satisfy. Packed with Asian flavours of ginger, garlic and soy, steaming the ocean perch avoids the over use of oils, keeping this dish lean and healthy and trapping in the moisture. Served with jasmine rice and bok choy, this ocean perch is sure to be a hit.
There are certain culinary couplings which just work together; think basil and tomato, salt and pepper, cheese and pasta and of course seafood and barbeques. This Warm Salad of Barbequed Octopus, Zucchini and Marinated Fennel recipe is layered with a harmony of flavours that will have your mouth a buzz with energy from the first bite. Served as a side, entrée or as a standalone main, this recipe can be used to impress when attending the next neighbourhood barbeque.
They say you can never stop learning as a cook, so step out of your comfort zone this Summer, put your seafood fears aside and add a few more killer recipes to your repertoire under the expert guidance of the Sydney Seafood Cooking School.
Recipes and images supplied by the Sydney Seafood School. Visit www.sydneyfishmarket.com.au/seafood-school/about-sssfor more great seafood recipes and cooking tips, answers to frequently asked seafood questions and the full program of Sydney Seafood School cooking classes.