Family and hospitality are two key ingredients in Shane Delia's food philosophy – so much so, he has both ideals tattooed on his forearms in Arabic. When Shane's father migrated to Australia from Malta in the 1970s, he brought with him the motto of strength and hospitality, a principle that has carried through the generations in both professional and personal life.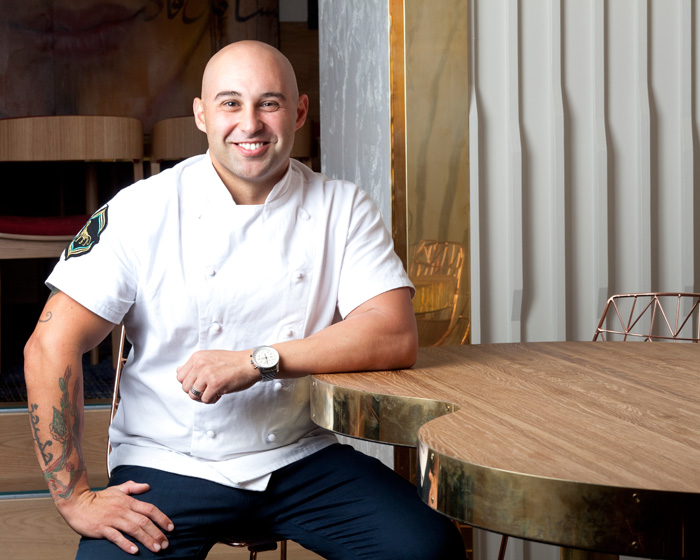 Shane's Melbourne restaurant Maha is named after his wife, and along with his two children Jayda and Jude, they are the inspiration for his culinary adventures, which have seen him flashing his cheeky grin across television screens around the country.
In addition to hosting his own television show, Shane Delia's Spice Journey, he also takes audiences to the very best local and regional food destinations in Victoria on the Postcards lifestyle program.
Shane's other passion project is Biggie Smalls, a modern reimagining of a kebab shop, served up to a sound track of 90s hip hop, born from his love of sneakers and American diners. The flagship Collingwood store opened in 2015 and he plans to take the concept on the road with food trucks.
An ongoing love affair with Middle Eastern fare is showcased in his book Maha, Middle Eastern Home Cooking & Spice Journey – Adventures in Middle Eastern Cooking, which offers a truly fresh and unrestricted approach to this type of cuisine.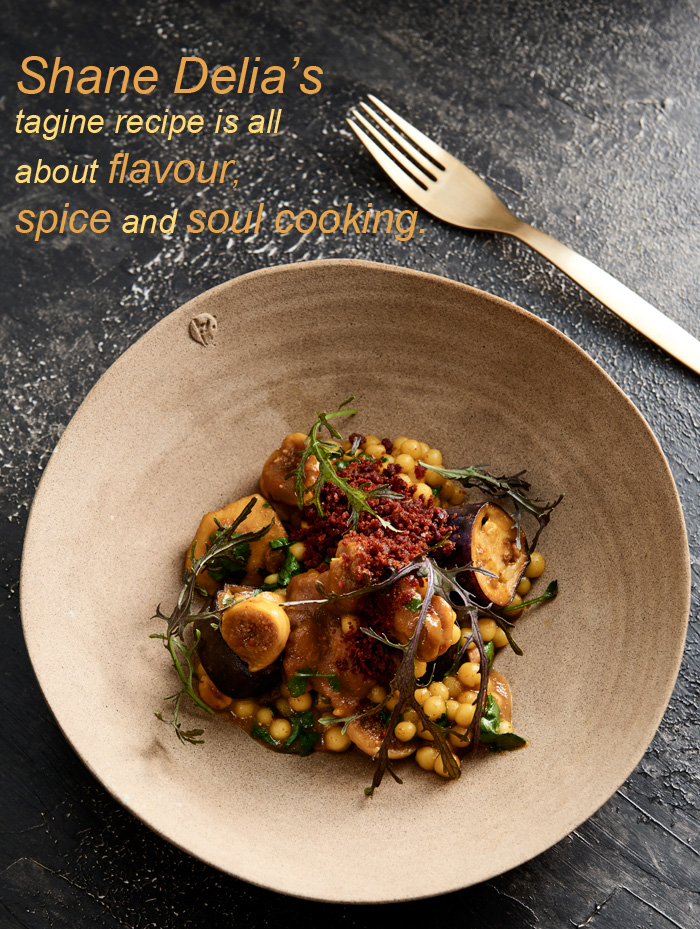 It is from this background, that he shares a classic tagine recipe of chicken and saffron moghrabieh, with Iranian figs, eggplant and sujuk. The flavour and spice of Moroccan fare is traditionally achieved by slow cooking in a tagine – a clay or ceramic pot which doubles as not only a cooking utensil, but also a serving dish, placed in the middle of the table and shared by family and friends.
Shane's tagine recipe is all about flavour, spice and soul cooking. Using chicken thighs ensures the meat will remain tender throughout the cooking process and the addition of Turkish beef sausage sujuk emboldens the flavour.
The combination of meat with fruit such as figs is common in Middle Eastern recipes, bringing a sweetness and texture to the tagine, while blanched and roasted almonds add texture and crunch.
Try this tagine as a midweek family dinner or for a weekend treat with friends and everyone will think you are a true Middle Eastern master Chef.