"The ultimate wish I could ever be granted would be to explore and celebrate the food traditions of the Middle East. This came true for me in 2013 with the culmination of Spice Journey." ~ Shane Delia.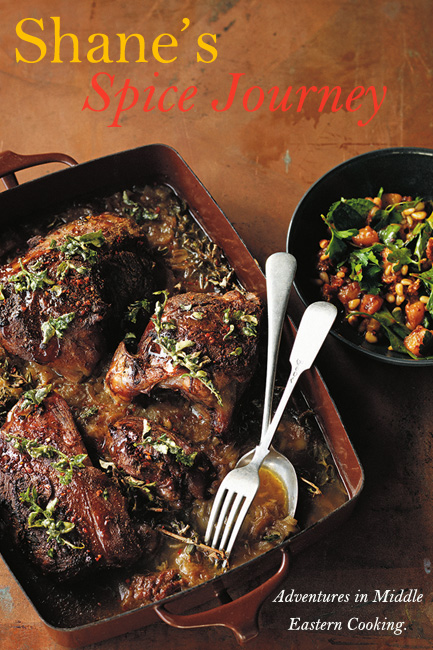 Braised Lamb with Saltbush and Rockmelon, p 132.
It is not every day that a cookbook can transport you across the world to the exact place a photo was taken, with flour on your hands, stains on your apron and in the comfort of your own kitchen. Immersed and captivated by not only the tactile touch of the pages, but the visual journey that draws you into the story of the dish pictured, a sensory adventure awaits all readers of Shane Delia's Spice Journey.
Shane's authentic style is compelling and a delight to stand witness to, not seeking fame or fortune for his name, but instead preferring the spotlight beaming down on the recipes and how they bring people together through the common ground of food, no matter the person.
Visually stunning and equally inspiring to read, Spice Journey encompasses everything from mouth-watering entrees, like his eggplant pickle with black pepper and green chilli or his candied spiced pumpkins extending through to the native traditional dishes of braised chickpea stew with lamb shin, eggplant and grains. Featuring recipes from the SBS television series of the same name, Shane guides the reader through each Middle Eastern cuisine, beginning the journey in Malta. This is where Shane's family originate from and he speaks fondly of the passion for cooking being in his blood just as it was for the long line of bakers in his family.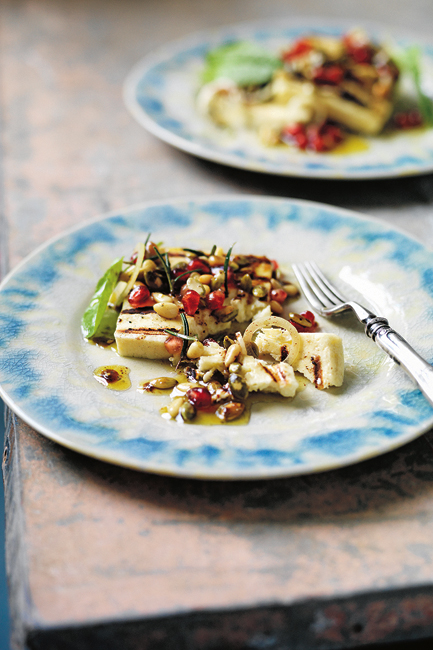 Grilled Haloumi with Pomegranate and Sumac Dressing, p 35.
Lebanon holds a special place in Shane's heart as his wife originated from here. Falling in love with the laidback atmosphere and live-in-the-moment mentality of this country, he discovered food being created with such love and appreciation that it became evident that the food culture of Lebanon was about more than just a meal, it was a part of the national identity and a reason for living. Shane includes his delicious grilled haloumi with pomegranate and sumac dressing, inspired by a freshly made cheese and za'atar sandwich served to him while travelling through Lebanon. He describes sitting on the curb at the front of a store devouring every last bite.
Making his way through Turkey, Shane found there was an energy he could only describe as an aura to such a place, especially walking through the streets of Istanbul at sunset. This inspiration was the creative force behind his braised lamb with saltbush and rockmelon, a fall-off-the-bone kind of recipe that screams flavour and pageants a distinguishable character.
Chocolate and Pistachio M'Hencha, p 206.
Combining the flavours and techniques of old and new, Shane's chocolate and pistachio m'hencha is a twist on a classic – literally! This dish is representative of Shane having visited Morocco and seeing the transitional atmosphere of the old world with run down streets, camels and donkeys in transit working with the new, refined food of Moroccan-French cuisine that Shane discovered in the Selman Hotel in Marrakesh. Traditionally delicate, with an added punch of spice and ginger, this dessert is the perfect ending for any hearty, Middle Eastern feast as well as a sweet finish to our journey through Shane's inspirational pages.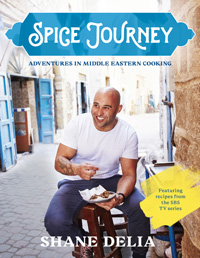 Recipes and Images from Spice Journey by Shane Delia (Murdoch Books).