Thursday March 24 to Monday March 28, Tyagarah Tea Tree Farm.
Jump on the groove train this Easter weekend for Bluesfest, one of Australia's most iconic music festivals. Featuring a vibrant mix of blues, roots, folk, soul and world artists, Bluesfest is set to be an electrifying treat for all senses. This year Bluesfest will also be home to Boomerang, the first Indigenous festival of its kind featuring an array of music, dance, workshops and healing programs, along with cultural knowledge exchanges and thought provoking conversations, read more about it here.
Charles Bradley & his Extraordinaires at Bluesfest (2015). Image: Paul Smith Images.
The 120-hectare Tyagarah Tea Tree Farm, located just 11km north of Byron Bay, will be transformed into a live site encompassing seven performance stages and five licensed bars in addition to more than 100 tantalising food and market stalls including food courts, beer gardens and children's entertainment.
Those rocking up on opening night are in for a spectacular time with Platinum-selling, Grammy-nominated rapper Kendrick Lamar, followed by the soulful bliss of D'Angelo with his first ever Bluesfest performance following on from the success of his latest 2016 Grammy nominated album, Black Messiah. For those true Blue at heart, don't miss Mick Fleetwood Blues Band ft Rick Vito. Mick is the iconic co-founder and drummer of Fleetwood Mac and his Bluesfest debut is sure to to be a powerful one; as the band celebrates Mick's Blues heritage as well as bringing you original Fleetwood Mac classics.
So many acts and so little time! Be sure to download the Bluesfest 2016 playing schedule as it's your essential guide to 5-days jam-packed with musical greatness.
"This is what every festival attendee hangs out for – the playing schedule, we call it the form guide," announced Bluesfest Festival Director Peter Noble.
"It contains all the times and set lengths of the shows."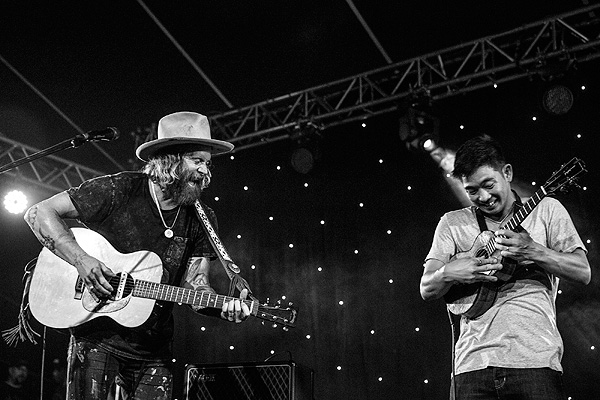 Donavon Frankenreiter and Guests at Bluesfest (2015). Photo: Joseph Mayers.
The amazing acts don't just stop there though, the iconic Sir Tom Jones will be in attendance along with UB40 ft Ali Campbell, Astro and Mickey Virtue, Sahara Beck, Rhiannon Giddens, Eagles of Death Metal and Chain. If you haven't yet got your tickets, what are you waiting for? If you're feeling lucky, you could win a double 5-day pass with VIP privileges over at our facebook page worth $1800.
Camping options at Tyagarah Tea Tree Farm are available for those with trailers and tents. Alternatively, there's a wide range of accommodation options in Byron Bay to suit all budgets and needs from resort-style comfort to beachside relaxation.
Contact Info:
Office Hours:9-5 Monday- Friday
Phone: 02 66 858 310
Email: ticketingassist@bluesfest.com.au
Website: www.bluesfest.com.au