By Leigh O'Connor.
Belly tops, flip flops, late nights, water fights…Summer fun has begun.
As the mercury rises, icy cold drinks are consumed watching the sun turn pink in a perfect Summer sky and thoughts turn to sizzling meat and refreshing desserts.
Thongs and singlets are the national uniform and mosquitos are everywhere…along with cricket on the TV and the sounds of cicadas and frogs lulling us to sleep.
To get you in a Summer state of mind, here are five recipes to take the heat out of kitchen and set the mood for backyard dining:
Say hello to relaxed Summer dining with a favourite dish served at the Australian Open tennis players' café, created by Asif Mamun.
Chilli pork belly
is a recipe many players enjoy after a tough five-set match, needing to reload on carbs with these sticky bites, covered with yum yum sauce made from Korean chilli paste, corn syrup, Coca-Cola and tomato ketchup.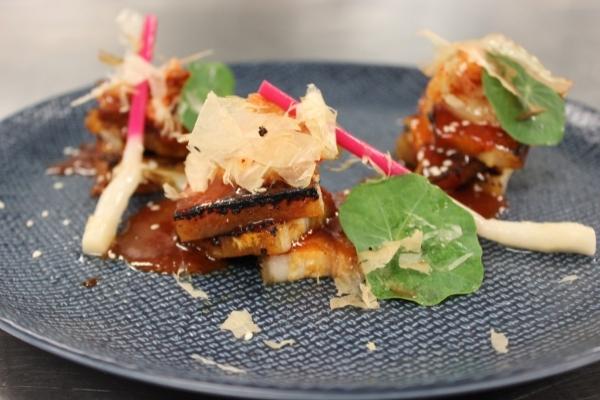 Australian Open tennis players love these chilli pork belly bites.
Most of Thuy Diem Pham's fondest childhood memories are connected to food – her Vietnamese family may not have had much, but what they had was tasty! It is from these memories she has carved out a career in the United Kingdom as a renowned Chef with her Islington restaurant The Little Viet Kitchen featuring on Jamie Oliver's FoodTube.
Her recipe for
caramelised salmon and green peppercorns
is an ideal main for a hot Summer's night; while normally a white fish would be used, Thuy says salmon works wonderfully as the flesh is perfectly moist with a firmer texture.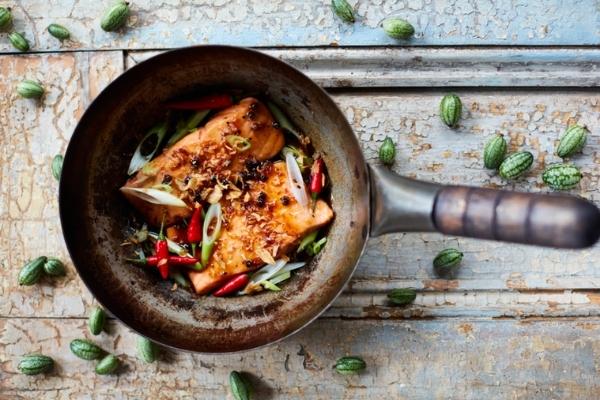 Caramelised salmon and green peppercorns is an ideal Summer meal.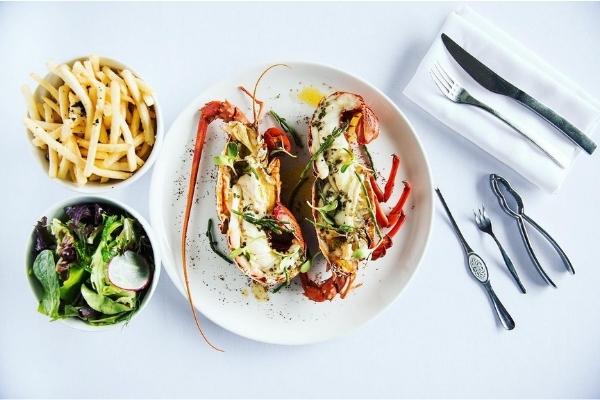 Succulent Eastern rock lobster with samphire and yuzu butter from Harbourfront Restaurant.
A vibrant dish on the plate and in the mouth, try this
flower, basil, tomato and buffalo mozzarella salad
by Emma and Tom Lane, from
The Farm
at Byron Bay, as an tasty side to Summer feasting. Basil and tomato are great companion plants and Emma says what grows well together, often tastes delicious together as well; this simple and easy recipe goes well with any Summer barbequed main and is as pretty on the plate as it tastes.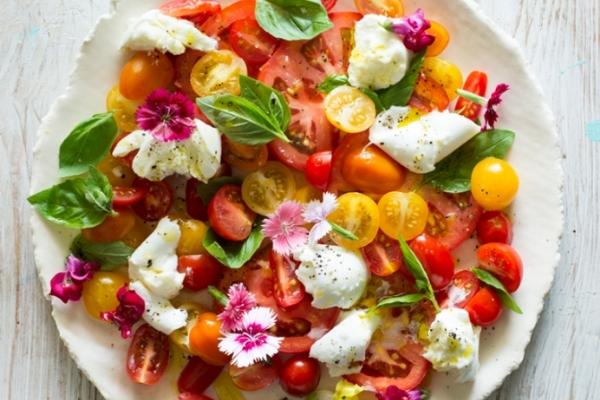 Vibrant on the plate and palate…flower, basil, tomato and buffalo mozzarella salad.
Who doesn't love pavlova? The crunch of the outer layer of meringue, followed by a chewy, gooey centre, lashings of whipped cream and topped with seasonal fruit, it is a dessert made in heaven. Enjoy this
banana caramel pavlova wreath
– perfect for a Christmas centrepiece, family get-together or New Year's celebration.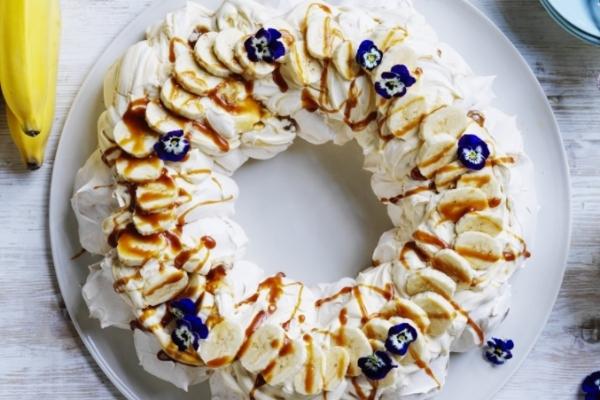 Who doesn't love banana and caramel pavlova?
It's a smile, it's a kiss, it's a sip of wine…it's Summertime! For more Summer recipes, click
here
.