By Julie Fison, get to know more about Julie on her website.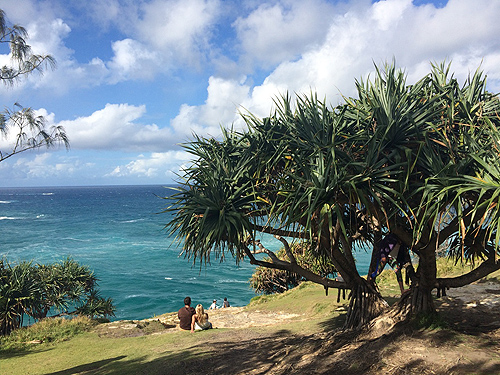 They call the waters off North Stradbroke Island the 'Humpback Highway,' which sounds a lot like a marketing gimmick until you go there. I'm spending a week at Point Lookout over the September school holidays, and I quickly discover that 'Straddie,' as everyone calls it, really is an amazing place to see whales. Virtually every time I go for a walk I spot one – lazing around off Main Beach, breaching off Frenchman's and waving at me as I do the North Gorge walk.
Humpback whales pass here on their annual migration to Hervey Bay and return with their calves in spring, enroute to the Antarctic. According to a local tally more than 2000 whales have been spotted off the coast by September!
However, it's not just whales that make Straddie special – pods of dolphins surf the waves, turtles bob around the rocky headlands and if you're lucky you might even spot a manta ray. Then there are the beautiful protected beaches, wild stretches of coastline, superb walks and laid-back restaurants.
Our favourite local eatery is Fishes. It looks like a fish 'n' chip shop, but it serves a good range of fantastic food at great prices. The outdoor tables can be pretty chilly when the wind gets up - which it often does at Point Lookout, but the food is worth it. Our other favourite is Baz's Beach Bar and Grill for fantastic ribs and pizzas, while the Stradbroke Island Hotel, at Cylinder Beach, is a great spot for a sun downer.
We stay in an apartment at Whalewatch, overlooking Main Beach, a stunning 32 kilometre stretch of coastline. There's the chance of spotting a whale from the balcony, as the name would suggest, but it's mostly too windy during our stay to make the most of the outdoor area.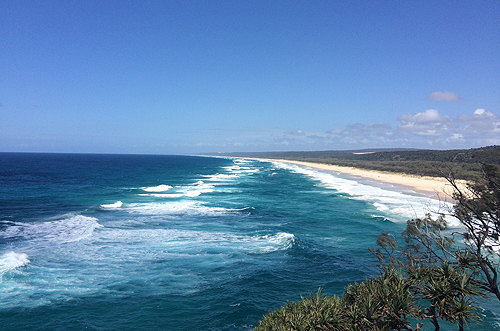 There are numerous accommodation options around Point Lookout as well as extensive camping grounds along the relatively protected northern stretch of beaches. Houses on Tramican Street have the best of the views, but it's a long hike home from the beach!
Getting to Straddie means either a 45 minute car ferry ride or a 25 minute water taxi from Cleveland (on Brisbane's bayside) to Dunwich (on the western side of Straddie). From there, Point Lookout is a 20 minute drive or there is a bus service from the water taxi terminal.
Ferries along with everything else get heavily booked over the holidays, which means planning is essential, but by far the most difficult part of the journey is getting on the barge for the trip back to Brisbane and leaving Straddie behind.