It's not that Arte Assavakavinvong can't handle spicy heat – after all, he is from Thailand – he just doesn't like it.
Born and raised in Ayutthaya and now Head Chef at iconic Melbourne restaurant Longrain, Arte's favourite childhood past-time was to spend time alongside his mother in the kitchen and also visiting local food markets.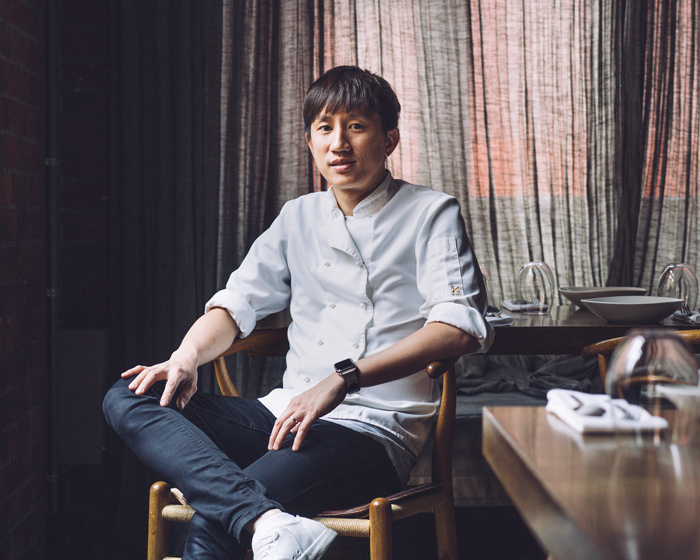 Chef Chaowarat (Arte) Assavakavinvong.
"I loved to see my mother cooking food when I was young. I was always annoying her by asking lots of questions while she was in the kitchen," he recalls. "I wanted to improve my food knowledge, so I moved to Melbourne to study cookery at William Angliss Institute and learn about Western cuisines."
Arte says his focus changed back to Thai food as that is what he is truly passionate about and he wanted to show the world how much more there is to Asian food than just pad Thai and green curry chicken.
Joining the Longrain team in 2011, he quickly moved up the ranks being promoted to Sous Chef shortly after taking over the pans, giving him the experience needed to lead the opening team at the Village People Hawker Food Hall.
Returning to Longrain as Head Chef in 2018, Arte continues to evolve the menu to deliver the soul of South East Asia to the plate and embrace the concept of shared dining.
"Longrain has been at the forefront of contemporary Thai dining in Melbourne for the last 14 years," he says. "It is a dining institution that offers a menu with powerful, fresh flavour combinations in a beautiful 110-year-old converted warehouse-style building, with large communal dining tables in a buzzing and fun dining room."
"My culinary style is Thai food using the best local produce with modern cooking techniques and all my dishes are designed to be shared. Thai people love to sit down and have a meal with family or friends, with lots of food in the middle of the table. This is also the essence of dining at Longrain."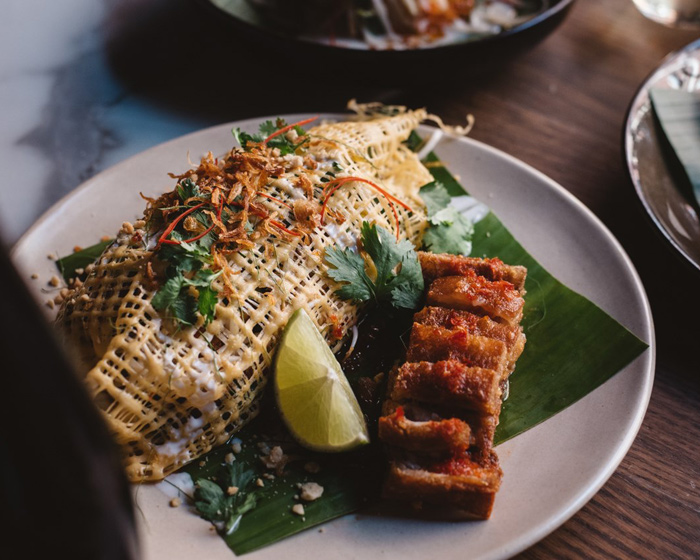 Longrain's famous eggnet with crispy pork belly.
The restaurant uses organic and sustainable ingredients in the kitchen and is also trying to minimise its carbon footprint as much as possible; having just installed an ORCA, which is an innovative food waste solution.
"The ORCA technology mimics a natural digestion process. It works using the same principles as our body, it creates the perfect thermophilic biological environment for micro-organisms to digest food waste into a liquid. It delivers significant savings because it eliminates trucking from the process, while significantly reducing harmful emissions that come with truck traffic."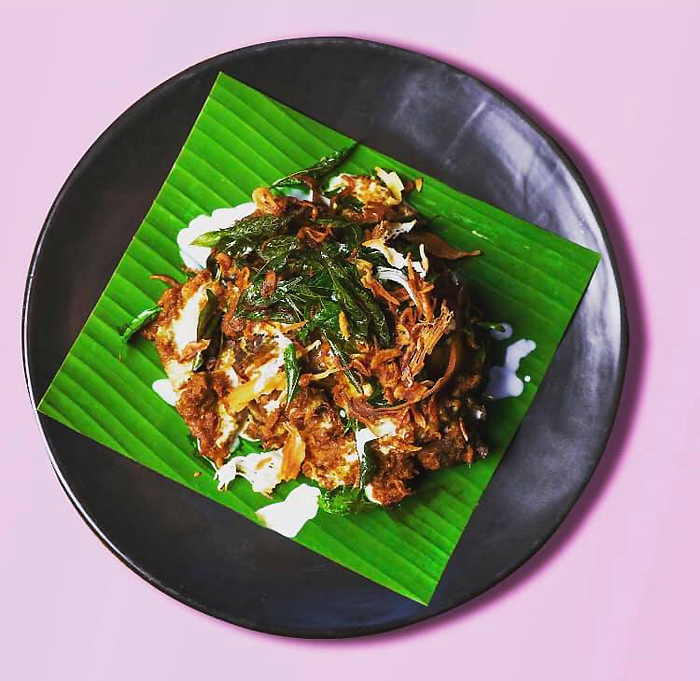 Dry rendang curry of Wild Clover lamb rump with kipfler potato and curry leaf.
Arte says Australians' love of Asian cuisine stems from our ability to embrace all cultures; with many Chefs taking ideas from around the globe to create their own style and some amazing food – an example of this is his dish of Panang char-grilled lamb rump with coriander, kaffir lime leaf and peanuts.
"I love to char-grill meat and cook it in a curry for smokiness. The sense of a smoky flavour is so beautiful and at the same time, the fat is melting and dripping on the coals. You can hear the sizzling sound and the flavour hits your nose… smells so good!"
Just don't feed him too much spice – Arte hates cumin, coriander seed and fennel for example.
"I don't eat spicy food. Yes! I am Thai, I don't mean I can't handle the heat, I just feel I am not enjoying it when I eat spicy food.
"My favourite ingredients to cook with are fresh herbs and seafood. I enjoy eating kind of DIY-style. You can wrap your protein with vegetables and eat – it is so refreshing and provides many textures in one mouthful."
With some sage advice for young Chefs, he says listening and absorbing as much information as you can from your peers is the key to success.
"Be passionate, work hard and embrace the produce you work with. In the future, I would like to continue the legacy that Longrain has and bring consistently good food to the table, as well as create my own signature dishes."
If he could, Arte would love to do all the shopping for his culinary creations himself, or even better grow his own vegetables – just maybe not chillies!
What are the trending ingredients for 2020 and why?
"Sustainable and local ingredients are trending right now and will continue to do so. More and more people are concerned about the planet, climate change, the destruction of ecosystems and diminishing natural resources.
"People want to know where their food is coming from and want to ensure what they are eating is not only ensuring their health and well-being, but also taking care of the environment for the years to come."