By Leigh O'Connor.
A patriotic creation utilising native ingredients has catapulted New South Wales born Jake Kellie to top three in the world in the S.Pellegrino Young Chef 2018 global finale in Milan, Italy.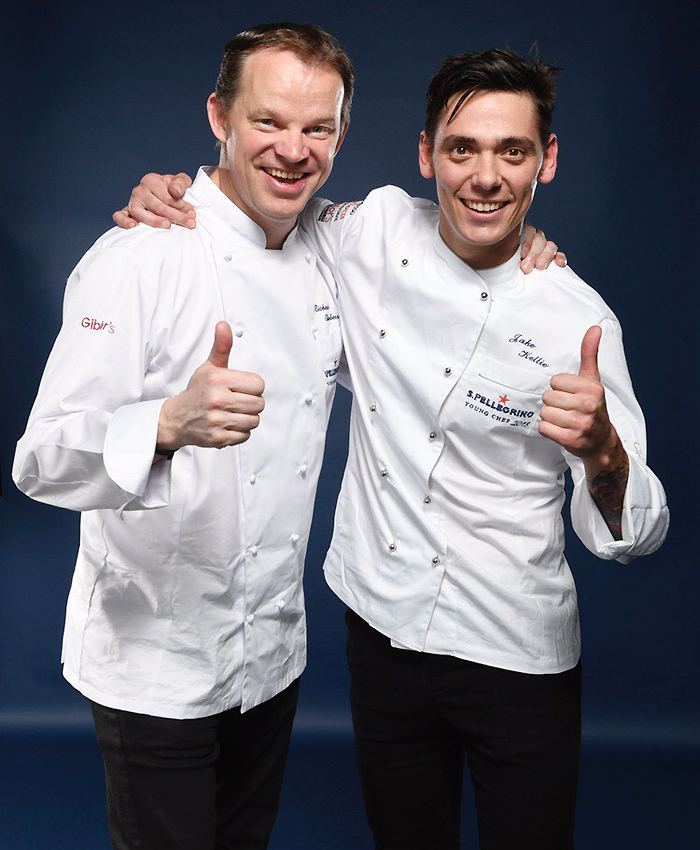 Mentor, Richard Ekkebus and Chef, Jake Kellie.
Facing off against 21 of the world's most talented young Chefs in the global search to find the best, Jake's signature dish of aged pigeon was designed to give the seven judges a taste and feel for Australian cuisine.
The biennial cooking competition, which was won by Japan's Yasuhiro Fujio, is scored on flavour, presentation, story and sense of place. Fujio also picked up the Taste Authenticity Award for his dish of ayu – an indigenous river fish he brought to Milan in his luggage.
John Rivera (24) from Melbourne restaurant Amaru, representing the Pacific region, also made the top seven.
A rising star of the Down Under culinary scene, Jake (27) relocated to Singapore to take up the reins as Head Chef at Burnt Ends restaurant last year. It is here in this multi-cultural melting pot, he honed his skills to take out the 2017 Southeast Asia Regional Finals and earned a spot in the grand finale for Chefs under the age of 30.
"I created a dish around a protein I love to eat – pigeon has a unique flavour when aged and I wanted to incorporate my background as an Australian, as well as use a variety of great native ingredients," Jake tells AGFG.
"Wattle seed, strawberry gum, Tasmanian pepper berries, lilly pilly and finger limes have amazing flavours and they worked really well with the profile of the pigeon.
"I wanted to showcase myself as a Chef and the judges to feel like they were in my restaurant. Everything I used was from Australian artisans, down to steak knives from Tharwa Valley Forge in Canberra, placemats made with 1803 deer leather and a serving plate from Cone 11 ceramics in Melbourne."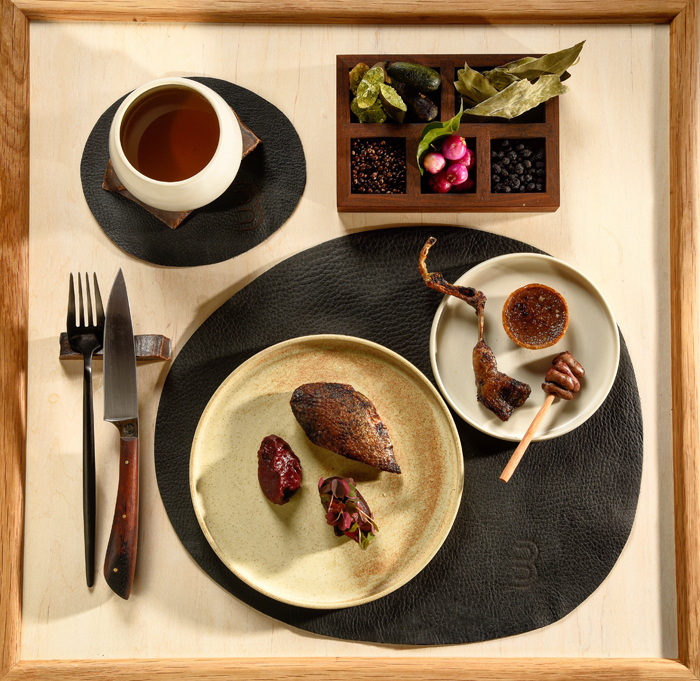 Jake Kellie's "aged pigeon."
The pigeon was aged in pepper leaves, hay and strawberry gum for two weeks and served with riberry and blackberry compote, finger limes, beetroot salt-baked in wattle seed, roasted pigeon drippings and pigeon broth, finished with an eight-year-old fortified wine from South Australia.
The recipe was honed to perfection after the regional finals by Jake and his mentor Richard Ekkebus.
"Certain small things needed to change and my message needed to be stronger to show more about who I am," says Jake.
Working at Burnt Ends – which was ranked 53 in the world in 2017 and owned by Perth-born Chef Dave Pynt – has given Jake the chance to not only fine tune his cooking skills, but to also learn the management side of the restaurant business. With a CV peppered with big name establishments like Gordon Ramsay's Maze, Matt Moran's Aria and Scott Pickett's Estelle Bistro, moving to a modern barbeque restaurant was a huge career step for this young Chef.
Burnt Ends cooks with custom-made ovens fuelled by Australian Jarrah and Jake says the use of smoke and fire changes the flavour of every dish, taking it to another taste level.
"This technique is growing on me rapidly and to be able to cook this way in Milan was amazing – it allowed me to show how I am really developing as a Chef. It is a finer style of cooking but having that strong note of char and smoke is always a winner."
Previously founding Chef at Pakenham's Lakeside Mill, immersing himself in Singapore culture has been a big learning curve for Jake.
"The culture here is stunning with all the different styles of cooking methods and techniques. I definitely want to learn more about varied cuisines and incorporate that with our smoke and fire menu."
So how does this young Chef unwind in his spare time?
"I love playing lawn bowls with the old man when I am back in Australia and going surfing whenever I can."
With his career riding a huge wave, Jake is sure to be at the forefront of innovative creations for many years to come.